No, you're not dreaming. That apparently happened. 
The "Jack Ryan" star told Ellen DeGeneres on her show this week that he's been working out in the "Skyscraper" star's private gym and has gotten real, uh, comfortable.
"I heard you're working out in Dwayne Johnson's [gym]. … He's got a trailer that travels around and you can work out in?" asked DeGeneres.
"Yes. It's not a trailer. It's a full gym," replied People magazine's Sexiest Man of Action, before revealing that it was his wife, Emily Blunt, who put him in touch with Johnson.
Blunt and The Rock had just worked on 2020's "Jungle Cruise." 
Krasinski told DeGeneres that the gym looked "like alien spaceships had landed" and that the former wrestler "has like 40 pieces of equipment that I've never seen in my life."
Which actually makes sense since The Rock has neck muscles like we've never seen in our lives.
Krasinski, 39, then said that he grew so comfortable at The Rock's gym that he "didn't feel like I needed to wear clothes," adding that he would send photos of himself to The Rock to say "thanks!"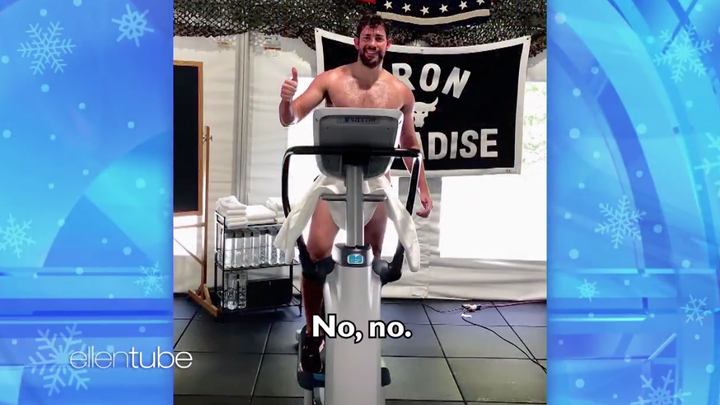 "Yeah, I send him pictures as I leave the gym and I was like, 'Hey, man, thanks for a great workout, feeling real comfortable, real at home and didn't feel like I needed to wear clothes!' And he loves that. He loves when you get like really intimate sweat on all of his equipment," said Krasinski.
The actor also said that he's never "washed the equipment ever" because "that's [The Rock's] job."
True to form, The Rock responded to that interview by tweeting that now he can never "un-see a naked Krasinski."
Hey, Dwayne and John, we're ready for your buddy action flick now.
Calling all HuffPost superfans!
Sign up for membership to become a founding member and help shape HuffPost's next chapter