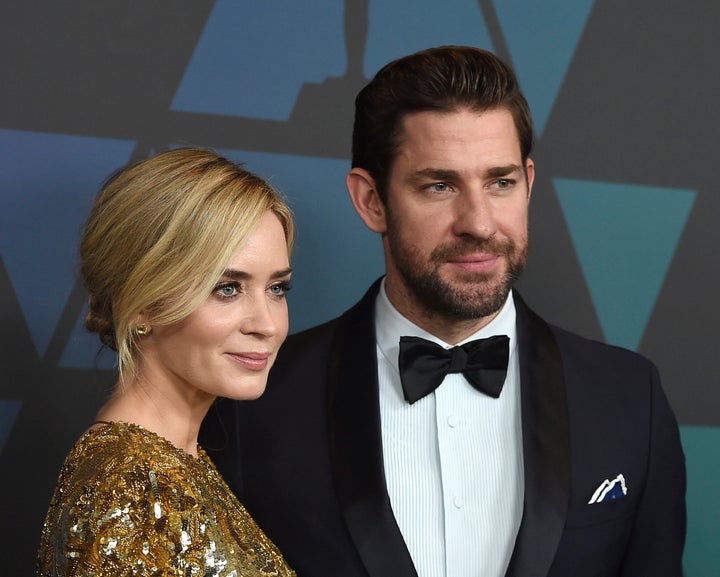 Winds in the east, there's a mist coming in, like something is brewin' and 'bout to begin. What is that something?
The "Quiet Place" director admitted that watching wife Emily Blunt as Mary Poppins in the long-awaited sequel to the Disney classic unexpectedly left him in a puddle of tears.
Krasinski revealed on "The Ellen DeGeneres Show" recently that he barely made it through a half-hour of "Mary Poppins Returns" before he had to excuse himself.
"The first time I saw it, they give you a tissue box in the screening room, and I thought, 'Oh, that's very nice. I don't have a cold,'" he said. "And they started screening the movie and 25 minutes into the movie, I stood up and went to the back of the room."
Blunt, who was also at the screening, at first believed her husband's quick exit meant he wasn't enjoying the film.
"Emily said, 'Do you not like it? I've never seen this happen?'" he recalled. "I was pushing through all of the muffins and bagels that were in the back looking for napkins. I was like, 'I need anything to stop this crying!' I was crying so much I blew through the tissue box in 20 minutes, had to go to the napkins, and then when I ran out of napkins it was all sweater."
The follow-up to the beloved 1964 film reunites Poppins, with the Banks children, Michael (Ben Whishaw) and Jane (Emily Mortimer), who are all grown up but still in need of her magic touch as they mourn the loss of a loved one.
"It's honestly one of the most beautiful films," Krasinksi, who married Blunt in 2010, said. "I think it's exactly what everybody needs at the holidays. It's pure joy."
Blunt has said she was "completely shocked and slightly terrified" to take on such an iconic character.
Krasinski, though, has been a longtime supporter of her talents. In fact, when he heard her sing for the first time as she prepared for another musical, he had a similar reaction.
"The orchestra started playing, and Emily started singing, and I just immediately wept," Krasinski told Vanity Fair earlier this year about Blunt auditioning for "Into The Woods."
"It was really wild. It was like finding out that your wife can levitate," he added. "It was just like, 'When were you going to tell me this?'"
Two songs from "Mary Poppins Returns" performed by Blunt and co-star Lin Manuel Miranda have been released before the movie hits theaters Dec. 19.
Popular in the Community