Director John Landis clearly has a soft spot when it comes to theme parks.
Want proof? Check out that "When in Hollywood, Visit Universal Studios (Ask for Babs)" card which Landis used to have tacked on to the end credits of his feature films back in the late 1970s / early 1980s. Or the fact that his 1994 film, Beverly Hills Cop III was actually set in and around a theme park. Or that John personally directed the Disneyland 35th Anniversary Celebration TV special which aired on NBC back in February of 1990. Or the fact that Landis collaborated with Universal Creative on Universal 360 -- A Cinesphere Spectacular. Which was this nighttime lagoon show that was presented at the Universal Studios Florida theme park from July of 2006 through September of 2011.
Given John's obvious fondness for theme parks, is it any wonder that -- when Universal Creative came a-calling late last year and then asks Landis if they could turn his iconic horror film,An American Werewolf in London, into a maze for Halloween Horror Nights 23 at the Universal Orlando Resort -- he immediately said "Yes" ?
One of the main reasons that John was so quick to give Universal Creative permission to use the characters and settings that he'd created for this 1981 Universal Pictures release is that Landis knows first-hand how intense some of the Haunted Houses that Universal Creative builds can be.
"I was actually kind of taken aback during my first Halloween Horror Night," John recalled during a phone interview earlier this week. "I remember walking into my first maze. The lights were low, there was ground fog, and suddenly there were 15 leather-faced guys with chainsaws coming at me. It was very intense."
And Landis has been working with Universal Creative to make sure that the An American Werewolf in London maze has that exact same level of intensity while -- at the same time -- faithfully replicates many of the more memorable scenes and settings from this comic horror film.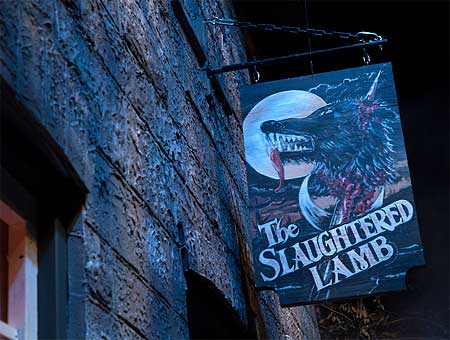 "What's been impressive -- to me, anyway -- is how ambitious the people at Universal Creative have been. They're building these reproductions of sets from the film. Places like the Slaughtered Lamb pub and Piccadilly Circus," Landis enthused. "And if the finished maze is as good as the artwork & the work-in-progress pictures that I've seen so far are, it's really going to be terrific."
Mind you, working on a project for the Universal Studios Florida theme park is kind of like Old Home Week for John. Given that Landis once unexpectedly found himself making a motion picture at the Universal Orlando Resort back in December of 1990.
"That was 'Oscar,' this period gangster comedy that I was shooting for Disney on the backlot at Universal Studios Hollywood. We had built this elaborate mansion that Sylvester Stallone's character supposedly lived in on the old New York Street part of the Universal backlot," John recalled. "Anyway, we were shooting there one day. I watched the dailies and then I went home. Whereupon I get this call from Tony Thomopoulos, who -- at that time -- the head of ABC. Tony tells me to turn on ABC News. So I turn on the television, tune in ABC News and see that my entire set is now on fire because the Universal Hollywood backlot is in the process of burning down."
"Now this fire on the Universal Hollywood backlot puts 'Oscar' in a really tough spot. You see, we'd deliberately been shooting this film to look as though it was one of those stage-bound productions that the Studios used to make back in the 1930s. And I wanted to preserve that look for this picture. But suddenly there's no backlot left for us to shoot on," Landis continued. "But then I remembered touring Universal Studios Florida while that place was still under construction. And while I was on that tour, someone told me that the backlot which they were going to build at this theme park would then have this area that was supposed to look just like New York City did back in the 1930s."
So the next thing that John knows, he's on the Disney corporate jet flying down to Florida so that Landis can then see how the finished version of USF's backlot had actually turned out.
"When I arrive in Orlando, it's six million degrees out with 9000 percent humidity. And I remember thinking to myself 'People live here?!," John laughed. "But then I went to the theme park and saw that Universal had built this really excellent New York street that had some alleys and stuff. So I went 'Wow, we can actually shoot here. We'll have to build a second version of Oscar's mansion. But once that's done, we should be good to go."
"Now if you watch 'Oscar, today' it's interesting. The exterior of Stallone's house? Everything that you see to the right was shot on Universal's old backlot in Hollywood before it burned down. Whereas everything to the left was shot at the Universal Studios Florida theme park," Landis said. "That's the magic of movies."
"But the really funny part of this story is -- once we'd committed to shooting the rest of 'Oscar' 's exteriors on Universal Florida's New York street -- I then get this hysterical phone call from Michael Eisner," John continued. "Who says to me 'You know, we've just opened the Disney-MGM Studios theme park. Why can't you shoot 'Oscar' 's exteriors there?' And I then have tell Michael that MGM's New York Street didn't look nearly as good as the Universal Florida version of New York Street did. Which isn't something that he really wants to hear."
And Universal's commitment to quality remains even today. Especially when it comes to replicating the Academy Award-winning make-up work that Rick Baker did in An American Werewolf in London as part of this Halloween Horror Night maze.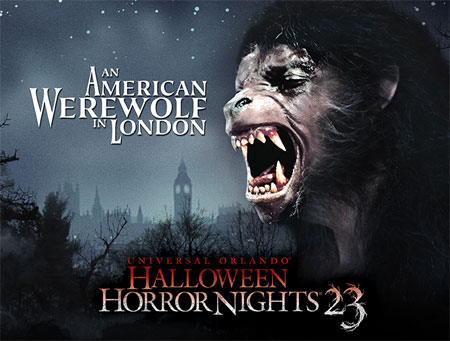 "Anyway, in order to replicate Rick Baker's amazing make-up work on American Werewolf, Universal Creative has committed to building these full-sized werewolf puppets that people are then going to manipulate from behind-the-scenes," John enthused. "Now what was cool about the movie is that it was shot before there was CG. So all of this film's transformations happened in real time in front of the camera. Whereas when you walk through the American Werewolf maze at Halloween Horror Nights, all of these werewolf transformations are now going to happen in real time right in front of your face."
If you'd like to see how John Landis' latest collaboration with Universal Creative ultimately turns out, then do make a point of checking out the An American Werewolf in London maze at Halloween Horror Nights 23. Which will be presented on select nights from September 20th -- November 2nd at the Universal Orlando Resort.
Jim Hill is an award-winning entertainment writer who lives in New Boston, NH. Over the past 30 years, he has interviewed hundreds of veterans of the animation & themed entertainment industry and written extensively about The Walt Disney Company.
Jim is currently working on a behind-the-scene history of the development & construction of Disneyland. For his more immediate musings on movies, TV shows, books and theme parks, please check out his blog, jimhillmedia.com.
Calling all HuffPost superfans!
Sign up for membership to become a founding member and help shape HuffPost's next chapter