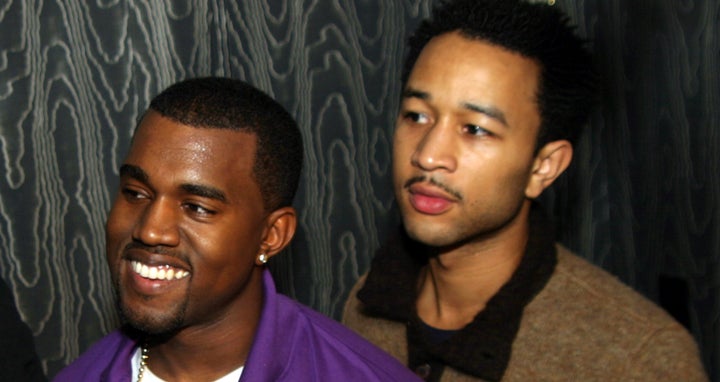 "No one really knew who he was yet," singer John Legend said of his long-time friend Kanye West while telling Huffington Post about the long, long time ago when West opened for him in New York.
Back in the early 2000s, when West signed Legend to his production company, both musicians were struggling to get a following. Around this time, Legend performed at a Manhattan club called SOBs to just a few dozen people. When West came into town, the now larger-than-life performer tried opening for Legend with shaky results.
"He was just a young producer-turned-rapper from Chicago that no one really knew," Legend explained. Apparently, the crowd was even getting restless during West's New York set, but, of course, this tale didn't end in career fatality. "Pretty soon after [the opening gig], he blew up," Legend said, but then broke into laughter saying, "I'm not taking any credit!"
The "All of Me" singer has credited West's early encouragement for his current success. The two certainly came up together, with multiple professional collaborations throughout the last near decade and a half -- notably on West's 2010 album, "My Beautiful Dark Twisted Fantasy."
At a party thrown by deodorant brand Axe, Legend told HuffPost new details about his own upcoming album, his fifth, and West's highly anticipated "SWISH," both of which should debut this year.
For his own 2016 release, Legend tapped Blake Mills to produce the album. Mills is the person behind Alabama Shakes' "Sound & Color," Legend's favorite record the last year.
Legend confirmed that he was a part of the early sessions for West's album. "I feel like it's probably evolved a lot since," he said, knowingly joking along in reference to the narrative that West has reworked his upcoming release several times.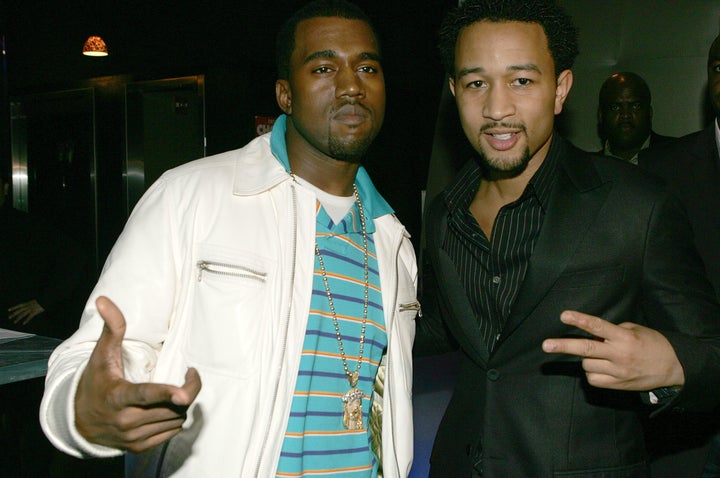 The Axe event took place at a multi-story venue in Manhattan's Soho neighborhood and featured Legend as a special guest as part of his collaboration with the brand in a project called The Axe Collective. This brand initiative aims to surface new music and film talent and partner them with established artists such as Legend. 
Echoes from the party could be heard in the private room where we spoke with Legend. Just around the corner, drag queen Lili Whiteass was standing on a glass runway above a full-story pool welcoming partygoers in, telling one group to have an orgy before they left. 
Legend, who is expecting a daughter with his wife, Chrissy Teigen, later this year -- "my real last name is Stevens, so my daughter's last name ... won't be as exciting as using Legend" the singer said with a laugh -- stayed above this suggested fray for the night. 
Besides a new album, Legend will also be making his Hollywood debut in the upcoming movie "La La Land," starring Ryan Gosling and Emma Stone. In the movie, Gosling is a member of a band led by Legend's character. Although maybe not quite as grueling of an acting shoot as the stories coming out of "The Revenant," Legend didn't get out of his first role unscathed.
"I almost broke my hand," Legend said, smiling. While smacking his hand, he explained, "There was a dancer getting swung around and she kicked me in the hand." The last time Legend was at the Academy Awards, he made Oprah, David Oyelowo and Chris Pine tear up with his rendition of Common's "Glory" from the movie "Selma." Who knows? Maybe in 2017, Legend will be following in DiCaprio's inevitable footsteps with tales on the Academy stage of injurious, but award-winning, acting too. 
Calling all HuffPost superfans!
Sign up for membership to become a founding member and help shape HuffPost's next chapter