John Legend is no stranger to politics. During the historic presidential election of 2008, the Grammy Award winning artist was front and center at the Democratic National Convention with his song "If You're Out There," which was a call to action for all Americans who believed in hope, change, leadership and responsibility - I was there, and it was awesome! Two years later, the much anticipated CD release of Wake Up! - Legend's partnership with America's new favorite late night band, The Roots, house band to new generation talk show host Jimmy Fallon, is out.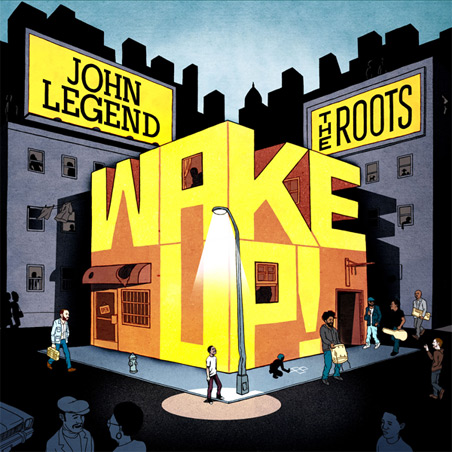 In a video interview with my way too cool colleague, Los Angeles-based Power 106 disc jockey DJ Reflex, Legend reflects on his personal politics, his commitment towards producing music with a message, and his on-off pundit appearances on cable news shows.
"I've always been interested in the way the world works, in politics, in leadership, just trying to make the world better," he says, "Since I read so much about it, I'm paying so much attention, I have a lot of opinions about stuff, sometimes I be yelling to the TV, like, I cant believe they let this cat say this on TV and no one is responding. So every once in a while, I just want to go on and respond myself."
A loyal supporter of President Obama, one of Legend's pet peeves is the continued lack of reasonable and logical thought by pundits and alleged news shows.
"People seem to think they can have their own facts," he says, "It's amazing the amount of misinformation that's out there."
On Obama being called a Muslim, Legend believes it shouldn't be perceived as a negative if he was, something former Secretary of State, General Collin Powell stated in his famous 2008 endorsement of Obama on Meet the Press.
"Anytime you're that high up, you're gonna have people that hate you, people that are gonna try to destroy you," Legend reflects, "You just gotta keep your head up high and do the best you can."
A soulful call to get it together, Wake Up! features 12 songs, 11 of which are new interpretations and remixes of music from the 60's and 70's which were re-sampled by hip hop artists in the 90's. The one exception is Legend's new song "Shine," which he made specifically for Davis Guggenheim's breath taking new documentary on America's failing public education system, Waiting for Superman.
Per Legend, the documentary is "one of the most powerful, moving and emotional documentaries you can see."
Showing a first-hand account of school lotteries, where a child's education is gambled on who is selected in a literal lottery to attend a good school, Waiting for Superman is a shocking insight on a collapsing education system that continues to merit teacher tenure over graduation rates.
"It's such a powerful image and issue," Legend adds, "I wanted to write this song and give voice to the kids."
Wake Up! goes on sale Tuesday, September 21st. Waiting for Superman will be in select theaters Friday, September 24.
I, for one, wont be missing either.
Related
Popular in the Community