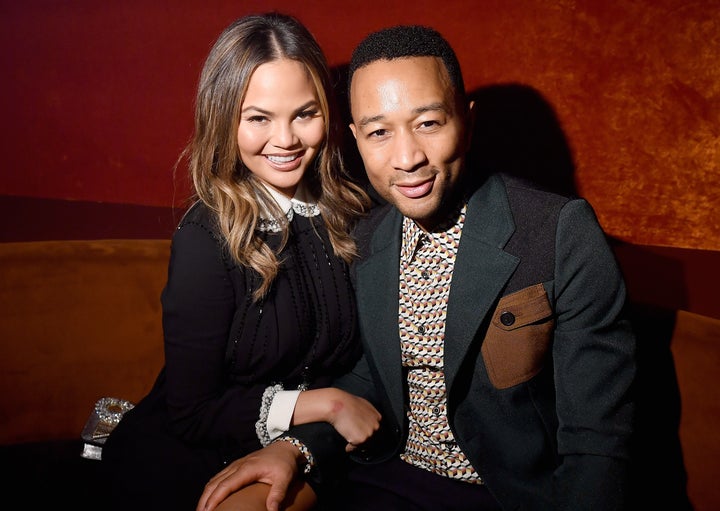 Singer John Legend is speaking out against the harm of toxic masculinity and gender stereotypes.
In an interview with NBC News' Think commentary and opinion section, Legend opened up about his childhood and the ways society deems what is acceptable (toys, movies, etc.) for boys and for girls. The singer noted that he considers these harmful restrictions placed on children while raising his daughter, Luna, with Chrissy Teigen.
"I see it even as I'm raising my daughter. The kinds of toys that are most likely given to girls versus the ones that are given to boys. The kinds of careers kids are steered into, even at a young age, that are seen as more feminine or more masculine," he said, adding later, "We're being taught very early on from movies and from the playground and all kinds of other things about how we're supposed to interact with each other and perform our gender. We're being indoctrinated pretty early on."
Legend also touched on his experience as a man of color, saying he feels that black men are frequently expected to be more masculine than other men.
"Some of this expectation we put on ourselves, I think, to some extent," he said. "But it's also driven from other people, as well as from the broader phenomenon of hyper-masculinity. This manifests itself in a lot of ways that can be really harmful for us and for the people we interact with, women in particular."
The musician credited his father with teaching him to think outside of restrictive gender norms. His dad was a manufacturing worker on an assembly line (a "stereotypically manly job," as Legend put it), but also was open about his love for fashion and being expressive.
"I feel like we always felt like we had the permission to be artists," Legend said. "It was three boys and one girl that my dad raised, and we always felt like we had the permission to be confident in doing that kind of thing."
″[Men] are afraid of talking about their fears and insecurities," he said. "They're afraid of expressing emotion beyond anger, dominance, or power, and they're afraid of getting in touch with their feminine side."
Echoing that idea, Legend told NBC News that he encourages boys to accept their fears in order to challenge themselves and overcome them. He also advised boys who will soon become men to simply listen.
"Well, I think part of it is to learn, to listen, to pay attention to other people and not only learn from books and from outside media, but also listen to your classmates," Legend said. "Listen to women. Listen to people who are different from you and develop a sense of empathy for the things that they're going through. I think we should all be humble and we should all listen to each other and learn from each other."