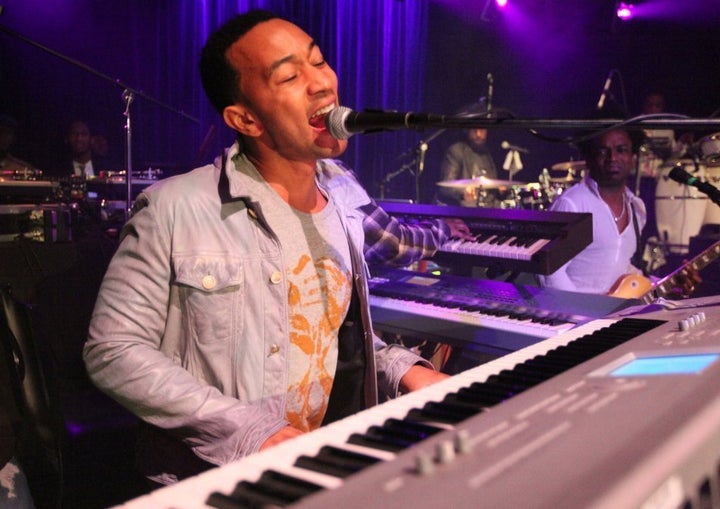 John Legend and The Roots join forces to open our eyes in their new album Wake up!, coming out September 21st. It's a cover album of soulful political, social and war-protest songs from the 1960s and '70s, summoning the activist spirit from our more socially conscious past. So far we know they've covered Marvin Gaye's "Wholy Holy," Donny Hathaway's "Little Ghetto Boy," Mike James Kirkland's "Hang on in There," Eddie Harris and LesMcCann's "Real Compared to What," and Harold Melvin & the Blue Notes' "Wake Up Everybody" which will be their first single and feature Melanie Fiona and Common. Here's an exclusive preview of the album cover: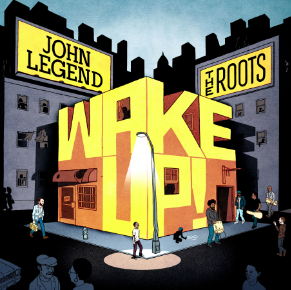 I spoke to John Legend about this new album, Obama, The Roots and more.
Why make this kind of an album now?
"We were kinda inspired by what was going on with the election and all the increased levels of activism and optimism, and we wanted to make an album that captured that sentiment. It came together as something that's really soulful, really timely and really reflective of the moment that we're still in right now, I think, because it reflects a lot of the frustrations as well as the optimism of this moment."
"Look at the song 'Wake Up Everybody,' which is the first single from the album. The main subjects it addresses are the education, the environment and health care, and as we all know those subjects are still quite relevant and contested territory."
How do you feel about how the political climate has changed since you started back in 2008?
"Well it's interesting because it kinda got even more contentious, with the whole tea party thing, with the birther thing, with the racial scab that seemed to get pulled off every three or four months with some kind of incident."
"I think part of [the frustration] is due to the lack of understanding about the political process. I think a lot of people voted because they were inspired by this charismatic man who represented a clear break from the previous administration and whose policies they wanted to see go into effect, and, you know, a year and a half later, he's gotten health care passed, he's almost passed a very significant financial reform, he passed a huge stimulus which is a more than just about any president has got done in their first year and a half. But that being said, I think a lot of people expected even more. They're like 'Man, I thought this was gonna be the president that could wave his magic wand and make everything happen,' and though he's gotten a lot done, there's been a lot of compromise on the way and there's been a lot of difficulty getting the agenda adjusted. We still haven't solved the recession yet; we still have a lot of frustration."
"Shine" is the only original song on the album?
"So 'Shine' is a song I wrote for [Davis Guggenheim's upcoming documentary] Waiting for Superman. The song was really inspired by the plight of the young people in the film who are all just trying to get a better life and trying to get a better education. In the film, their fate is literally decided by the luck of winning a lottery and getting into a better school. The song is really saying this is a tragedy that our kids' lives are determined by something so arbitrary and we need to do better by them. And in, hopefully, a way that is really inspiring and captivating, I tried to write a song that we really captured that sentiment."
How'd this collaboration with The Roots come about?
"Well, you know, when my manager and I came up with the idea of doing something like this, the first band we thought of to collaborate with, or the first producer we thought of to collaborate with, was [The Roots drummer/musical director] '?uestlove.' We thought it'd be just perfect if we did it together because we wanted the album to be soulful, we wanted it to have a live feel and we felt like The Roots are masters of making that work. The other great thing about working with '?uestlove' is that he has such a great knowledge of music history that he was a great partner in picking songs for the repertoire. I have even more respect for the man now having been able to work with him and I think it was a really great collaboration. I'm happy we were able to do it."
Is that how your collaborations usually come about?
"Well usually I'm a fan of their work on some level and I think we could make something great together, and it's usually just a phone call away and a little bit of scheduling and we usually make it happen. As long as everyone comes into it with the right attitude, you know, a little bit of humility and a bit of that collaborative spirit, then you usually make something good out of it."
Who's the most interesting person you've collaborated with so far?
"I think Kanye is one of the most interesting talents and I'm a big fan of working with will.i.am."
Is there anyone you're specifically looking forward to collaborating with?
"I have a few people that I'd love to write for or write with, like Amy Winehouse would be fun, Feist would be fun, Beyoncé would be cool too, just to name a few."
What do you think about your role as an artist versus your role as an activist?
"Well sometimes it really comes together, and I think either way we all live here together, we're all citizens in this country, and we're all citizens of the world, and you want the world to be a better place, as much as you have any control over that. You want to try to make it better, and I think part of the way we do that is by creating art. But also since we see so much and we have access to so much and we have the ears of so many people, I think we'd be remiss if we didn't try to make the world better in other ways."
So you think there's a responsibility as an artist?
"I think everyone has their own take on that. I feel like it's my responsibility as someone who knows what's going on, who reads a lot, who pays attention and travels a lot and has a lot of resources and a lot of, you know, people that listen to what I have to say. I feel like I don't want to waste that by just trying to make money for myself. I want to use that opportunity to help somebody else because I see a lot of people that struggle."
"The Office, Seinfeld, Family Guy, Meet The Press, The Daily Show, The Colbert Report, The Boondocks."
"Well right now Nikki Minaj but you know there's a time and place for everybody. I feel like this is Nikki's time right now but Kim had a nice run."
Which of your songs would you sing to serenade someone?
"Well I have a girlfriend, so I only serenade her. Maybe 'Goodmorning.'"
Whats your favorite New York restaurant?
Where in New York do you live?
"In the East Village, we go to lot of small places around here that we love too."
What's your guilty pleasure?
What happened with your hairline on twitter?
"Yeah, I got kind of pissed off that morning because I got the [BET] Humanitarian Award and for some reason a trending topic was that my hairline is crooked while I'm giving this heartfelt speech about the Humanitarian Award, so I got a little annoyed and kinda had a rant that morning, but I was a little out of line, you know, I had a moment and that's the interesting thing about Twitter, if you impulsively type something it kinda takes off."
Why are you such an optimist?
"I don't know I think I've always been like that, even growing up as a kid, when my parents got divorced, that was always my outlook, to be optimisitc, I don't know it's really not something I think about trying to do, it's just how I am."
Click here to pre-order Wake Up!
Listen to PEOPLE.com's exclusive preview of the first single "Wake Up Everybody."
Calling all HuffPost superfans!
Sign up for membership to become a founding member and help shape HuffPost's next chapter