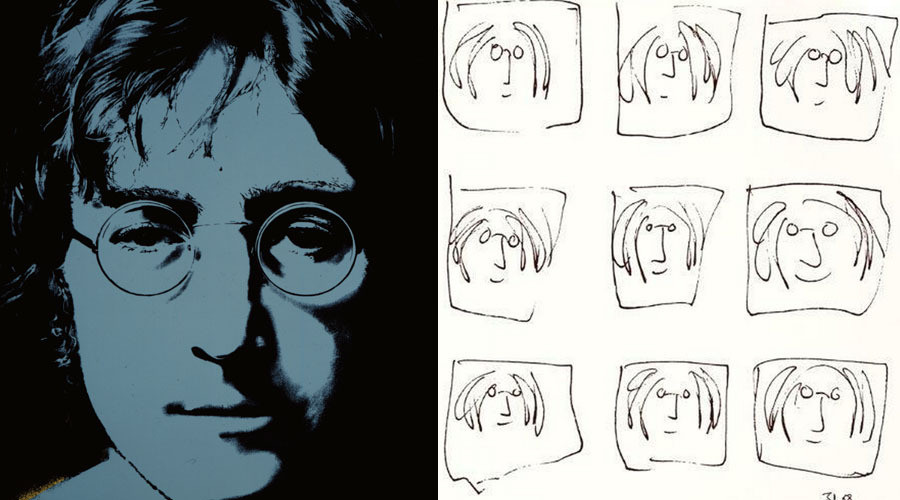 "He had a habit of just giving his art away to people," Yoko Ono softly explained, in a phone interview with The Huffington Post. "He was pretty generous about that."
Yes, that humble "he" refers to John Lennon, the legendary singer, songwriter, musician and artist who inspired the world to imagine peace. As such, it's not a huge shock that he enjoyed giving away his drawings. "We had a big lawyers meeting and the whole time they were talking he was just scribbling something," Ono said. "The lawyers would come to John and say, 'What are you doing?' And he was making this beautiful, beautiful artwork. And the lawyer said, 'Well, can I have it?' And he said, 'Sure, sure.' That's just how John was."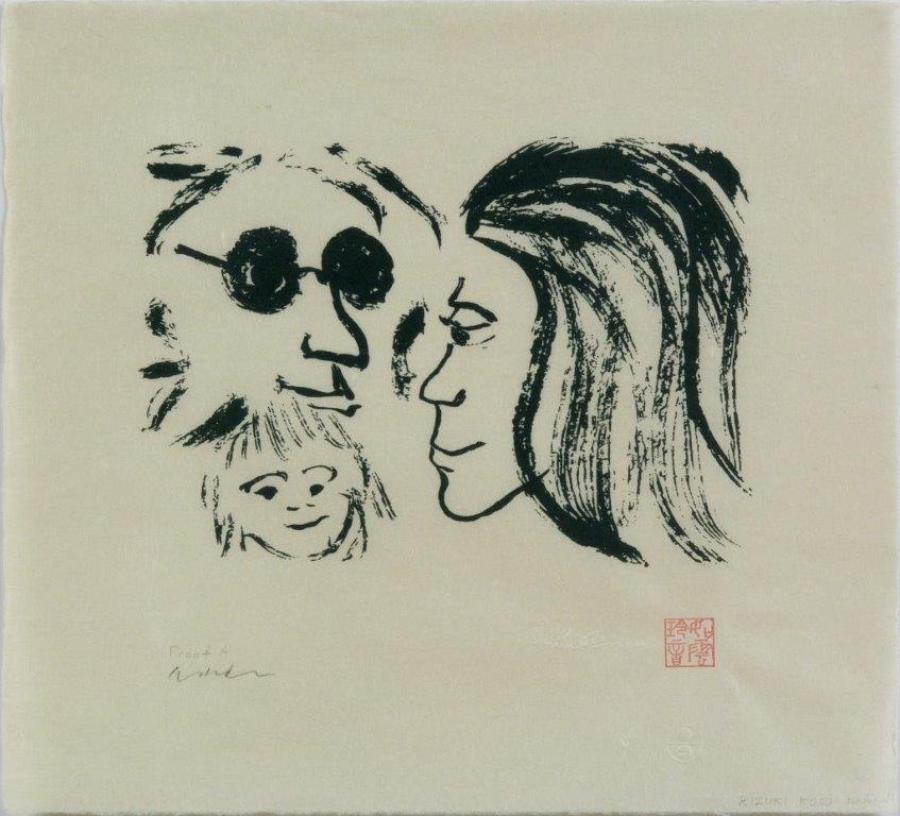 Due to Lennon's aforementioned altruism, many of his works have wound their way into lucky hands throughout the world. Still, a precious supply resides with his artistic collaborator and great love, Yoko Ono. The 82-year-old multidisciplinary artist is presenting her treasure trove of sketches for the world to see, providing art lovers and Beatlemaniacs alike a rare glimpse into one of the most impactful minds of the 21st century.
The drawings are simple -- some in black and white, others accented with splashes of color. They depict the mundane and magical moments of being alive, sitting under a tree with Yoko and sitting atop a cloud with Yoko. The stark line drawings, reminiscent of illustrators like Quentin Blake and Ronald Searle, render images buzzing with emotion and vitality with the most meager (and squiggly) of means.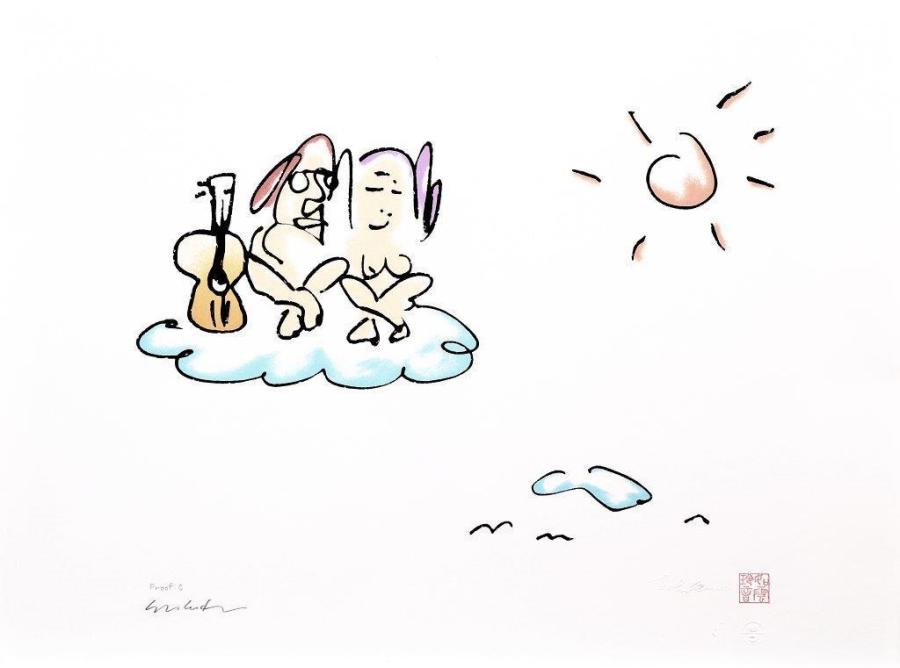 For Ono, Lennon's style echoed a faraway influence too. "The kind of thing that he did is something I recognized from Asian painting," she said. "They used to do things without going back and correcting what they did. They did it in one go. It was seen as sort of contrived to correct. You know, you have to be a very good artist if you can just do it in one go. And he was like that, he was like an Asian painter."
Lennon wasn't oblivious to the correlation. He often signed his works with what's called a chop, an individualized stamp popular in Asian brush paintings. Lennon's particular breed was red, and was designed to read "like a cloud" or "beautiful sound."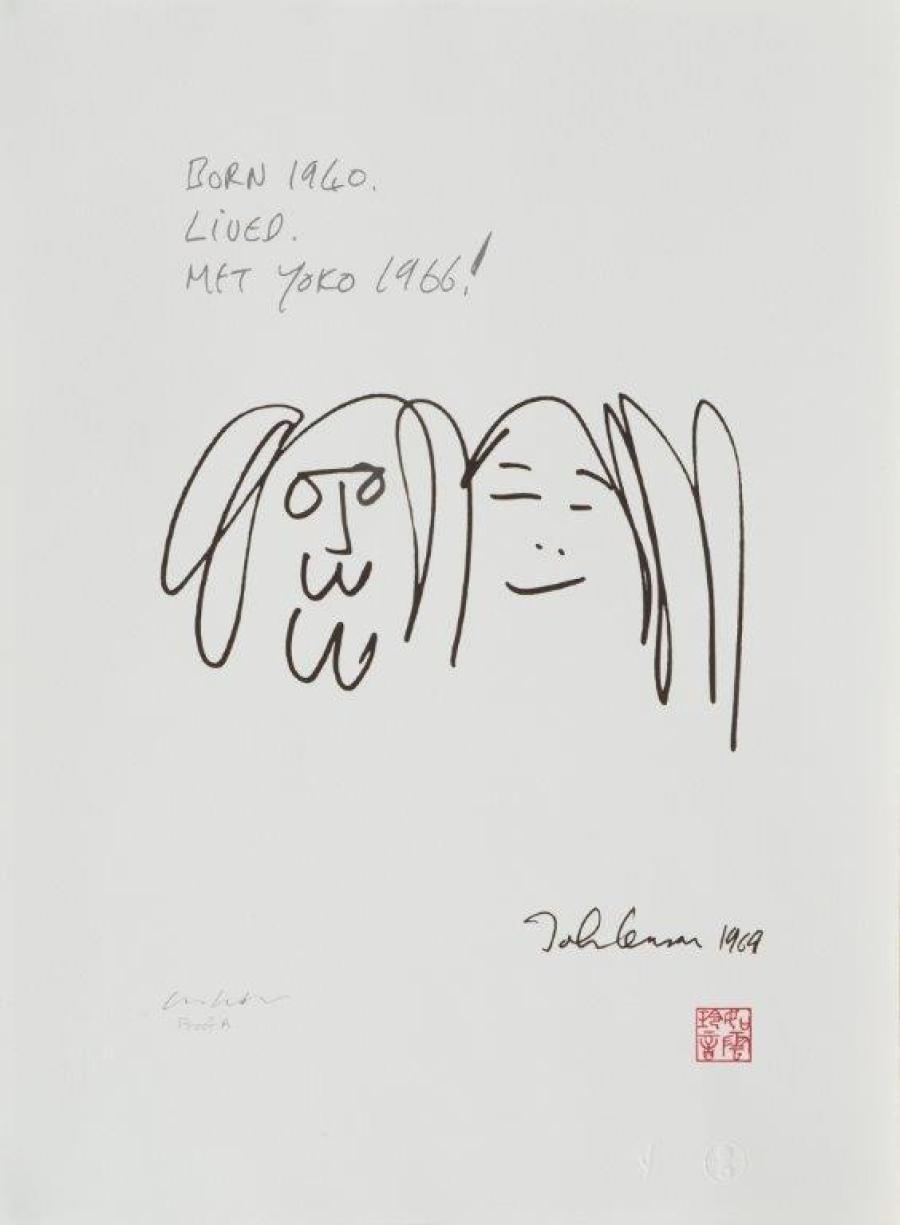 Lennon began drawing far before he entered the realm of music. He attended the Liverpool Art Institute before working with his band -- you know the one -- full time. Even after his musical career took off, he continued drawing throughout his life, immortalizing everything from his romance with Yoko to his experiences signing autographs for super-fans in minimal black ink. His notorious works include a 1696 wedding gift for Yoko, which showcased a visual chronicling of their wedding and honeymoon, along with some erotic drawings.
Lennon's return to art in the later phase of his life may stem from Ono's status as a prolific figure of the artistic avant-garde. However, their styles were worlds apart. "We were very lucky that I was not a painter or something so we didn't have to fight," Ono explained. "I thought he was very unique."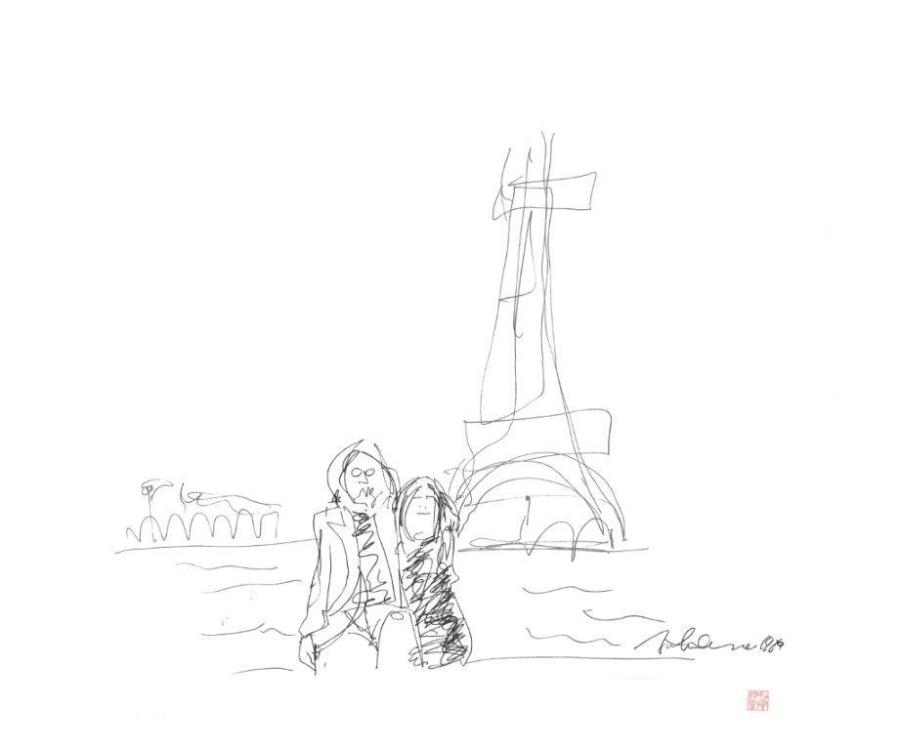 "In terms of time, [each drawing took] maybe three minutes," Ono added. "He was a very fast worker. He would create something and then say, 'Yoko, Yoko, do you want to see this?' And I'd say, 'Okay, oh this is great!' What am I going to say? It was great! But also, being an artist myself, I know how all artists are so insecure. So you don't want to say, 'No, this is not good!' But actually, what he did was really interesting."
Like the man who made them, Ono is big-hearted with Lennon's oeuvre, knowing the impact every mark he created will likely have on those who love him. From May 5 through May 7, 2015, the drawings will be on view and available for purchase at Chasen Galleries in Richmond, Virginia. And from May 29 through May 31, 2015, the works will travel to Ann Jackson Gallery in Atlanta, Georgia.
For millions of people around the world, the chance to view the original artworks of John Lennon, signed by Yoko Ono no less, is about as glorious an opportunity as they come. Ono is, not too surprisingly, a little more zen about it all. "These are things that I have," she said, "and if you feel like showing them, it's fine."
Calling all HuffPost superfans!
Sign up for membership to become a founding member and help shape HuffPost's next chapter
BEFORE YOU GO