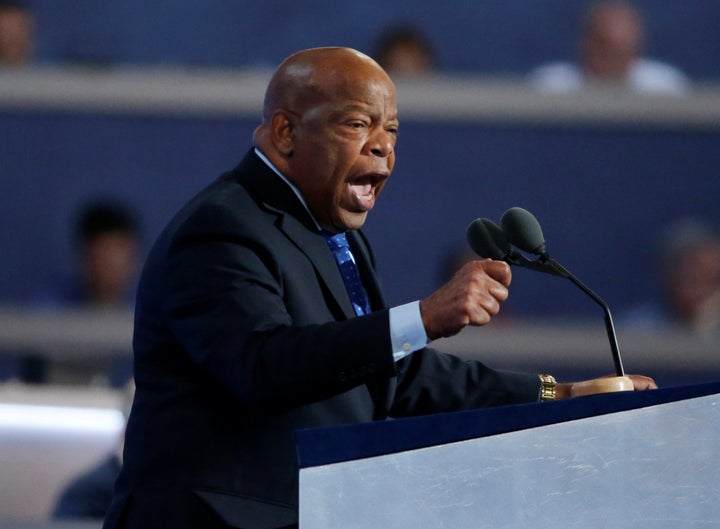 "He needs to do a little more research before he opens his mouth," local mom Monique Smith told The Atlanta Journal-Constitution.
If "Trump believes Georgia's Fifth Congressional District is 'falling apart,' then he believes Atlanta is falling apart," the newspaper noted, and that's hardly the case. The economically and racially diverse district includes 750,000 people and encompasses most of the city along with some suburbs.
It's unclear what Trump meant by "falling apart." As for "crime infested," Atlanta was ranked 14th in violent crime rates by the FBI in 2015. Kansas City, Missouri, ranked 8th, and Washington, D.C., ranked 12th. The 5th District includes impressive sections of wealthy areas like Buckhead, the federal Centers for Disease Control and Prevention, and the Georgia Institute of Technology.
Trump's knee-jerk perception of Lewis' district is similar to views he expressed during his campaign when he characterized some black communities as crime-ridden hellholes worse than Afghanistan.
Trump appears to be less concerned about accuracy in his portrayal of the 5th District and more focused on devaluing a critic's assessment of him by evoking a negative image of a blighted black community failed by its leadership.
Lewis' furious constituents and others flooded Twitter after Trump's comments with responses defending their congressman and their community under hashtags such as #defendthefifth and #notsad.
Houston Astros pitcher Collin McHugh of Atlanta tweeted: "As someone who lives in the 5th district, I don't think #DJT has any idea what he's talking about. And then doubling down by insulting the civil rights hero on #MLK wknd … wow #classy."
Some people posted photos of high-rises, beautiful homes and children playing in a park. One Twitter user quipped that Atlanta should be relieved about Trump's attitude — because it means he probably won't be visiting.
Trump attacked Lewis and his district after the congressman said he wouldn't be attending the inauguration. He said he believes Trump won the White House with the help of Russian hackers.
"I think it was a conspiracy on the part of the Russians and others to help him get elected," he said in an interview Friday on NBC for Sunday's "Meet The Press." "That's not right. That's not fair. That's not the open democratic process."
Lewis added: "I don't see this president-elect as a legitimate president."
Lewis, an iconic civil rights leader who was once beaten so badly by a law enforcement officer in a protest that his skull was fractured, has represented the 5th District since 1987. The NAACP has called on Trump to apologize to him. Organization President Cornell William Brooks said in a Saturday tweet that Trump's remarks "demeaned Americans" and the rights Lewis has fought for throughout his life.
Popular in the Community