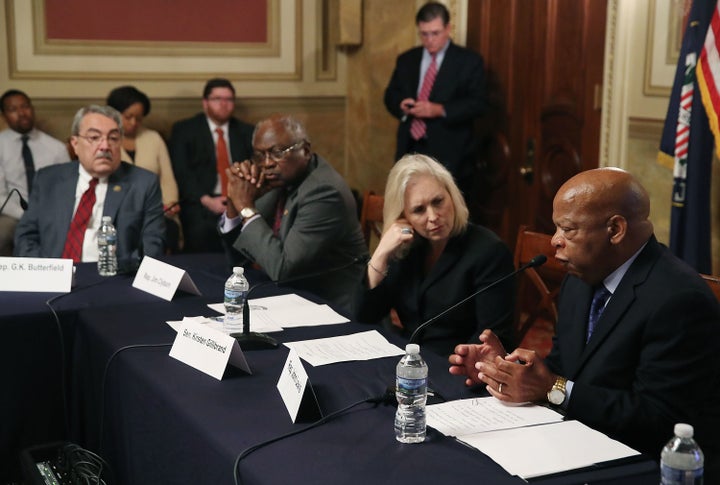 Civil rights icon John Lewis called on the Obama administration Wednesday to dispatch federal election observers to polling stations in states that have recently restricted voting rights. But it wouldn't be easy.  
The Georgia Democrat pointed to a wave of states that began enacting voting restrictions after the 2010 midterm elections, chipping away at a key achievement by the civil rights movement to end racial discrimination at the ballot box. This year, 14 states will have new voting restrictions in place for the first time in a presidential election year since the 1965 Voting Rights Act.
"In past few months and years I've traveled across the country and I know that there is a deliberate persistent systematic effort to make it harder and more difficult for the disabled, student, senior, minority, the poor and rural voters to participate in the democratic process," Lewis said during a voting rights roundtable on Wednesday. "That's not right, not fair, and it's not just."
In 2013, the Supreme Court struck down key provisions of the Voting Rights Act, leaving it to Congress to revise the law. Lewis called it a "shame" and "disgrace" that Congress has not acted. Though House Speaker Paul Ryan (R-Wis.) supports bringing up a reauthorization of the act for a vote and controls the chamber floor, he has left that task to the whims of his members. Judiciary Chairman Rep. Bob Goodlatte (R-Va.) opposes updating the law.
In the aftermath of the ruling, recent restrictions passed by states include new photo I.D. requirements, a cutback in early voting days, and the elimination of same-day registration.
"In certain states we should ask for federal protection, federal observers," Lewis said. "The election could be stolen on Election Day at polling places."
In past elections the Justice Department assigned poll observers to large number of states. In 2006, the federal government sent 800 monitors to 20 states. Those numbers took a drastic hit in the 2014 midterms after the Supreme Court's ruling; monitors were sent to just seven states.
This year the Justice Department can only send observers to five states, according to a Reuters report. Eleven states had met the department's criteria for needing monitors. The cutbacks make it harder for the department to keep an eye on regions with a history of racial discrimination and past polling problems.
The DOJ declined a Huffington Post request for comment on Lewis' remarks.
The department has not announced how many observers it will dispatch on Election Day. 
"Our ability to deploy them has been severely curtailed," Attorney General Loretta Lynch said in July of the high court's ruling.  
Calling all HuffPost superfans!
Sign up for membership to become a founding member and help shape HuffPost's next chapter