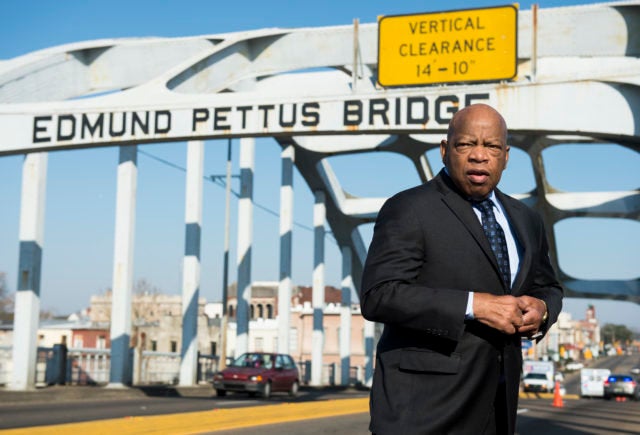 Days ahead of what will likely be a victory for far-right presidential candidate Jair Bolsonaro in Brazil, Rep. John Lewis (D-Ga.) wrote a letter to Secretary of State Mike Pompeo urging him to protect human rights in a country that could soon be controlled by a fascist regime.
In the letter obtained by HuffPost, Lewis does not mention Bolsonaro by name but delves deep into Brazil's 1964-1985 military dictatorship. A truth commission later found that the regime was responsible for murdering more than 400 people and torturing and disappearing potentially thousands more.
"Many in public policy remember the brutal military dictatorship that terrorized, repressed and suppressed freedom of speech, thought, and basic human rights in Brazil until the 1980s," Lewis wrote. "The rhetoric of the recent election, political violence, false news reports, and misinformation pave the way towards a dangerous decline in a country for which many hold great hope and faith."
In pre-election polls, Bolsonaro currently holds a double-digit lead over his opponent, former Sao Paulo Mayor Fernando Haddad of the leftist Workers' Party. With Bolsonaro's victory a serious possibility, observers worry that he may return the country to military control or substantially roll back human rights gains for Brazil's most marginalized groups.
The right-wing candidate has a history of making derogatory comments about black, indigenous, LGBTQ people and feminists, and has praised Brazil's dictatorship and other murderous authoritarian regimes across the world. In a country that already has one of the deadliest law enforcement forces in the world, Bolsonaro has also proposed granting the police and military more leeway to shoot and kill with impunity.
Lewis' letter references Marielle Franco, the black, queer Rio de Janeiro city councilwoman who was murdered in April in what authorities suspect was a political attack. Franco was an outspoken critic of police violence and an advocate for equal rights for Brazil's most marginalized communities. Her murder remains unsolved.
"[T]he U.S. State Department must unequivocally condemn the violence and targeting of workers, minorities, women, and marginalized communities in Brazil," Lewis wrote.
The congressman also urged the U.S. to help monitor Sunday's election in Brazil as a "committed partner in supporting these shared values."
For, Lewis, the imperative of protecting human rights hits close to home. In 1965, he led a group of 600 nonviolent protesters across the Edmund Pettus Bridge in Selma, Alabama, in a march for voting rights; state troopers responded by violently attacking them. One hit Lewis in the head with a nightstick.
"Democracy and the path towards positive peace necessitate vigilant, thoughtful attention and support," Lewis wrote in his letter. "The United States cannot afford to ignore the rise of xenophobia and extremism and the decline of democracy and human rights in our neighbor and friend."
Earlier this week, Rep. Ro Khanna (D-Calif.) circulated a letter among colleagues calling for "severe consequences" if Bolsonaro is elected and delivers on the violence he promised.
Popular in the Community