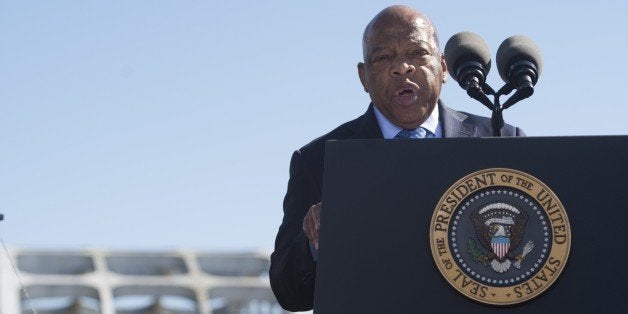 WASHINGTON -- Civil rights icon Rep. John Lewis (D-Ga.) said Thursday that voter ID laws are a modern-day version of poll taxes once used by Southern states to disenfranchise black and poor people.
In a piece called "The Unfinished Work of Selma," Lewis reflected on the Supreme Court's decision in June 2013 to strike down a core piece of the 1965 Voting Rights Act. That provision, Section 4, determined which states and localities with a history of suppressing minority voters had to get permission from the Justice Department to change their voting laws. In a 5-4 vote, the court ruled that the section was outdated, and left it to Congress to come up with a new formula for designating which regions of the country warrant special scrutiny.
Congress hasn't done anything since. As Lewis noted in his piece, published on Mic, Republicans in statehouses around the country have moved quickly to pass laws making it harder for people to vote.
"Couched in language about 'protecting the ballot box,' Republicans have pushed voter ID laws that disproportionately impact certain blocks of voters -- African-Americans, women, Latinos, the poor and young people -- who tend to vote against them," he wrote. "In Texas alone, 600,000 voters were at risk of being disenfranchised by the new voter ID requirements."
Lewis said it's important to call those laws what they are.
"We should not mince words: These are poll taxes by another name, the very types of discrimination we marched against 50 years ago," he said.
Lewis was at the center of last week's 50th anniversary commemoration of the civil rights marches in Selma, Alabama. He led some of those marches back in 1965, and said being in Selma 50 years later reminded him how much work there is still to do when it comes to protecting voting rights.
On that day in 1965 that President Lyndon Johnson signed the Voting Rights Act into law, "I would have been in utter disbelief to know that in 2015, the VRA would still be a point of debate," Lewis wrote.
The Georgia congressman is among a group of lawmakers trying to pass legislation to restore the law, but they've struggled to find GOP supporters. Their bill would update Section 4 of the law to make it apply to states and jurisdictions with voting violations in the past 15 years. So far, the House bill has just a handful of Republican cosponsors. The forthcoming Senate bill has none.