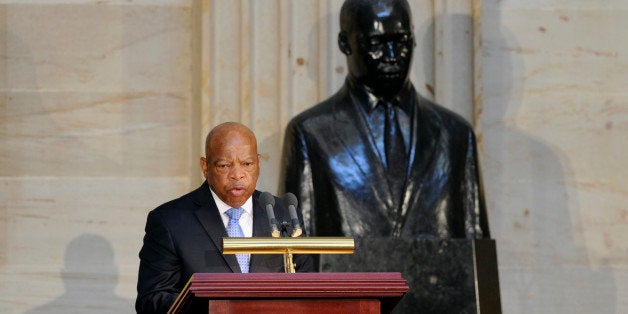 Congressman John Lewis (D-GA) is one of the last living leader of the civil rights movement. As the chairman of the Student Nonviolent Coordinating Committee he was a key player in the struggle to end segregation, and a confidant of the Rev. Dr. Martin Luther King, Jr. He is the recipient of the Lincoln Medal, The John F. Kennedy "Profile In Courage" Lifetime Achievement Award, and the NAACP Spingarn Medal.
HuffPost's Senior Religion Editor, Paul Brandeis Raushenbush, spoke to Rep. Lewis about his new book, "Across That Bridge: Life Lessons and a Vision for Change;" and the powerful role that faith, nonviolence and reconciliation played in the civil rights movement, and what lessons these principles can teach us today.
Paul Brandeis Raushenbush: What prompted you to release this book right now?
Rep. John Lewis: It felt like the time was right to inspire another generation of individuals to come together and help move society along. Sometimes I feel that we are losing our way as a nation and this book may be able to point people towards another way of doing things.
We have traveled this path before. In another time, a coalition of people of conscience came together and used these lessons, steps, and methods to move society to a better place. We can get there! We have to have faith, and move with deliberate speed. But with love, action and perseverance we can get there -- never give up, never give in, never give out.
Across That Bridge reads like a testimony meant to help other people to remember that we can make a way.
When I was growing up my mother, father and grandparents would sing in the church about making a way when there was no way, not getting lost in a sea of despair, and to be hopeful and grounded. Those of use who came through the early days of the movement were grounded in our faith, grounded in our beliefs that somehow and someway we would have a victory, that we would overcome, that we would be able to redeem society and create what Dr. King called the beloved community.
If that was the goal, then our method must be one of love, one of peace, and that's why I believe so deeply in the philosophy and discipline of non-violence. For me it is one of those immutable principles that you cannot deviate from.
Has there been a particular scripture passage you have gone back to in moments of despair and struggle during your life?
When I was young and something was going wrong I would have an executive session with myself and I would say: "John Robert, listen -- The Lord is my light, and my salvation; He is the strength of my life. Whom shall I fear?" (Psalm 27)
And that stayed with me. Even when I was being beaten, trampled by horses, facing the tear gas. When we were on the bridge I really thought I saw death, but I felt that the presence of the Almighty was with me, and was surrounding me and we survived.
We had a victory and millions of people around America and around the world supported our efforts. And two days later, after Dr. King appealed to the religious communities to come to Selma, there were ministers, priests, nuns, and rabbis who came and walked with us.
Unfortunately there were also ministers who said King was going too fast, and there there were many religious people who adamantly opposed what you were doing. Part of the problem today is that people in social movements for progress often see the church as a hindrance rather than a help.
The church should be out front leading the way, and be a headlight rather than a taillight. If you are going to live up to the teachings of the Great Teacher, and follow in the tradition of the great leaders of faith, you have to be out there, shining the light, preaching the Good News and living the Good News. You have to make it real.
When you talk to a lot of the ministers in the south today who were young then and were not engaged in the struggle, they regret that. I do think today that the church should be playing a bigger role.
One of the hallmarks of the civil rights movement seemed to be music. Can you recall some of the songs that were sung? Seems like music still has a role to play in moving us forward.
Without music the civil rights movement movement would have been like a bird without wings. Music created a sense of solidarity when we were walking. There was a young kid from California improvising, tying words together in the tradition of the old Gospels and he would sing :Oh, Oh Wallace (Alabama Governor), you never can jail us all, segregation is about to fall."
People would sing Amen, Amen. People would just stand up and sing: "I woke up this morning, with my mind staying on Freedom." It was taken from the song: "I woke up this morning with my mind staying on Jesus." We Shall Overcome was a hymn of the church, and then became the theme song which people are now singing around the world.
There is a lot of frustration out there. How have you managed to remain nonviolent? How did you manage not to raise a fist when you were being beaten?
The philosophy of non-violence is in keeping with the teaching of Jesus. As Dr. King said, Jesus gave us the way, the philosophy; and Gandhi gave us the method.
I grew to accept nonviolence as a way of living before I went on any demonstration, or any march. For a whole year, a group of us studied the great religions of the world, and Gandhi and Thoreau, and I made up my mind that I would make a lifetime commitment to the way of peace and the way of love. No matter what happens. Whether I'm beaten, whether I'm arrested and thrown in jail, I am going to commit my life to a new way, a better way.
I don't have any ill feeling towards any individual, especially towards anyone who beat me. On one occasion in 1961, a group of young white men attacked myself and my seatmate, a young white man, when we tried to enter a so-called 'white waiting room.' These guys jumped us, beat us, and left us lying in a pool of blood.
Two years ago, one of the guys who beat us, came to my office and said, "Mr. Lewis, I beat you, I attacked you, I want to apologize, will you forgive me?" And his son, who had been encouraging him to do this for some time, his son gave me a hug, the father gave me a hug, they both started crying.
And I hugged them back and I said: "Yes, I forgive you." And all three of us cried. And since then I have seen this guy four different times. He called me brother, and I called him brother. And that is what the movement is about. And that is why I wrote the book. We are one people, we are one family, we are one house. One love.
Popular in the Community