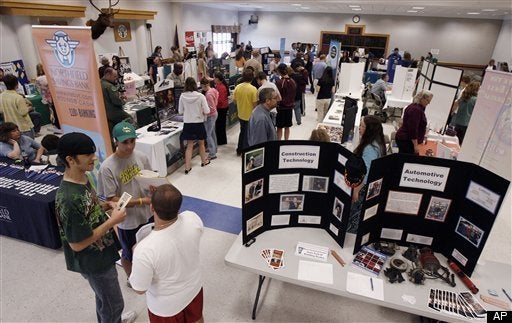 Georgia Republican Rep. John Linder suggested Thursday that extended unemployment benefits keep people from looking for work.
After complaining that the Democrats' stimulus bill has failed to keep unemployment from hitting double digits, Linder said, "And even when businesses are willing to hire, nearly two years of unemployment benefits are too much of an allure for some," said Linder. "The evidence is mounting that so-called stimulus policies rammed through Congress are doing more harm than good."
Linder cited a May 10 Detroit News story about landscaping businesses complaining that potential employees rejected job offers in favor of collecting unemployment benefits. The stimulus and several subsequent bills have given laid-off workers up to 99 weeks of unemployment benefits in some states, including Michigan. The average weekly benefit is $320.
Linder is the highest-ranking Republican on the House Ways and Means Subcommittee on Income Security and Family Support, which held a hearing Thursday to address long-term unemployment. Committee chairman Rep. Jim McDermott (D-Wash.) called for testimony from four economists who were unanimous that the extended unemployment benefits are necessary and don't increase the unemployment rate.
Michael Reich, an economics professor from the University of California, Berkeley, for instance, pointed out that there are currently five jobseekers for every available job, adding that the unemployed wouldn't be any less likely to take available jobs even if they had more than 99 weeks of benefits. "Exits from unemployment to employment become less likely the longer the duration of unemployment, largely because employers generally choose to hire new labor force entrants or unemployed workers with short unemployment spells over those with longer spells."
To wit: online job ads from companies that say "NO UNEMPLOYED CANDIDATES WILL BE CONSIDERED AT ALL."
Jason Taylor, an economics professor from Central Michigan University, took Linder's view. "There can be no doubt that incentives to obtain new employment have been, and will continue to be, tempered by governmental action which has extended unemployment insurance to many through the end of 2010."
Taylor told HuffPost he had not seen an April report by the San Francisco Federal Reserve, which found that "extended unemployment insurance benefits have not been important factors in the increase in the duration of unemployment or in the elevated unemployment rate."
Republicans and in recent weeks conservative Democrats have held up efforts to reauthorize extended benefits because of their impact on the federal budget deficit, which is expected to top $1.5 trillion this year. The result is that unemployment benefits and several other domestic aid programs, including funds for Medicaid and subsidies for laid off workers to buy health insurance, have lapsed while the Senate dithers over the bill. Meanwhile, hundreds of thousands of people will miss checks they'd been expecting.
But the opposition hasn't been all about deficit spending; the notion that unemployment benefits keep people from taking jobs has been a constant undercurrent. Sen. Judd Gregg (R-N.H.) said the same thing in May. Sen. Jon Kyl (R-Ariz.) said it in March. And many Democrats share that view. Rep. Jason Altmire (D-Pa.) said in May that businesses in his district complained that potential workers refused job offers in favor of staying on unemployment benefits (though he declined to name the businesses).
Larry Mishel of the Economic Policy Institute pointed out that only 67 percent of the 15 million unemployed receive benefits. Even if all those people are enjoying the dole, shouldn't businesses still be able to hire some of the other five million receiving no benefits at all?
Rep. Shelley Berkley (D-Nev.) didn't have much patience for the egghead economists and their proposals for additional weeks of unemployment benefits, job-sharing or workforce retraining. "What would help me a lot is if you all came to Vegas and drank and gambled like crazy," she said.
Related
Popular in the Community