The sister of a North Carolina man fatally gunned down by sheriff's deputies Sunday says her brother was "murdered," and that the deputies should've obtained a search warrant before entering her brother's home. 
John Livingston, a 33-year-old father, was "an innocent man" whom officers "didn't have to shoot," his 21-year-old sister, Brittany, told The Huffington Post on Monday.
Two deputies from the Harnett County Sheriff's Office arrived at Livingston's Spring Lake trailer home at 3:45 a.m. Sunday to follow up on an assault investigation, a spokesperson for the department told local news outlets. 
One of Livingston's roommates, Clayton Carroll, told WNCN that the deputies asked Livingston if they could look inside the trailer for a man who no longer lived there.
"Not without a search warrant," Livingston said, according to Carroll. Livingston then shut the door to the trailer.  
There was no reason for this to happen."
"The cop kicked in the door, got on top of him, started slinging him around, beating him," Carroll said.
According to Carroll, the deputies then pepper-sprayed Livingston multiple times before Tasering him. The altercation then spilled outside the trailer onto the porch. 
Carroll and another roommate, Bristol Edge, said Livingston was neither armed nor fighting back, but at one point, while lying facedown on the porch, he did have his hand on one of the cops' Tasers. 
Carroll re-enacted the scene for WNCN, lying down next to fresh blood stains from his friend's body.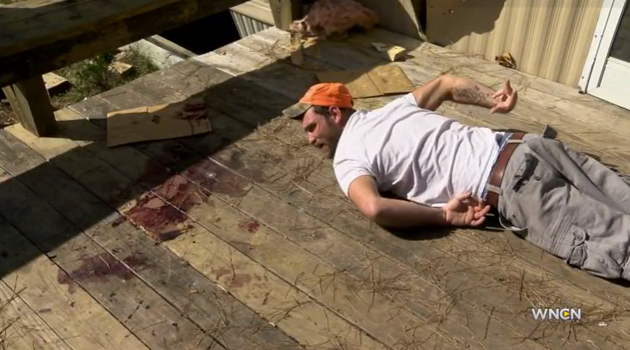 "[Livingston] barely had the Taser in his hand but he had it where it was constantly going off and the officer -- I guess it spooked him -- he rolled over there, and said, 'He's got the Taser,' and shot him in this position," Carroll said. 
Carroll said the deputy shot Livingston six times, while Edge said she saw four gunshot wounds.
"There was no reason for this to happen," Edge -- who said she put a blanket over her friend as he died -- told WNCN. "They could've subdued John or called backup." 
The Harnett County Sheriff's Office did not reply to repeated HuffPost requests for comment, but Maj. Jeff Hubert told WNCN that Sheriff's Deputy Nicholas Kehagias was involved in the shooting incident. 
As is protocol, both Kehagias and the other, unidentified deputy have been placed on administrative leave pending an investigation. The sheriff's department requested the help of the North Carolina Special Bureau of Investigation, a common practice for investigating officer-involved shootings in the state. 
Shannon O'Toole, a spokesperson for the North Carolina SBI, confirmed to HuffPost that the agency was investigating Livingston's death. SBI investigators were present during Livingston's autopsy Monday. 
The SBI investigation, O'Toole said, could last two to three months, after which a case file will be delivered to the local district attorney. At any time during or after the investigation, the DA could elect to file criminal charges against the deputies.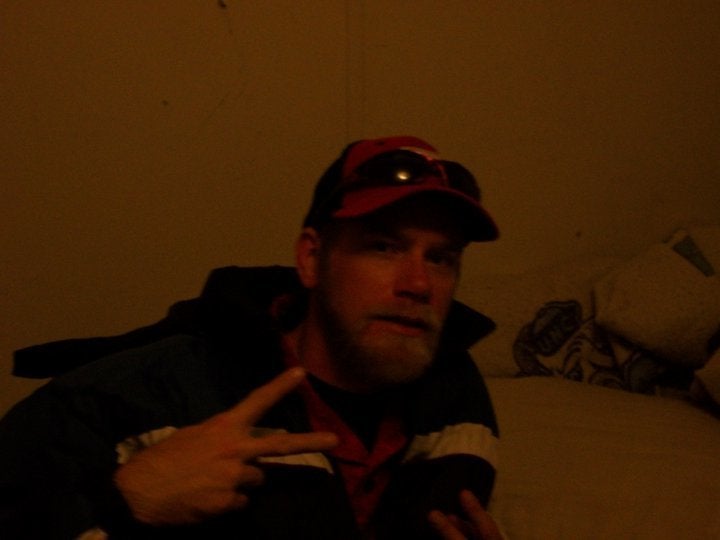 In the meantime, Livingston's sister, Brittany, says her family is raising money to bury her brother. They've set up a GoFundMe page, which as of Tuesday morning had raised $545 towards a $10,000 goal. 
Brittany described her brother as a "hardworking man" and a talented carpenter with "three beautiful children." Two of the children, she noted, were not biologically his, but he raised them as if they were his own. 
She said her family is devastated. 
"My mom didn't think she would have to bury her son," Brittany said. "It's supposed to be the other way around." 
Calling all HuffPost superfans!
Sign up for membership to become a founding member and help shape HuffPost's next chapter