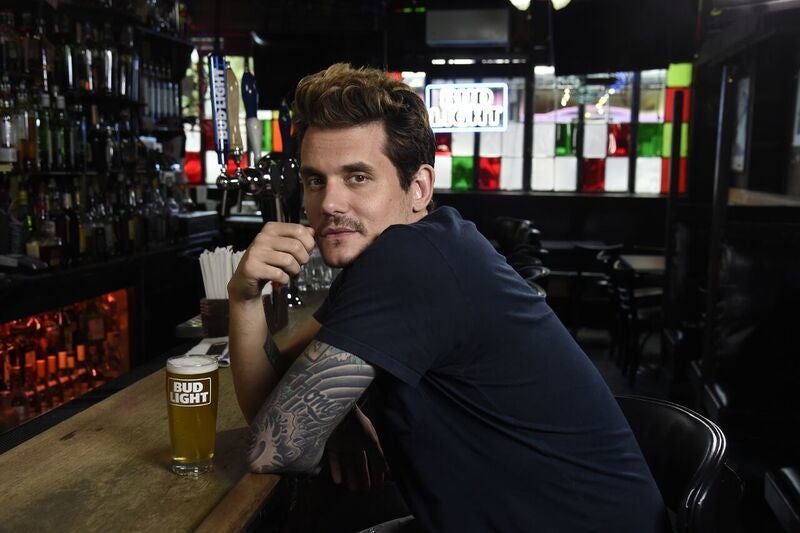 "I have this little saying, 'Find the music in it,' and if I can't find the music in it, then it's hard for me."
That's John Mayer talking about why he decided to sign up to headline one of the shows in the second iteration of Bud Light's Dive Bar Tour, which is gearing up to return in just a few weeks. The singer-songwriter was initially going to be the second performer behind Lady Gaga, but her performance has been rescheduled, so it looks like Mayer is going to launching the tour himself. He's slated to perform somewhere in Los Angeles on July 26, but very few people in the world know where or exactly when, and getting a ticket is next to impossible.
The concept of the Dive Bar Tour was initially met with skepticism by some last year when the beer brand announced it, but those who were lucky enough to attend one of the concerts, which featured Lady Gaga premiering her new album Joanne (which would go on to debut at number one on the Billboard charts) raved about getting to see the superstar in such an intimate setting. Only about 200 people were permitted to each showing, and Gaga held nothing back, giving these stagings her all.
In New York, the Grammy winner brought out fellow superstar Mark Ronson, and once the show had ended, she performed for the thousands waiting outside, standing on top of the Bitter End with nothing but a guitar and her pink cowboy hat.
Now, Bud Light is looking to repeat the success of the first Dive Bar Tour, only this time around, things are slightly different. Instead of having one major musician headline every show, one will launch the party and then kick it off to another artist once they're done. The order may have changed, but already Gaga and Mayer have signed on, while at least one more headliner is being kept secret for the moment.
When asked what he thought when Bud Light first approached him about the possibility of playing in front of a few hundred people, when he typically sells out venues that can fit tens of thousands, the singer-songwriter called it "an easy yes."
"Someone says, 'You're going to play in a dive bar, it's gonna be small and cramped and probably hot, and you're gonna play feet away from people,' I go, 'Well this I know.'"
Already no stranger to performing on stage, 2017 will see Mayer play live more than ever before. He's touring with Dead & Company, the group that features a handful of original Grateful Dead members, and he's also preparing to head out on the road on his own to promote his new album The Search For Everything, which peaked at No. 2 on the Billboard 200 earlier this year.
While some young people are still wary about the combination of artists they love with multinational, billion dollar brands, Mayer is less than concerned, and in fact, the fact that it was Bud Light that came calling seems to be part of the reason why he agreed to play in the first place.
"It's a really solid brand. It's a brand that takes on a lot of life in the culture, and I like that. It's a really fundamental American brand. I like those two things going together."
Calling all HuffPost superfans!
Sign up for membership to become a founding member and help shape HuffPost's next chapter
This post was published on the now-closed HuffPost Contributor platform. Contributors control their own work and posted freely to our site. If you need to flag this entry as abusive,
send us an email
.