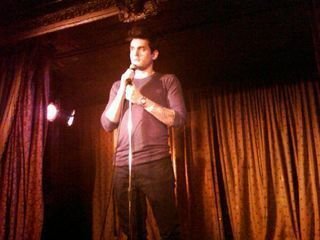 (via The Comic's Comic) For those who don't know, John Mayer has long harbored aspirations of stand up comedy. And while a few sets have gone smoothly, Mayer hit his first bump in the road during a surprise appearance last week at New York's The Slipper Room.
While Mayer's prepared material was met with a lukewarm response, things did not become uncomfortable until he jumped on stage during the set of the following comedian, Kumail Nanjiani. After Nanjiani acknowledged the weirdness of having witnessed stand up comedy by a pop star, Mayer interrupted the comic's set to trade barbs, which unfortunately included "accidentally racist" comments regarding Nanjiani's ethnicity. Mayer reportedly mispronounced Kumail's name as "Kabul" in a failed attempt at a joke. He went on to mime masturbation playing on the term "getting off" to mean off the stage and (apparently) off his rocker.
Sean McCarthy of The Comic's Comic caught up with Nanjiani to talk about his inclusion on Comedy Central's Hot List. Midway through the interview, fellow comedian Eugene Mirman makes a cameo to take a shot at Mayer's expense.
Popular in the Community