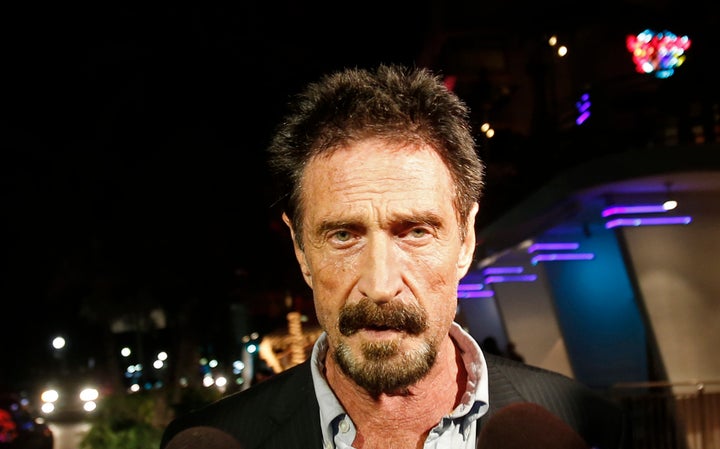 John McAfee, inventor of one of the most widely used computer anti-virus programs in the U.S., offered in a Business Insider piece published Thursday to help the FBI hack into the encrypted iPhone of one of the suspects in December's mass shooting in San Bernardino, California.
Apple CEO Tim Cook on Wednesday turned down a request from the FBI to develop a "back door" for the phone -- a customized version of iOS software that would let authorities bypass the device's security and access data belonging to one of the two attackers in the shooting that left 14 people dead.
McAfee offered the service of his misfit hackers to defuse the standoff between Apple and the FBI.
"So here is my offer to the FBI. I will, free of charge, decrypt the information on the San Bernardino phone, with my team. We will primarily use social engineering, and it will take us three weeks," McAfee wrote. "If you accept my offer, then you will not need to ask Apple to place a back door in its product, which will be the beginning of the end of America."
He said this solution would solve the FBI's immediate problem with the cell phone and eliminate the concerns of privacy critics who fear the back door technology could be misused.
At points, his message seemed to taunt the Feds. McAfee, who's running for president as a Libertarian, said the FBI hit this impasse because it only hires straight-laced computer experts who are less talented than his "prodigies."
"And why do the best hackers on the planet not work for the FBI? Because the FBI will not hire anyone with a 24-inch purple mohawk, 10-gauge ear piercings, and a tattooed face who demands to smoke weed while working and won't work for less than a half-million dollars a year," he wrote. "But you bet your ass that the Chinese and Russians are hiring similar people with similar demands and have been for many years. It's why we are decades behind in the cyber race."
CORRECTION: An earlier version of this article misstated the day that Tim Cook announced Apple wouldn't comply with the FBI. Cook's statement was actually published on Wednesday, Feb. 17.
Popular in the Community