Sen. John McCain (R-Ariz.) was less than willing to entertain questions Thursday on why he held a press conference Wednesday to complain about lack of information on the September attack on the U.S. consulate in Benghazi, Libya, while simultaneously skipping a nearly two-hour classified briefing with administration officials about the investigation.
CNN's Dana Bash reported on air that McCain, when questioned by a producer on the subject on Capitol Hill, not only refused to answer, but grew "very angry":
I have to tell you something that just happened on Capitol Hill, and that is our Senate producer Ted Barrett just ran into John McCain and asked about something that we're hearing from Democrats, which is John McCain is calling for more information to Congress, but he had a press conference yesterday instead of going to a closed briefing where administration officials were giving more information. Well, Ted Barrett asked John McCain about that, and it was apparently an intense, very angry exchange and McCain simply would not comment on it at all.
McCain has been one of the sharpest critics of the Obama administration's handling of the attack in Benghazi on Sept. 11, which resulted in the deaths of four Americans, including U.S. Ambassador to Libya Christopher Stevens. Along with Sen. Lindsey Graham (R-S.C.), the Arizona senator spent much of Wednesday renewing calls for a special committee to investigate the attack and, in the process, missed a Benghazi briefing in which administration officials offered additional details to the Senate Homeland Security and Governmental Affairs Committee, of which McCain is a member.
Politico reported that Sen. Susan Collins (R-Maine) did not see the need for a special committee on Benghazi and even seemed to take a shot at McCain for his absence during the briefing:
Maine Sen. Susan Collins, the top Republican on the Homeland Security and Government Affairs Committee, backed up her chairman, Lieberman, and dinged McCain, a member of the panel, for missing Wednesday's nearly two-hour briefing in the Capitol.

Both Armed Services Committee Chairman Carl Levin, "who was there at briefing, and Sen. McCain, who was not, are members of our committee, and I know they would play very important roles," Collins told POLITICO after the briefing.

"I do not see the benefit of creating a brand new committee when we already have the Senate's chief oversight committee, plus the Intelligence Committee, examining this very important matter."
Brian Rogers, a spokesman for McCain, said the senator missed the briefing due to a "scheduling error." Rogers declined to comment when The Huffington Post asked for a reaction to comments from Collins and Sen. Joe Lieberman (I-Conn.) that a special committee for Benghazi is unnecessary, or if McCain has spoken with Collins since the briefing.
Collins sought to clarify on Thursday that she was not criticizing McCain for his absence but simply noting that he and Graham would both play an important role in the Benghazi investigation.
"All I was trying to point out is that he's a very valuable member of our committee, so he would be involved in all the briefings, the hearings and investigation," Collins told NBC News. "And thus, I don't think that it's necessary to create a whole new separate committee. Our committee has a history of doing independent, bipartisan, comprehensive across-the-board investigations. We've done it on Fort Hood, on Hurricane Katrina, on a host of different issues. The only point I was trying to make -- apparently inartfully -- was that he and Lindsey Graham are members of the committee, so they will be fully involved, and I'm sure will play an important role."
In addition to his calls for a special committee, McCain has also vowed to block a potential nomination of U.N. Ambassador Susan Rice for secretary of state due to comments she made when discussing the Libya attack shortly after it took place. McCain criticized Rice for pinning the attack on a response to an anti-Muslim video, rather than calling it an act of terrorism. CIA talking points given to Rice prior to her appearances, however, were the source of the explanation she offered while addressing the issue on Sept. 16 during a number of television interviews.
During a press conference on Wednesday, President Barack Obama lashed out at both McCain and Graham for their attacks on Rice and invited the senators to go after him instead.
"If Senator McCain and Senator Graham and others want to go after someone, they should go after me," Obama said. "And I'm happy to have that discussion with them. But for them to go after the United Nations ambassador, who had nothing to do with Benghazi and was simply making a presentation based on intel she had received, and to besmirch her reputation, is outrageous."
When CNN approached McCain in a Capitol hallway Thursday morning, the senator refused to comment about why he missed the briefing, which was conducted by top diplomatic, military and counter-terrorism officials. Instead, McCain got testy when pressed to say why he wasn't there.

"I have no comment about my schedule and I'm not going to comment on how I spend my time to the media," McCain said.

Asked why he wouldn't comment, McCain grew agitated: "Because I have the right as a senator to have no comment and who the hell are you to tell me I can or not?"

When CNN noted that McCain had missed a key meeting on a subject the senator has been intensely upset about, McCain said, "I'm upset that you keep badgering me."
McCain did attend a briefing on Benghazi held by the Senate Select Committee on Intelligence on Thursday, but refused to take questions from reporters outside. "I have nothing to say," McCain said heatedly as he left the meeting, which lasted nearly two hours.
Support HuffPost
The Stakes Have Never Been Higher
Before You Go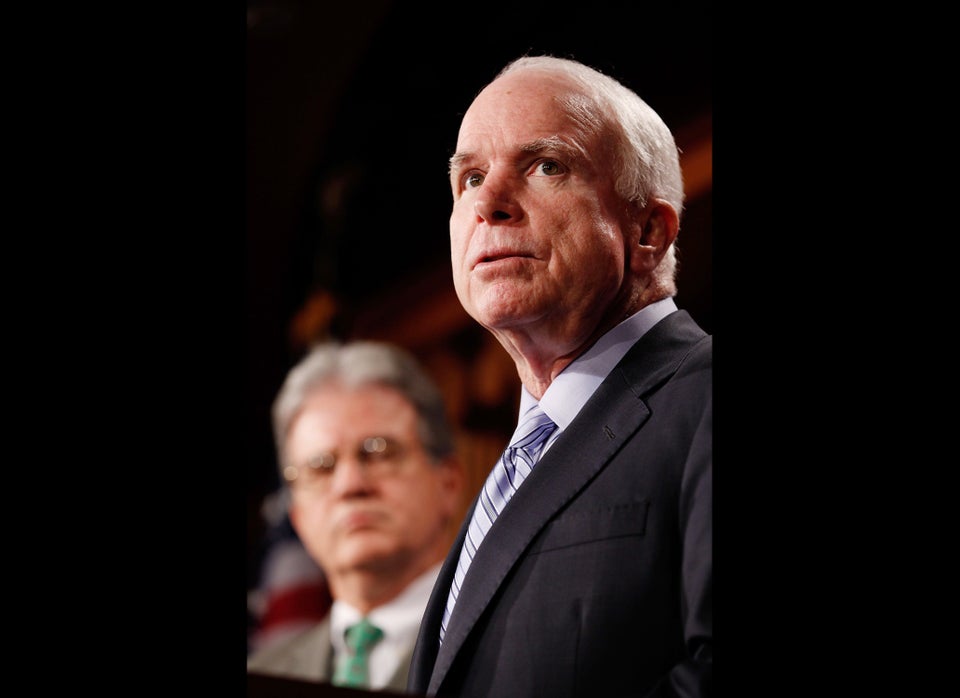 John McCain's Greatest Hits
Popular in the Community