Sometimes it seems that at any time of day, anywhere, John McCain will be on a news show, and he'll probably be grumpy.
McCain's endless appearances on TV are so well-known by now that they've become a clichéd shorthand for the media's tendency to turn to the same rotating cast of pundit-politicians over and over again. Even so, McCain's activity on Wednesday night was something to behold. He showed up on all of the big three cable news channels, one after the other, in the hour after President Obama's speech on ISIS.
Journalist Allison Kilkenny summed things up succinctly:
Anyone looking to avoid McCain was doomed. Tired of watching him maul a rather hapless Jay Carney on CNN? (Anderson Cooper underscored just how much cable news loves John McCain by noting that he had interviewed the senator "just last week.")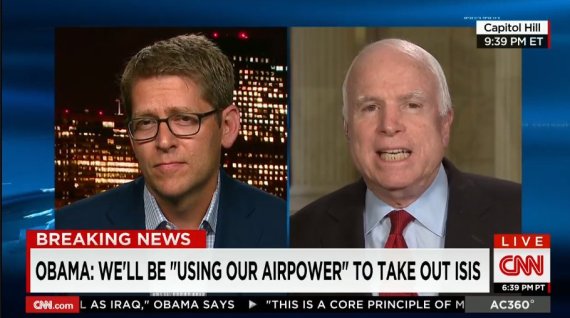 Well, too bad, because if you changed the channel to MSNBC, you would find...John McCain, arguing with Andrea Mitchell.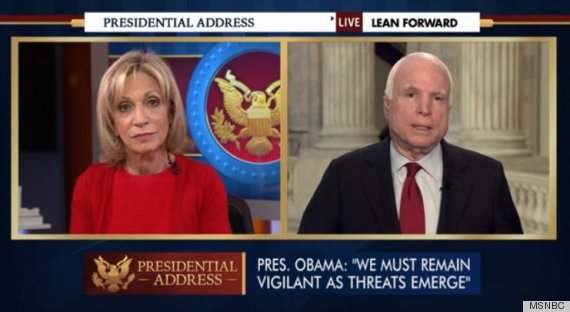 Desperate viewers who turned to Fox News for some salvation would also find themselves out of luck, because Sean Hannity soon welcomed none other than... John McCain for analysis he had already provided many times.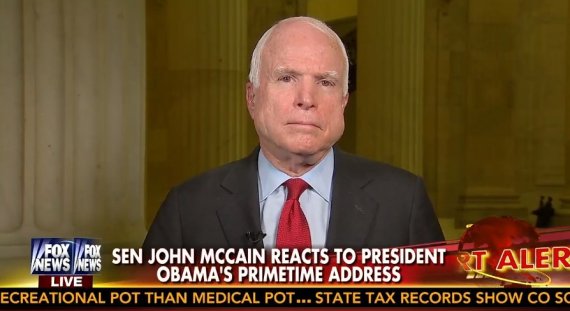 The only way to stop the juggernaut was to turn off the TV, but there's a remote possibility that John McCain and cable news bookers have collaborated on secret technology to invade everyone's dreams when they sleep.
REAL LIFE. REAL NEWS. REAL VOICES.
Help us tell more of the stories that matter from voices that too often remain unheard.