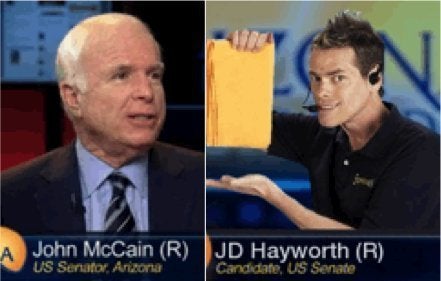 The re-election campaign for Sen. John McCain (R-Ariz.) seems more than willing to carry the J.D. "Huckster" Hayworth angle of attack -- which was spawned after it was revealed that Hayworth had served as a spokesman for an infomercial advertising federal loans -- right into the first debate Friday and perhaps on to the primary itself.
"Tonight in Phoenix and Saturday evening in Tucson, Senator John McCain, Congressman J.D. Hayworth and Tea Party activist Jim Deakin will meet for televised debates," McCain spokesman Brian Rogers said in a release Friday. "These debates will be historic, because for the first time in Arizona political history, the field of candidates includes a genuine infomercial pitchman."
Rogers then goes on to compare Hayworth to the infamous pitchman for "ShamWow" and "Slap Chop" and claims that Hayworth will use his "public speaking skills" to "sell total B.S. with a huge smile on his face."
Here's a full list of McCain's likely talking points provided in the release, via Tucson Citizen.
Joining McCain and Hayworth on the debate platform will be Tea Party activist Jim Deakin, who recently ramped up his campaign after running largely on grassroots support. He may, however, end up getting shut out by the two front-running candidates.

Popular in the Community