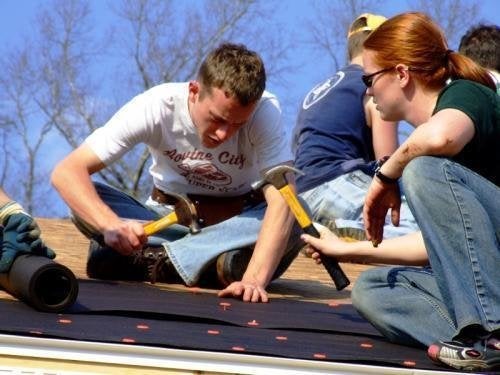 The McCain campaign sent out a press release this morning, announcing a schedule change:
ARLINGTON, VA -- U.S. Senator John McCain's presidential campaign today announced that the McCain family's appearance at the Twin Cities Habitat For Humanity build site on Thursday, September 4, 2008 has been canceled.
How anti-press is the McCain campaign? They just canceled a Habitat for Humanity PHOTO OP. Because it has to do with "houses"? Go figure!
Indeed. How could McCain maintain his sense of press victimization against the backdrop of people building homes for people who look forward to being able to one day say, "I know exactly how many homes I own! One! Just the one!"
But another part of the reason McCain canceled the outing is because last night, his campaign went out of its way to slag community organizers, defaming them for not having any "actual responsibilities." Habitat For Humanity, as it happens, is one of the biggest brand names in community organizing -- they maintain a massive network of individual donors, are capable of mobilizing an equally impressive volunteer base to contribute labor to the cause, and have a global reach. It's not a bad idea at all to associate one's own brand with Habitat's. But after last night, I have to imagine that McCain would have found it difficult to face the community organizers of Habitat For Humanity.
And now, a special message for Governor Sarah Palin:
Support HuffPost
The Stakes Have Never Been Higher
Popular in the Community