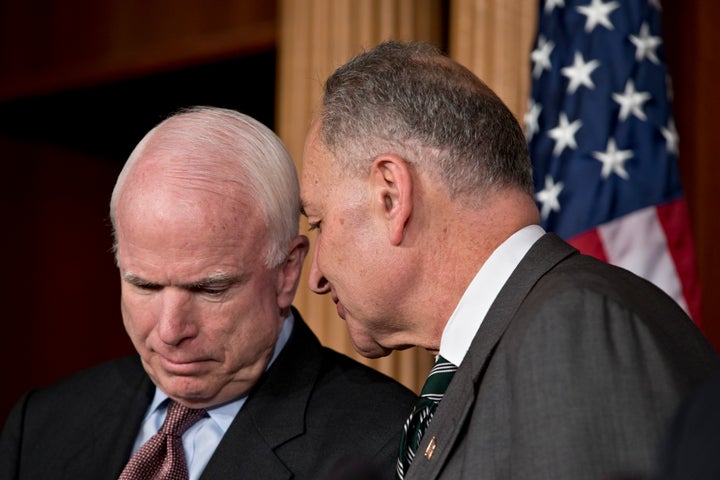 WASHINGTON -- Sens. Chuck Schumer (D-N.Y.) and John McCain (R-Ariz.) laid out more of their group's plans on Wednesday for immigration reform, including their optimistic goal of 80 votes for a final bill in the Senate.
Well, maybe. Speaking at a Politico Playbook breakfast, the two went on to admit they might be, as McCain said, a little "Pollyanna-ish."
"Senator Schumer and I are presenting maybe too rosy a picture here today," he said. "It's going to be a tough slog. It's going to be a tough, tough fight."
Schumer and McCain are part of an eight-member group -- dubbed the "gang of eight," although McCain said he dislikes the term -- that released a framework for immigration reform on Monday. Sens. Dick Durbin (D-Ill.), Bob Menendez (D-N.J.), Michael Bennet (D-Colo.), Lindsey Graham (R-S.C.), Marco Rubio (R-Fla.) and Jeff Flake (R-Ariz.) are the other members of the group.
They plan to meet every Tuesday and Thursday until a bill is crafted, ideally within the next month or two, Schumer and McCain said. Their staffs will meet on Wednesdays to work out further details, and plan to meet later Wednesday with officials from the Department of Homeland Security to discuss border concerns.
The group's plan would give a pathway to citizenship for undocumented immigrants, albeit a tough one. Undocumented immigrants already living in the United States could gain provisional status to stay in the country, but could not receive green cards until certain border security metrics are met. President Barack Obama's plan, which he laid out on Tuesday, does not include such a requirement.
McCain said the border element is absolutely crucial. A number of lawmakers fear that immigration reform will give status to undocumented immigrants but not prevent a future surge, similar to the aftermath of a bill signed into law by Republican President Ronald Reagan in 1986.
He and Schumer said they want an open legislative process on immigration reform, taking the bill through committee and then onto the floor with the ability for fellow senators to offer amendments. They said they don't expect to agree on all amendments, but want to stick broadly to their framework.
That could help them win over a majority of Democrats and ideally a majority of Republicans as well, McCain said. Schumer said later that they will also "educate" the House of Representatives through that process. They plan to work with a bipartisan group in the House and the Congressional Hispanic Caucus on reform plans, they said.
In part, McCain admitted it's good politics for Republicans. But he made a dire warning for Republicans if they take down immigration reform: the trend of the Latino vote toward Democrats will continue.
"As you look at demographics in states like mine, that means that we will go from Republican to Democrat over time," he said.
The process began after the November 2012 election, when GOP presidential nominee Mitt Romney won only a small percentage of the Hispanic vote, attributed by many to his hardline immigration stances during the Republican primary.
Many members of the group had already worked together on reform. Schumer said Graham called him to say he wanted to restart the process.
"'The band is back. Let's do immigration. And I've talked to John McCain and he wanted to get involved,'" Graham said, according to Schumer. "And my heart went pitter patter," he added.
Before You Go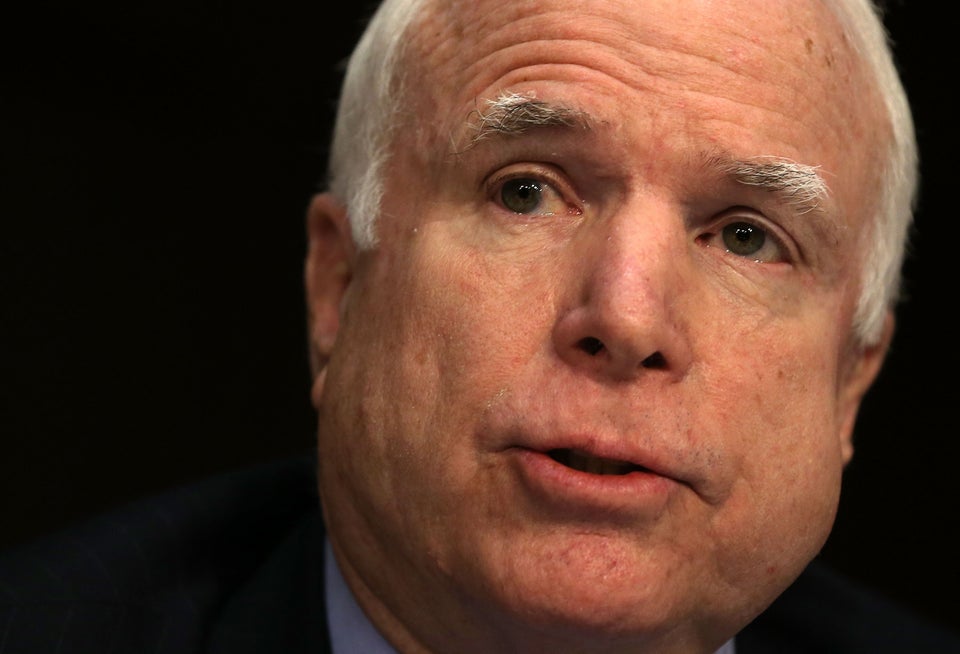 Bipartisan Immigration Plan's Key Provisions
Popular in the Community