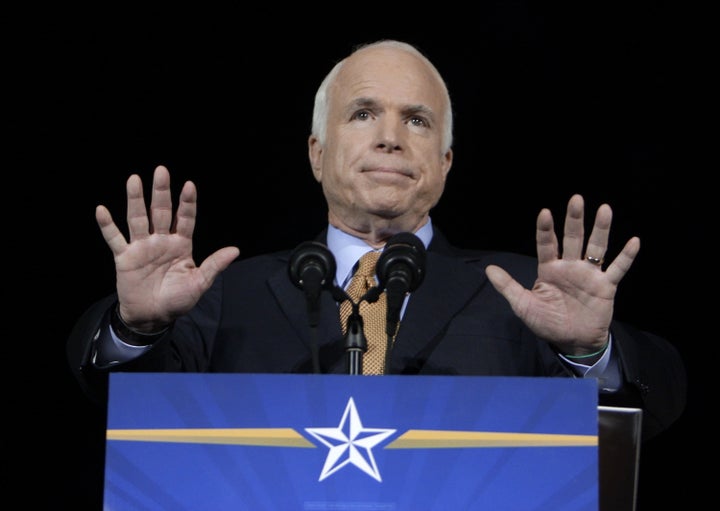 PHOENIX, AZ -- Rasmussen announced a new poll on Friday showing Senator John McCain may be in trouble at home where a polarized electorate has him facing constant criticism from both the left and the right.
The poll shows McCain tied with former Congressman and current talk radio host J.D. Hayworth in a hypothetical Republican primary. Hayworth, who has become an outspoken local hero among immigration-control activists, lost his House seat to Rep. Harry Mitchell (D) in 2006. Since then, Hayworth has promoted the Tea Parties on his radio show and has spoken at Tea Party events, including the April 15 rally in Phoenix. Hayworth has expressed interest in running but has been tight-lipped on whether or not he intends to actually file as a candidate against McCain.
Rasmussen has McCain at 45% and Hayworth at 43% (4% margin of error). Although McCain's loudest opponents from the right usually cite immigration as the key issue, Minutmen founder Chris Simcox only reached 4% in the poll. According to the poll, Hayworth is more popular overall among the GOP, especially among the younger GOP sect. McCain fares better with females and moderate Republicans.
Rodney Glassman, the only Democrat who has filed to run against McCain, was not included in the poll. Glassman is a young Tucson city councilman who has the support of the local and state Democratic Party structure and is considered an up-and-comer in Arizona politics.
McCain has not faced a serious challenge to his senate seat since 1986.
UPDATE: On his radio show Friday, Hayworth discussed the results of the Rasmussen poll at length. Hayworth said discussions with his immediate family are "more than a topic of casual conversation." He indicated a desire to run, saying that he is in the "due diligence" phase and that the primary roadblock would be fundraising, specifically to pay off some debt. It should be noted that Hayworth is currently raising money recently to pay off debt left over from his days in the House; his debt is a result of fighting an investigation into his ties to Jack Abramoff.
Calling all HuffPost superfans!
Sign up for membership to become a founding member and help shape HuffPost's next chapter