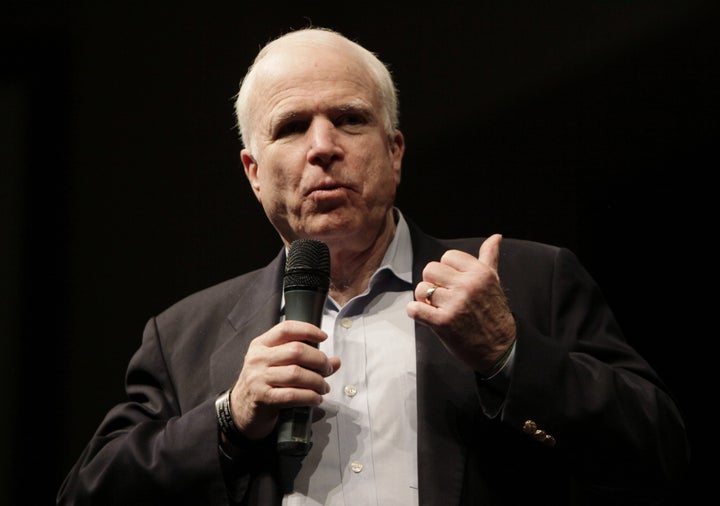 Sen. John McCain (R-Ariz.), once a voice of optimism for repealing Don't Ask, Don't Tell, reportedly called Saturday "a very sad day" before the Senate voted to lift the military ban.
"I hope that when we pass this legislation that we will understand that we are doing great damage," said the four-term incumbent before the vote, according to ABC News. "Today is a very sad day."
Back in 2006, the longtime senator communicated a distinctly different view on the issue. "The day that the leadership of the military comes to me and says, 'Senator, we ought to change the policy,' then I think we ought to consider seriously changing it," he said at the time.
Both Defense Secretary Robert Gates and Chairman of the Joint Chiefs of Staff Adm. Mike Mullen released statements on Saturday welcoming the Senate's landmark vote to repeal Don't Ask, Don't Tell as positive news.
A Pentagon study released earlier this month suggested that repealing the military ban would not adversely affect the troops. Nevertheless, McCain dismissed the report as flawed.
HuffPost's Mark Blumenthal reported on the Republican senator's criticism at the time:
Speaking at a hearing of the Senate Armed Services Committee, McCain complained about the survey's sample size and response and coverage rates:
...
Does this criticism have merit? Not according to the standards of modern survey research and the detailed description of the methodology included in the Defense Department's survey report.
According to Politifact, a non-partisan organization, the perceived position-shift made by McCain on the issue of repealing Don't Ask, Don't Tell can be considered a "full flop":
Three years ago, McCain said that he would "consider seriously changing ['Don't Ask, Don't Tell']" should the administration's top brass say it was a good idea. On Feb. 2, 2010, those officials showed up in McCain's committee room and said just that. Yet McCain's statements -- reiterated by Buchanan -- make it clear he hasn't budged. So we rate this a Full Flop.
Popular in the Community