 WASHINGTON--Sen. John McCain (R-Ariz.) and other opponents of filibuster reform plan to offer a counterproposal to the Senate on Friday, McCain told The Huffington Post. The group plans to present their proposal to their parties to gauge support for the idea, he said.
McCain would not offer any details about the proposal. Sen. Chuck Schumer (D-N.Y.), Sen. Lindsey Graham (R-S.C.), Sen. Lamar Alexander (R-Tenn.), Sen. Jon Kyl (R-Ariz.), Sen. Carl Levin (D-Mich.) and Sen. Mark Pryor (D-Ark.) are also involved in it.
Alexander, emerging from a bipartisan meeting of reform opponents held this morning in Kyl's office, said that the proposal would limit the use of the filibuster in some cases, such as on a motion to proceed to debate, and also include provisions allowing for amendments for the minority.
"We have so many new members of the Senate, about half of the senators have never seen the Senate work properly because they've only been here five or six years," Alexander said. "So we're trying to get back to the days when the motion to proceed wasn't used to block so many bills and when the majority leader allowed senators to offer almost any amendment. Most of that has to be established by practice, by good behavior, rather than by changing the rules."
Alexander added that the group has briefed both Reid and Senate Minority Leader Mitch McConnell (R-Ky.) on their proposal. "It's now up to the leaders to decide what they want to do," he said.
Unexpectedly, Sen. Ben Cardin (D-Md.), whose fellow Senate class of 2006 colleagues are generally supportive of significant filibuster reform, also emerged from Kyl's office following the meeting. Asked by HuffPost if he was part of the bipartisan group, he said simply: "I'm part of the Senate, yes."
The Democratic members of the anti-reform group will also brief their colleagues today, a source told HuffPost.
The proposal needs a 2/3 majority to pass and avoid the so-called nuclear option -- changing the rules by a simple majority vote. Asked if he had the votes, McCain said, "I hope so."
Levin said the goal was to stave off the "talking filibuster" proposal by Sen. Jeff Merkley (D-Ore.). Merkley is proposing to restore the filibuster to what many think of it as -- one senator holding up the entire Senate floor, as Jimmy Stewart did in "Mr. Smith Goes To Washington."
Now, senators need only raise their hand to force legislation to need 60 votes.
Restoring the traditional filibuster has broad public support -- a HuffPost/YouGov poll found that by a 65-9 margin, Americans favor senators having to actively debate to oppose legislation.
UPDATE 3:43 p.m. -- Sen. Maria Cantwell (D-Wash.), emerging from a caucus-wide meeting on filibuster reform, told HuffPost, "There's 51 votes to do something, that's for sure." Levin and Pryor, meanwhile, returned to Kyl's office after the meeting to plot further opposition to filibuster reform. Levin and McCain, notably, are calling themselves "a group of eight" rather than a "gang of eight." Perhaps surprisingly, that's a meaningful distinction in the Senate: A group is considered to be less of a cohesive and determined force than a gang. The group's proposal is not a rules change, but rather a "standing order" that would expire next term, according to a copy of the proposal.
Before You Go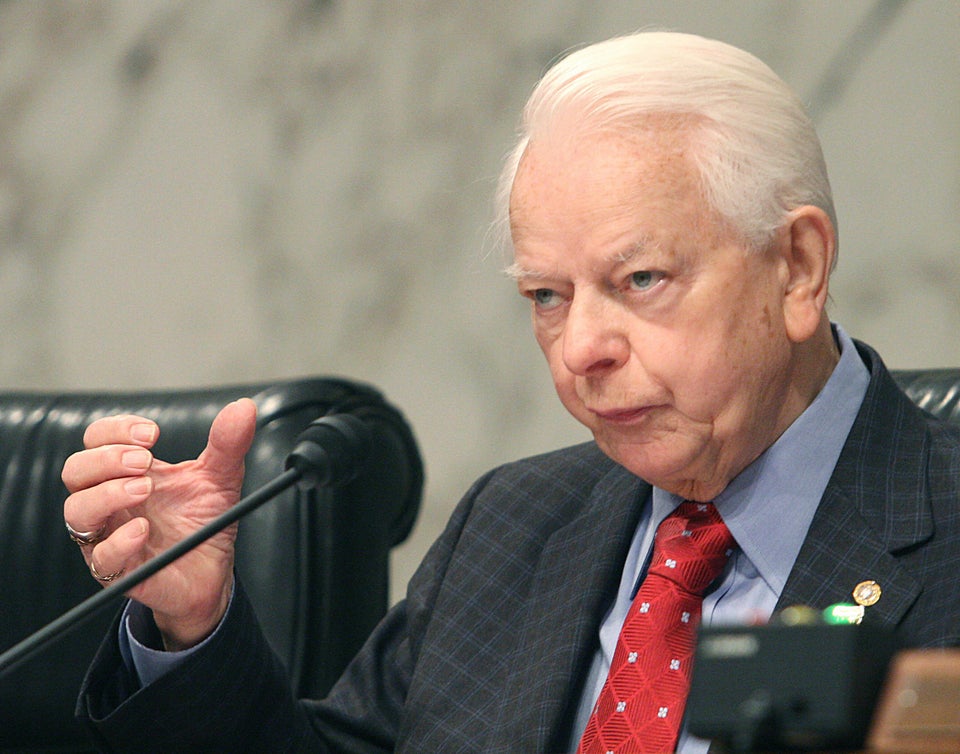 Longest Serving Senators In U.S. History
Popular in the Community