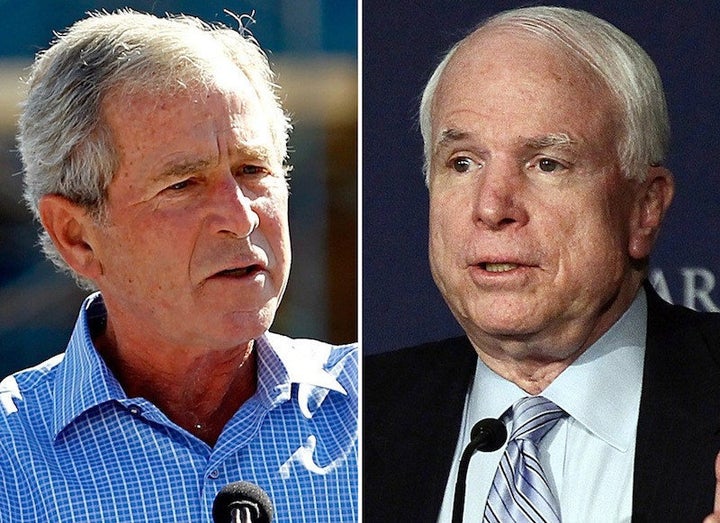 As Sen. John McCain (R-Ariz.) hit the campaign trail in Ohio earlier this week, he reflected on the 2008 presidential campaign and said "with some legitimacy, Barack Obama hung the Bush record around my neck."
The Arizona Republican and former presidential candidate made the remarks in a phone interview with the Associated Press on Tuesday.
Ohio is a critical battleground for Republican presidential candidate Mitt Romney in his campaign against Barack Obama. Voters in the Buckeye State will also cast ballots in the Senate race between Democratic incumbent Sen. Sherrod Brown and his GOP challenger Josh Mandel.
McCain did not make a definitive statement on whether he believes Romney will come out on top in Ohio, but noted that he sees a path for a Romney victory in the general election that doesn't include winning the swing state.
The longtime senator also addressed the power of the "career politician" label in targeting one's opponents. The AP points out that the criticism has been a key component of Mandel's messaging strategy in his campaign to unseat Brown.
Drawing on his own experience, McCain said that in 2008 he found himself "having to defend President Bush" in addition to his "own vision for America." While he said "all's fair" and he's "not complaining about it," the GOP senator said, "And on September 15, when the stock market went down 700 points, we went down dramatically as well."
On September 15 in 2008, McCain sent shockwaves through the political spectrum when he said, "The fundamentals of our economy are strong" despite the troubled state of the economic system at the time.
McCain's remarks came ahead of Tuesday night's presidential debate between Obama and Romney. In a stroke of coincidence, the Bush factor came up during the hour and a half event.
One of the undecided voters at the Hofstra debate wasn't sure she was satisfied with President Barack Obama's four years, but she also blamed the policies of the Bush administration for a lot of America's problems.

So Susan Katz wanted to know Romney wouldn't do the same things.

"What is the biggest difference between you and George W. Bush? What differentiates you from George Bush?" Katz asked.

Romney didn't answer at first, preferring to go back to the previous question, but when he did, he didn't offer Katz much.

"President Bush and I are different people and these are different times," Romney told her, before launching into a long series of talking points that had little to do with the differences between Bush and Romney. Romney said they were things Bush never did, such as cracking down on China or making the U.S. energy independent.

Obama has repeatedly hammered Romney for offering the same sorts of economic policies as the Bush administration, including large tax cuts for the wealthy.
Click here for a full recap of Tuesday night's presidential debate.
PHOTO GALLERY
Romney's Fantasy/Nightmare Cabinet Draft
Calling all HuffPost superfans!
Sign up for membership to become a founding member and help shape HuffPost's next chapter
BEFORE YOU GO