WASHINGTON -- Sen. John McCain (R-Ariz.) said Tuesday he makes a pitch to fellow Republicans to support comprehensive immigration reform on principle, but he knows a political argument may be more convincing.
"I appeal to the better angels of their nature that we shouldn't have 11 million people washing around in our society in the shadows -- the exploitation, the failure to know who they are and what they're doing -- but I also appeal to their base instincts," McCain said of House Republicans at a USC Schwarzenegger Institute event in Los Angeles. "And that is to review for them the percent of the Hispanic vote that we've gotten in the last several elections, which is dramatically dropping."
"I think we can compete," McCain said. "But if we don't do this, we can't begin the conversation with our Hispanic voters, and all you have to do is the math. Do the math on the growth of the Hispanic voters in this country. So I try to appeal to the better angels but I also find more resonance in the other side of the argument," he said, chuckling.
McCain, speaking with fellow "gang of eight" member Sen. Michael Bennet (D-Colo.), made his case for the necessity of immigration reform. The group put out a bill earlier this month that would strengthen border security and enforcement of immigration and labor laws among employers, along with changing the legal immigration system and establishing pathway to citizenship for undocumented immigrants.
In his failed bid for president in 2008, McCain won about 31 percent of the Latino vote. Four years later, then-GOP nominee Mitt Romney won only about 27 percent of the Latino vote. That result has been partially attributed to the Republican Party's stance on immigration reform, which put off some Latino voters, who by and large support a path to citizenship. The election results prompted a rethinking by many in the GOP, which voiced support in March for comprehensive immigration reform.
McCain said, as he has before, that he doesn't think Latinos will automatically support the GOP if Republicans support immigration reform. But it would at least give them a shot in reaching out, he said.
A bipartisan House group is working on a comprehensive bill that will include a path to citizenship, although the plan is expected to be tougher than that of the gang of eight, according to Rep. John Carter (R-Texas). Other top House Republicans on immigration, such as Judiciary committee Chairman Bob Goodlatte (R-Va.) and immigration subcommittee Chairman Trey Gowdy (R-S.C.), said last week they will pursue a piecemeal reform approach. McCain, meanwhile, said with Sen. Chuck Schumer (D-N.Y.) last week that a piece-by-piece effort would be a non-starter in the Senate.
Republicans who insist the bill is "amnesty" should consider its difficult path to citizenship, which would be triggered by the implementation of border security provisions, McCain and Bennet said.
"This is not a path to amnesty," Bennet said. "That's political talk we hear every time this happens."
McCain said he expects President Barack Obama to compromise on immigration reform, and appreciates his statements in support of the bill so far. "I think the president is worried about his legacy," McCain said. "He knows that compromises need to be made."
Obama indicated as much during a press conference earlier Tuesday. When asked whether he had the "juice" to accomplish more in his second term, he said he expects a "historic acheivement" of immigration reform passage.
"The bill that they produced is not the bill that I would have written," he said at the White House of the gang of eight legislation. "There are elements that I would change, but I do think that it meets the basic criteria that I laid out from the start ... and I think it's a testament to the senators that were involved. They made some tough choices and made some tough compromises in order to hammer out that bill."
Former California Gov. Arnold Schwarzenegger (R) spoke before the senators and praised their work on immigration reform.
"The sad story is that many members of Congress have had a major chutzpah deficit," he said. "But we are now so fortunate that the brave group of leaders has emerged. I want to say thank you to the 'gang of eight.' ... They worked together to come up with a solution. They reached across the aisle tirelessly, and they brought the chutzpah back."
Before You Go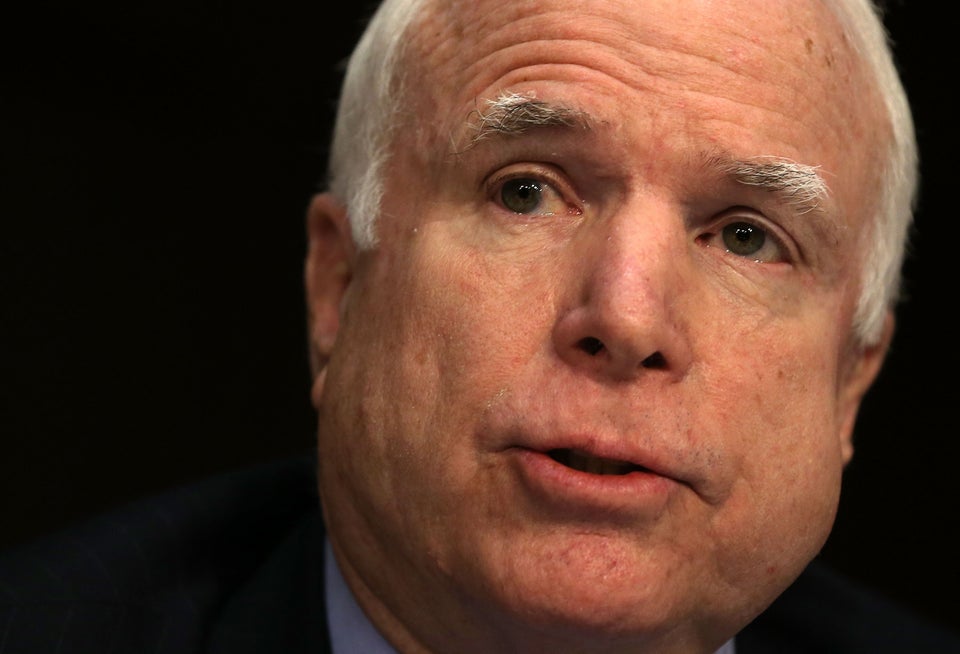 Bipartisan Immigration Plan's Key Provisions
Popular in the Community