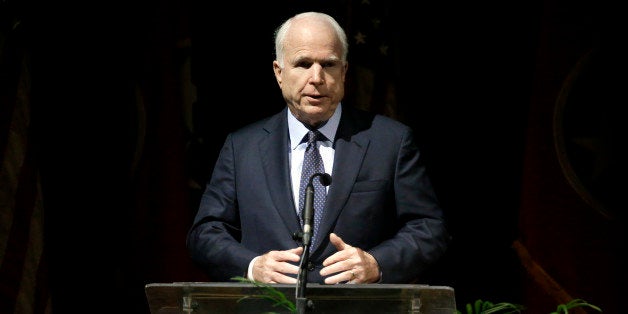 It was vintage John McCain.
He offered his unvarnished opinion about a host of domestic and international issues at a Christian Science Monitor breakfast last Wednesday, ranging from his opposition to Obamacare to the lack of an overall strategy to combat Islamic terrorism, interspersing it all with self-deprecating humor.
And the Arizona Republican showed why, even without his unique biography as a Vietnam POW and war hero, his 33 years in Congress and his frustrated hope of winning the presidency, he remains one of the most visible figures in American politics at the moment, along with Barack Obama, Hillary Clinton and, regrettably, Donald Trump.
Just back from three days in Iraq with a congressional delegation that included his buddy, South Carolina Sen. Lindsey Graham, the chairman of the Senate Armed Services Committee told some two dozen journalists -- from both the legacy and social media -- that the U.S. must send more troops to help fight ISIS in Iraq and Syria, 10,000 in each country as he and Sen. Graham have called for.
Forgoing breakfast but sipping a grande Starbucks coffee, McCain argued that the recent terrorist attacks in Paris will help convince Americans that more troops are needed, as he said U.S. and Iraqi generals told him. "Before Paris, I'd probably think that we can't get the numbers," referring to support by both the public and Congress.
McCain, whose face still shows the disfigurement from the malignant tumors af a deadly skin cancer removed years ago, said ISIS is "metastasizing" in other countries and that President Obama has no overall strategy to counter it with a multi-national force. "We don't have an overall strategy to defeat ISIS. ... It's one thing to say 'We need more troops.' It's another to say, 'Here's why we need them.'"
McCain, who is running for a sixth term next year, also warned that his party must choose a presidential nominee who can win a greater share of the Hispanic vote than the 27 percent that Mitt Romney got in 2012. Without naming him, McCain made it clear he thinks Trump would hurt Republican candidates if nominated to head the GOP ticket in 2016.
"Obviously, we all know from history that if you have a weak top of the ticket, that has a significant effort on the states, particularly the swing states. I hate to refer to Barry Goldwater, who I loved and admired, but the fact is when [he lost a landslide election to President Johnson in 1964], we lost big time."
McCain, who holds Goldwater's seat, cautioned that Republicans could lose their slim four-vote majority in the Senate, and his bid for a sixth term, if Trump, or by inference, Ben Carson or Carly Fiorina, are nominated.
But he praised Graham and other candidates, including New Jersey Gov. Chris Christie, Jeb Bush and Ohio Gov. John Kasich, who McCain came to the House with in 1982, as well as Florida Sen. Marco Rubio as the next generation of Republicans. But he declined to mention Texas Sen. Ted Cruz, with whom he has often clashed on defense spending and immigration issues.
McCain, who will be 80 next year, and 86 if reelected and serves out his term, would have been the oldest person ever to enter the White House had he not lost to Obama in 2008. Indeed, he would have been three years older than 69-year old Ronald Reagan when he beat Jimmy Carter in 1980, and only a year younger than the Great Communicator when he won a second term in 1984 with a landslide victory over former Vice President Walter Mondale.
But as I once wrote in The Hill, "Like God, Sen. John McCain is everywhere these days." And despite his age, you can expect him to be everywhere in 2016 and maybe well beyond.
Calling all HuffPost superfans!
Sign up for membership to become a founding member and help shape HuffPost's next chapter