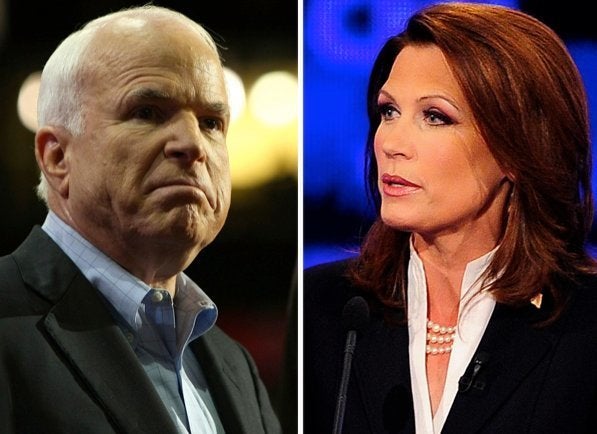 Sen. John McCain (R-Ariz.) took issue with Republican presidential candidate Michele Bachmann's unwavering opposition to raising the debt ceiling in an interview with National Review Online released on Thursday.
The conservative congresswoman has already voted against lifting the deficit limit and has signaled she has no intention of shifting her position on the issue. The AP recently reported that Bachmann said during a stop in Iowa that she's not concerned about the nation defaulting on its debt.
"There are Republicans who are committed, like Michele Bachmann, to vote against raising the debt limit under any circumstances," said McCain on the state of debate on the deficit issue in the U.S. House of Representatives. He suggested that Bachmann is acting "sort of like Senator Obama did."
Then-senator Barack Obama cast a vote against raising the debt ceiling in 2006. White House spokesman Jay Carney said earlier this year that the president now considers the vote "a mistake." Back in April Carney explained, "He realizes now that raising the debt ceiling is so important to the health of this economy and the global economy that it is not a vote that, even when you are protesting an administration's policies, you can play around with."
Around the same time, Obama himself addressed his past opposition to raising the debt ceiling in an interview with ABC's George Stephanopoulos.
"I think that it's important to understand the vantage point of a Senator versus the vantage point of a president," he said. "That was just a example of a new Senator, you know, making what is a political vote as opposed to doing what was important for the country. And I'm the first one to acknowledge it."
Below, video of Bachmann's first television campaign ad of the election season in which she says, "I will not vote to increase the debt ceiling."
REAL LIFE. REAL NEWS. REAL VOICES.
Help us tell more of the stories that matter from voices that too often remain unheard.