Adriano Tsinigine, 17, wore his finest traditional jewelry -- a turquoise necklace, stamped silver and turquoise bowguard, and watch -- for the Navajo Code Talker Day festivities in Window Rock, Arizona, this past Friday. He was there partly to honor his late great-grandfather Wilford Buck, a Navajo code talker who served during World War II.
But the high school senior also wanted to make a political statement -- about Congress' sale of Oak Flat, a section of Arizona's Tonto National Forest that Apache consider holy land, to foreign mining conglomerates.
After the parade and gathering of state and tribal leaders -- who included Sen. John McCain (R-Ariz.), Arizona Gov. Doug Ducey (R) and Navajo Nation President Russell Begaye -- Tsinigine noticed that people were crowding around the politicians to pose for grip-and-grin photos.
"I thought, OK, here's my chance," Tsinigine told The Huffington Post on Monday during his lunch break at the Navajo Preparatory School in Farmington, New Mexico. He asked McCain for a photo, and just as the senator was putting on his best politician's grin, Tsinigine produced a card that read, "PROTECT OAK FLAT."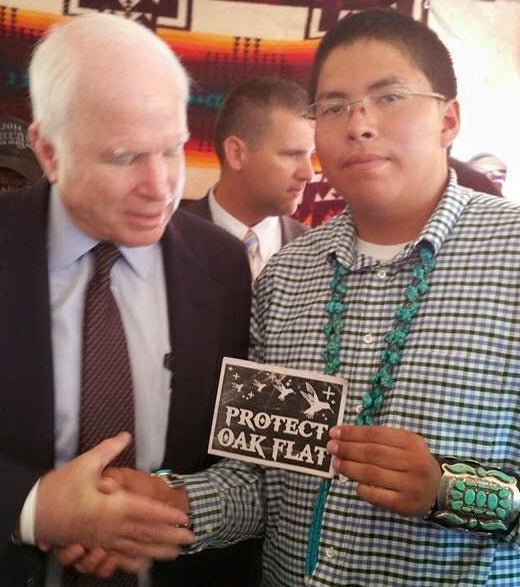 Tsinigine said he offered to let McCain keep the card, but the senator refused.
"You have to leave," McCain, clearly unhappy, said as he pushed the card back into the young man's chest. Tsinigine chuckled and walked away. 
The senator has been the target of intense criticism by Native activists and their supporters after adding a rider this past December onto the National Defense Authorization Act that opened the Apache holy land to mining conglomerates Rio Tinto and BHP Billiton.
The photo of McCain posing with an Oak Flat protester and a short video of the exchange have gone viral. 
"I was hoping to get a photo of at least McCain ... or one of the Arizona representatives" in order to help raise awareness about the struggle to save Oak Flat, Tsinigine said.
The photo-op was just one part of a particularly unwelcoming visit for McCain to Window Rock, the Navajo Nation capital.
The senator, who has been a supporter of corporate mining interests, also encountered protesters chanting, "Water is life!" in the Navajo language and waving a banner that read, "John McCain = Indian Killer." The protesters voiced concerns about water rights, especially following last week's Gold King Mine disaster, which contaminated the San Juan River with heavy metals -- including lead, arsenic and copper -- and continues to threaten the lives and livelihoods of many on the already parched Navajo reservation.
The protesters shouting, "Get off our land!" ran after McCain's vehicle as it left town.
The Phoenix New Times, which first reported the story, characterized the encounter as McCain being "chased off the Navajo Nation" by protesters. However, McCain's office disputed the veracity of that headline.
"[McCain] certainly wasn't 'chased off' the reservation,'" a spokesman for the senator's office told the Arizona newspaper. "This small group of young protesters had no practical impact on his productive meetings with top tribal leaders on a range of key issues, including the EPA's recent Gold King Mine spill which threatens to contaminate the Navajo Nation's water supply. Senator McCain was also extremely proud to help honor the Navajo Code Talkers on behalf of all Arizonans -- their heroic service saved countless American and allied lives during World War II." 
Calling all HuffPost superfans!
Sign up for membership to become a founding member and help shape HuffPost's next chapter