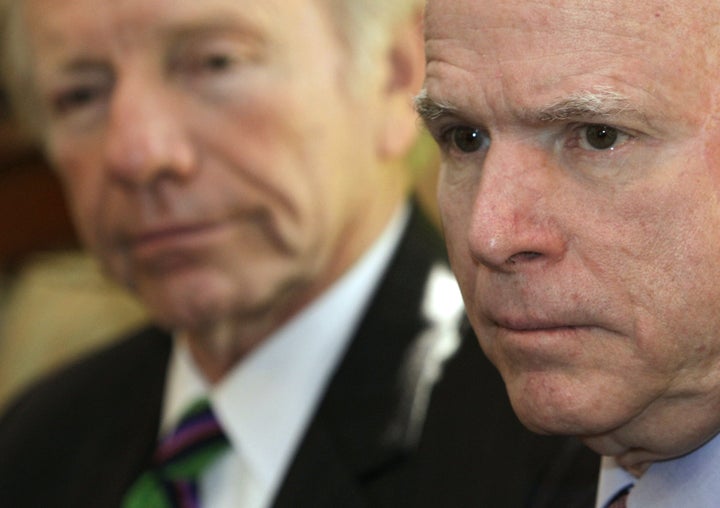 WASHINGTON -- Sens. John McCain (R-Ariz.) and Joe Lieberman (I-Ct.) both criticized President Obama's response to the crisis in Libya on Sunday, saying he needs to "get tough" and enforce a no-fly zone over the country. McCain also held out the possibility of a military option Libya.
Obama has called on Libyan leader Muammar Gaddafi to step down, and he issued an executive order blocking the transfer or withdrawal of funds by all Libyan government entities, including Gaddafi and his children. He also canceled military contracts with Libya and ordered U.S. intelligence to focus on tracking civilian deaths in the country.
Initially, the administration cited the risk of the lives of U.S. citizens who were still in the country for what many criticized as too cautious of a response. Virtually all Americans and other foreigners have now relocated.
"Get tough," said McCain on CNN's "State of the Union" on Sunday. "And I understand that America's security and safety of American citizens is our highest priority. It is not our only priority."
When asked specifically by host Candy Crowley whether he was criticizing Obama, McCain unfavorably compared the President to other foreign leaders:
"Well, the British prime minister and the French president and others were not hesitant and they have citizens in that country. America leads. America is -- here we've been to these countries and every place we go they are looking to America for leadership, for assistance, for moral support and ratification of the sacrifices they have made in defense of democracy. America should lead.

"The president should reverse the terrible decision he made in 2009 to not support the demonstrators in Tehran. Stand up for democracy in Iran and tell those people that we are with them. And that should be true not only throughout the Arab countries but as far as china and other parts of the world as well."
McCain didn't go as far as to endorse a military option in Libya, but he did hold open the possibility. "Well, I think there possibly could be," he replied when asked by Crowley.
McCain was also deeply critical of Obama during the Iranian protests. At the time, the president explained that he didn't want the United States to be a "foil" for "those forces inside Iran who would love nothing better than to make this an argument about the United States. That's what they do. That's what we've already seen. We shouldn't be playing into that."
Lieberman, who appeared on CNN with McCain, said that while he understood the administration's initial caution, "now is the time for action, not just statements."
"The sanctions that were adopted but unilaterally by the United States and now by the U.N. really have some effect on the people in the top positions in the Libyan government and hopefully it will lead them to think twice," he added. "But the kinds of tangible support, no-fly zone, recognition of the revolutionary government, the citizens' government and support for them with both humanitarian assistance and I would provide them with arms."
Calling all HuffPost superfans!
Sign up for membership to become a founding member and help shape HuffPost's next chapter