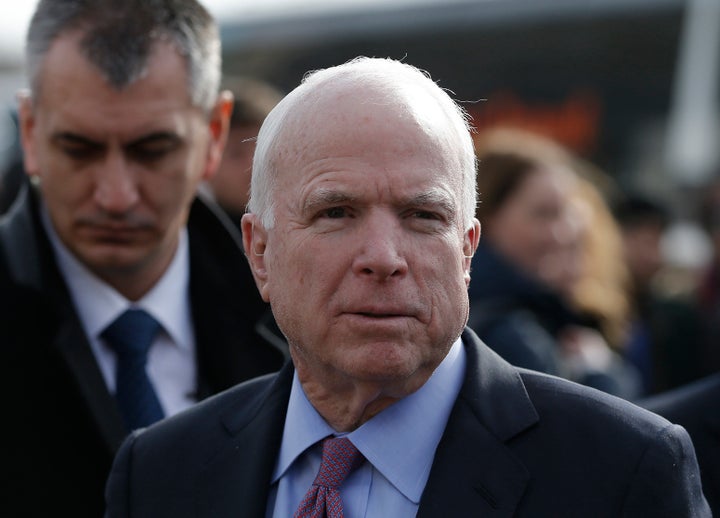 WASHINGTON -- A Republican bill to repeal Obamacare is putting several senators who are up for re-election in a difficult bind.
Forced to choose between backing legislation that satisfies the longstanding GOP goal of ending the law and maintaining health care coverage for their constituents, these senators are, so far, going with the former.
The latest lawmaker to make that choice is Sen. John McCain (R-Ariz.), who told reporters at a Christian Science Monitor breakfast on Wednesday that he would back the bill even though it would end the Medicaid expansion in his home state of Arizona.
"Obviously the governor and legislature in my state decided that they wanted that program and so it is going to trouble me in the vote. When you're looking at the overall components of it, I would probably vote for it," McCain said. "But it does provide me with discomfort. I am very reluctant to take positions that counter the decisions made by the governor. As a federalist, I believe it puts me in a difficult position."
With McCain's support, the Republican-authored bill inches closer to the 51 votes it will need to pass the Senate through parliamentary rules known as reconciliation. Among other provisions, the legislation would scrap the medical device tax and the s0-called Cadillac tax on high-cost health care plans. It would also eliminate subsidies for individuals who purchased health care insurance on exchanges.
But the most contentious provision may be the repeal of the Medicaid expansion, which is a huge component of Obamacare. The Senate bill would eliminate the expansion over a two-year period, ostensibly to allow the next president to pass a replacement health care bill. But the likelihood of such a bill ever passing is slim at best, and the resulting loss of coverage for millions of people could have dramatic socioeconomic and political consequences.
McCain isn't the only Republican senator willing to roll those dice. Kelly Ayotte (N.H.), Rob Portman (Ohio) and Pat Toomey (Pa.) who, like McCain, are up for re-election in 2016, have said they will back the bill as well, though Sen. Mark Kirk (R-Ill.) -- perhaps the most vulnerable Senate Republican this cycle -- is leaning towards opposing the bill.
Popular in the Community