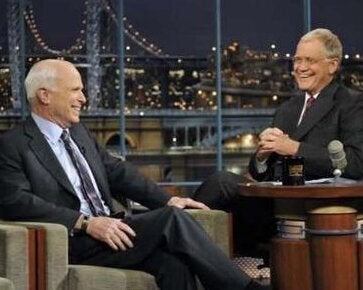 ***UPDATE*** 10/17James Hibbard of the The Live Feed reports that John McCain's appearance on Letterman Thursday night gave the CBS host his highest viewership in nearly 3 years:
The Thursday night telecast was seen by 6.5 million viewers, and received a 1.7 rating in the adult demo. That's the largest audience for the show since December, 2005, when Oprah Winfrey appeared. "Late Show" also topped Jay Leno's "Tonight Show" (4.6 million viewers) by 43%, and Leno had Joe Biden as a guest.
John McCain told David Letterman that "I screwed up" by canceling a "Late Show" appearance three weeks ago, then faced a sharp round of questioning about Sarah Palin and his campaign tactics.
Not willing to risk the wrath of Letterman again, the Republican presidential candidate rented a helicopter to fly to New York after a weather delay grounded his campaign airplane in Philadelphia. He had canceled a Sept. 24 appearance during the brief suspension of his campaign because of the economic crisis, and Letterman has been hammering him ever since.
The band played the Who's "I Can't Explain" as McCain walked onstage at the Ed Sullivan Theater. After he sat down, Letterman asked, "Can you stay?"
"Depends on how bad it gets," McCain answered.
Letterman had replaced McCain with the GOP hopeful's persistent critic, MSNBC's Keith Olbermann, on Sept. 24. Olbermann was waiting in the wings Thursday _ and McCain had a pained expression when he noticed that.
Although Letterman said he was "willing to put this behind us," he came after McCain hard with questions. He asked whether Palin was his first choice as vice president.
"Absolutely," McCain answered.
He said he didn't know her well before choosing her, but that he was impressed by her reputation as a reformer.
Letterman repeatedly pressed McCain on her qualifications, asking if he was confident she could lead the country in a time of crisis.
"In all due respect, one of the people I admired most was an obscure governor of a southern state called Arkansas and he turned out to be a fairly successful president," McCain said, complimenting Bill Clinton. "Ronald Reagan was a cowboy, no experience in international affairs. I think she has shown leadership."
As Letterman pressed on, McCain asked, "Have we pretty well exhausted this?"
"No, no," Letterman said. "I'm just getting started."
Watch a clip from the show:
After weeks of hammering Barack Obama for having an association with a former Weather Undergound member, John McCain was asked Thursday afternoon about his own connections to a past felon: G. Gordon Liddy.

The question came, of all places, from late night comedian David Letterman, who pressed the Senator to explain why he was friendly with the man who was convicted in the Watergate scandal of conspiracy, burglary, and illegal wiretapping. McCain - according to an advanced report of the show - initially said that he "met" Liddy before adding, "He paid his debt, he went to prison, he paid his debt."

And yet, important to note in all of this, is that Liddy has been publicly unrepentant for his actions, much like Ayers. In an interview with the UK Independent Liddy said he didn't regret burglarizing the offices of the Democratic National Committee.
After canceling his last appearance under the pretense of going back to Washington to save the economy, only to show up on the "CBS Evening News" at the same time as he was due on Letterman's set, McCain wasn't taking any chances. The Washington Post's Michael Shear reports:
After an hour sitting here in his Straight Talk Air waiting to take off for Newark airport, McCain was informed that there was a two-hour air traffic delay.

Without action, he would miss his Letterman taping. And this was the mea culpa appearance, in which he was to make up for canceling an appearance on the show when he abruptly suspended his campaign last month.

You can just imagine the jokes. It wouldn't be pretty.

So the pilot turned the plane around and headed back to the Philadelphia terminal, where McCain got off to board a helicopter -- the only way to get to Letterman in time.

The plan was for the helicopter to take McCain, his wife, two Secret Service agents and two aides to the West Side Heliport near 30th Street on the Hudson River in Manhattan.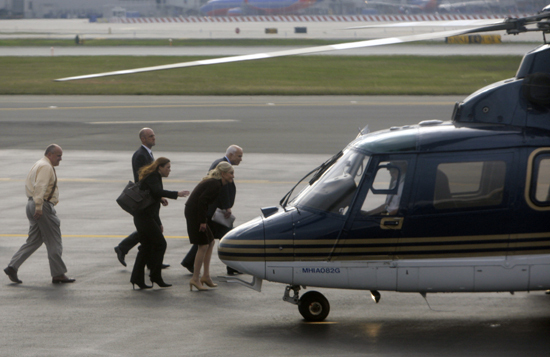 John and Cindy McCain board a helicopter in Philadelphia, Thursday, Oct. 16, 2008, to travel to New York City. (AP Photo/Carolyn Kaster)
Letterman has been relentless in going after John McCain since he canceled on him September 24. Last week, Letterman said that he couldn't be sure McCain would honor his commitment to appear today and called the Republican candidate "squirrely."
Popular in the Community