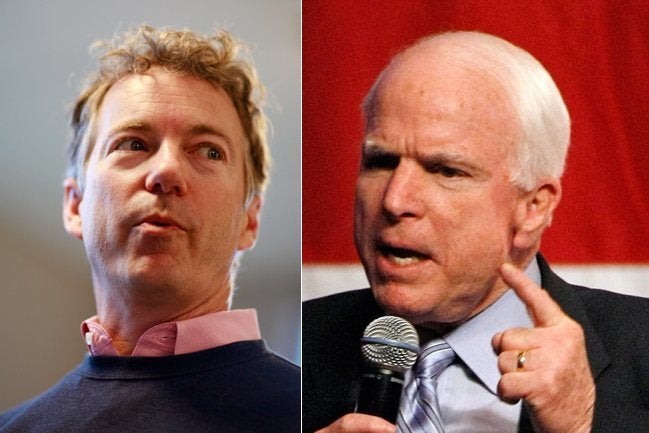 Sen. John McCain (R-Ariz.), the ranking member of the Senate Armed Services Committee, expressed concern Monday that some new Republican legislators would be defined by their "protectionism and isolationism," two views that the Vietnam War veteran feared would result in a butting of heads within the party on Afghanistan and defense spending.
"I think there are going to be some tensions within our party," McCain said during a conference put on by Foreign Policy Initiative, a DC-based think tank. "I worry a lot about the rise of protectionism and isolationism in the Republican Party."
A prime example, McCain continued, was Rand Paul, Kentucky's next U.S. Senator.
"I admire his victory, but ... already he has talked about withdrawals [and] cuts in defense," McCain said.
Indeed, Paul appears to have taken after the more libertarian side of foreign policy issues, much like his father, Texas Rep. Ron Paul (R).
During an interview over the summer, Paul admitted that he was "not thinking about Afghanistan" and that "foreign policy is really a complete non-issue." He then went on to describe outright skepticism about the potential for the war in Afghanistan to produce successful results.
In 2008, Paul spoke even more resolutely, saying that Republicans would have to "look at military spending as well [as domestic]" in order to fulfill their promises to balance budgets.
But, Paul isn't alone in his inclination to address defense spending in the context of his fiscal concern. As ThinkProgress documents, there are at least five other GOP Senators who have announced plans to examine these types of spending cuts. Potential 2012 Republican presidential hopeful Mike Huckabee also added his name Monday to a growing list of Republicans who say that that defense spending should be on the table.
According to McCain, Republicans who have hinted that they would be willing to prove their commitment to fiscal conservatism by considering blanket cuts, including in defense spending, are wrong primarily because the budget shortfalls could be mitigated simply by cutting earmarks and reducing Pentagon waste.
"People say this is only 2 to 3 percent of the budget," so it should not be touched, McCain said of the ongoing debate over banning earmarks. "Leave it alone? Give me a break!"
Popular in the Community