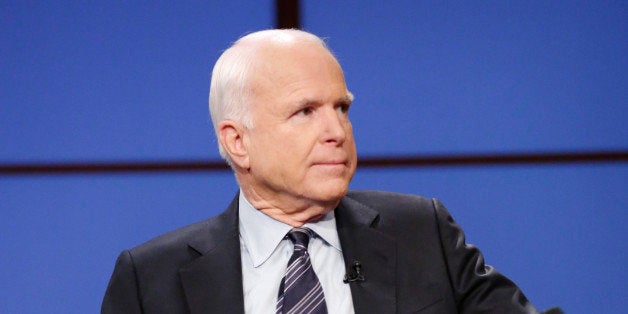 Sen. John McCain (R-Ariz.) said he would "probably change the name" of Washington, D.C.'s professional football team.
During a Friday appearance on the "Dan Patrick Show," McCain said the feelings of Native Americans should be considered.
"If they think it's that offensive and terrible, I would certainly -- probably -- I'm not the owner and he has the rights of an owner. But frankly I would probably change the name," McCain said, according to CBS Sports. "Myself I'm not offended. You're not offended. But there are Native Americans who are."
McCain said he would sit down with Native American leaders if he were Dan Snyder, the owner of Washington's football team.
"I'd call the Native American leaders together and I'd sit down with them and say 'What is it you want?'" McCain said. "If I were him I'd have a dialogue."
Though he has acknowledged the name is offensive, McCain has previously said he'd hesitate to tell Snyder to change the name.
"Redskins, to many Native Americans, which matters more than John McCain's view, is offensive," McCain said in October 2013. "I don't presume to tell the owner of the Redskins what he should or should not do."
McCain's comments come days after Senate Majority Leader Harry Reid (D-Nev.) compared the Washington football team's name to Los Angeles Clippers owner Donald Sterling's leaked racist rant, which got him banned for life from the NBA and fined $2.5 million.
"We live in a society where you can't denigrate a race of people," Reid said. "And that's what that is. I mean you can't have the Washington Blackskins. I think it's so short-sighted."
REAL LIFE. REAL NEWS. REAL VOICES.
Help us tell more of the stories that matter from voices that too often remain unheard.
BEFORE YOU GO
PHOTO GALLERY
Redskins Quarterbacks Through The Years