WASHINGTON -- Last August, a few minutes before GOP vice presidential nominee Paul Ryan took the stage at the Republican National Convention in Tampa, Fla., I was hurrying down a flight of stairs to get to the floor to watch. I stopped short when I saw a cluster of people on the landing of the stairwell.
John McCain was at the center, taking questions from what appeared to be mostly foreign reporters. Rather than getting into the hall to hear Ryan's speech, McCain, who turned 76 that day, was lingering with a group of journalists who were asking him whatever popped into their heads.
It was a stark contrast to the convention four years earlier, when the Arizona senator had been the Republican Party's nominee for president, and had been the focus of attention all week long. He had gone from center stage to concrete floors and cinder block walls.
An aide tried to end the questions and hurry McCain along, but the 5-foot 7 bulldog of a man was in his element. "It's okay, it's okay," he said, talking over her. He turned back to the reporters: "What?" One of the reporters tried to bait him with a series of questions about whether foreign policy was a form of wealth redistribution, and McCain went back and forth until he'd had enough.
"I think I have explained it to you as well as I can. All right?" McCain said.
No matter the location, McCain has always run toward a fight. He likes to mix it up. It's why he was a Navy fighter pilot. It's why he takes questions from reporters in Senate hallways. It's why during the 2000 presidential campaign he let reporters sit on his bus and ask him questions until they had run out of them. It's why he hosts regular town hall meetings, and it's why they are lively affairs.
It is also why, four years after his loss to President Barack Obama, McCain is back at the center of Washington politics. The GOP is currently in a period of self-examination and soul-searching, and -- being out of power in the White House -- lacks a clear national leader. As a multitude of Republicans compete for the spotlight, McCain has managed to shine just as bright as many of them. That's despite the fact that he has less influence, as he himself admitted during an hour-long interview, than he did during the days when he was a senator who still harbored presidential ambitions.
From his involvement in the immigration reform effort, to the nomination fight over Obama's defense secretary, former Sen. Chuck Hagel (R-Neb.), McCain is more relevant now than he has been since he carried his party's banner in 2008. And his reemergence gives the war hero and former Vietnam prisoner of war an opportunity to be remembered at the end of his career for things other than a disappointing presidential run that associated him indelibly with former Alaska Gov. Sarah Palin, who he chose as his running mate.
McCain knows he is living out the closing chapters of a storied career. During our interview, he spoke frankly about his current role in politics, and his clashes with the Obama administration and members of his own party. And he expressed concern that he not overstay his welcome in the Senate, raising questions about whether he intends to run for reelection in 2016 at age 80.
But he is also a restless soul, who cannot stand still for long. McCain wrote in his 2002 book, "Worth the Fighting For," that one of his favorite quotes came from his mentor, former Sen. John Tower (R-Texas). "Son, don't let your shirttail hit you in the ass. Keep running," Tower used to say.

McCain told me it was this sort of mindset that helped keep him from despair in the months following the 2008 election.

"After I lost in 2008, I really, I knew the best cure and the only cure is to get busy, and put it behind you. When you sit around and mope, I mean, it's a very destructive exercise," McCain said, his left leg propped up on the coffee table in his Senate office. "So I tried to stay in the game."
'THAT ANGRY OLD WHITE GUY'
To many, McCain's reputation as a maverick, willing to cross party lines on issues such as immigration reform and campaign finance, took a hit after his contortions during his presidential run, and then two years later in his Senate reelection campaign.
In 2008, McCain veered to the right with his selection of Palin as his running mate. He was made unavailable to the press, and the image of him as a happy-go-lucky maverick morphed into that of an angry old man. In 2010, McCain ran to the right again in his primary against former Rep. J.D. Hayworth, taking a hardline stance on immigration and the need for a border fence.
Since winning his sixth term, he has been an outspoken critic of the Obama administration over what to do in Syria and the attack on the U.S. consulate in Benghazi, and he's had a series of high-profile exchanges with Obama cabinet officials. "I must say you've been making more news as a questioner than I have," Fox News' Chris Wallace said when the senator appeared on "Fox News Sunday" in February, citing McCain's interrogation of outgoing defense secretary Leon Panetta and Joint Chiefs Chairman Martin Dempsey on Syria.
At Hillary Clinton's last hearing as secretary of state before the Senate Armed Services Committee, McCain opened with heartfelt and effusive praise and gratitude for her service, and then proceeded to rip into her answers on Benghazi. McCain and Clinton are friends, going back to her days in the Senate. But that didn't stop him from blasting her in public.
And after McCain's sharp questioning of Hagel at his Senate confirmation hearing last month, MSNBC host Chris Matthews accused McCain of being "angrier than ever" and suggested his queries for Hagel were caused by a "flashback" to his days in combat and as a POW.
McCain did misstep in mid-November, when he called a press conference to complain about the lack of answers from the White House about the terrorist attacks on the Benghazi consulate, only to have it emerge later that he was missing a nearly two-hour classified briefing on the subject that occurred at the same time as his press conference. A spokesman said it was a "scheduling error," but McCain snapped at a reporter and grew agitated when asked about it.
Nonetheless, stories asking different variations of the same question -- "Who is the real John McCain?" -- have exasperated McCain's friends, supporters and staff. Mark Salter, McCain's longtime confidant, adviser and co-author on many of his books, referred to it as "amateur psychoanalysis."
"Circumstances have changed, but he really hasn't," Salter said.
Salter said that when McCain was a flight instructor at a Mississippi air station in the mid-1960s, the pilots in training would be afraid to go up with him. McCain would sit in the seat behind them, berating them when they messed up and banging them on the back of their helmets with his clipboard.
McCain laughed off the idea that he had ever stopped being himself. "Just remember," he said, "that when it's a Republican administration and I call for the resignation of the secretary of defense, and I say that this Medicare Part D is a bad deal because it's not paid for and vote against it, Bush's signature: 'Hey, well there he is! The old maverick! God bless him for standing up for what he believes in!'"
When he has opposed Obama, McCain said, the media depiction of him has changed. "'Ah, that angry old white guy. He, you know what, he's just bitter about losing,'" he said, summarizing the portrayal.
McCain acknowledged his combative nature. It's why, he said, he has never spoken with journalist Bob Woodward for one of his books. He'd prefer to be out in the open, on the record, because when he has something tough to say to someone, he usually just says it to their face.

"I just do everything on the record, because it's on the record anyway," he said.
"McCain may stab you, but he'll always do it in the chest," Salter said.
TAKING ON 'THE WACKO BIRDS'
While McCain has been a fierce critic of the Obama administration, he has also tangled with members of his own party, particularly the new crop of lawmakers including Sen. Rand Paul (R-Ky.), Sen. Ted Cruz (R-Texas), and Rep. Justin Amash (R-Mich.), darlings of the conservative grassroots.
When I asked him if "these guys" -- having just mentioned Amash, Cruz and Paul by name -- are a "positive force" in the GOP, McCain paused for a full six seconds.
"They were elected, nobody believes that there was a corrupt election, anything else," McCain said. "But I also think that when, you know, it's always the wacko birds on right and left that get the media megaphone."

"I think it can be harmful if there is a belief among the American people that those people are reflective of the views of the majority of Republicans. They're not," he continued.
I asked McCain to clarify who, specifically, he was talking about.
"Rand Paul, Cruz, Amash, whoever," McCain said.
When asked about Amash's recent accusation that a joke McCain made on Twitter about Iranian President Mahmoud Ahmadinejad was "racist," McCain had a long belly laugh.

"Yeah he defended, he defended Ahmadinejad," McCain said, barely getting his words out. "I thought, 'Wow, wow! That's interesting.' I thought it was a pretty funny line, and all of a sudden this Amash, or whatever his name is, is defending me making a joke about Ahmadinejad."
McCain also criticized Cruz over his suggestion during Hagel's confirmation hearing that Hagel had accepted money from terrorist groups. "He was making a presentation that said that Chuck Hagel might have taken money from Palestinian organizations, people connected with all that," McCain said. "Look, you can't, without any basis in fact -- you just don't go around saying that kind of stuff."
A Cruz spokeswoman said in an e-mail that the Texas senator "has great respect for Sen. McCain and is honored to work with him in the U.S. Senate."
McCain's relationship with Paul appears to be warmer than the one he has with Cruz and Amash. While he and Paul have clashed publicly on numerous occasions, they have also worked together on legislation, and according to a Paul adviser, they have a "decent relationship."
"On some issues [McCain] sees him as a fellow maverick, but on some issues I think that pisses [McCain] off, having a maverick against John McCain," said the Paul adviser, who asked to speak frankly in exchange that he not be identified. "I think he thinks Rand wants his way too much, like on [National Defense Authorization Act] ... but I don't think he thinks he's doing it just to do it."
McCain made probably his most public and dramatic break with Paul on Thursday afternoon, when he strode to the Senate floor where Paul had the night before waged a 13-hour filibuster over Obama's drone policy, and ridiculed Paul's concerns as "ridiculous." Many Republican senators had joined Paul on the floor the night before, Politico hailed him as having become, overnight, a "unifying leader" inside the GOP, and Senate Minority Leader Mitch McConnell (R-Ky.) lauded Paul for an "extraordinary effort."
McCain couldn't have cared less about the hoopla. He read a Wall Street Journal editorial that said Paul was pulling "political stunts that fire up impressionable libertarian kids in their college dorms."
"We've done, I think, a disservice to a lot of Americans by making them believe that somehow they're in danger from their government. They're not," McCain said. "But we are in danger from a dedicated ... enemy that is hell bent on our destruction."
During our interview, McCain was frank about his current role in politics and within the Republican Party.

"In some ways, it has been diminished," he admitted, "because I am no longer ever going to run for president of the United States, the nomination of my party."
But he noted that he is also freer to make deals inside Washington, since he is "nobody's competitor anymore."
McCain made clear that he relishes the opportunity to be a power broker when Washington is badly in need of them, even if his deal-making influence hasn't so far extended to the biggest fights over the size and scope of the federal government. Despite being a consistent critic of the Obama administration, that didn't stop the president from having McCain and Sen. Lindsey Graham (R-S.C.) over to the White House to talk immigration, sequestration and other topics at the end of February. McCain was also part of the group of GOP senators who dined with Obama on Wednesday night at the Jefferson Hotel.
"Because of knowledge and expertise and background, ability in establishing relations on the other side of the aisle … I'm kind of the go-to guy," McCain said. "I can't tell you, two or three times a week, some Democrat comes up to me and says, 'Hey, I think we really need to work on health care,' or, 'We want to work with you on--' you know? And a lot of times, about 90 percent of the time, I say no because I don't have the knowledge, expertise, background, desire, whatever it is. But on others, obviously, I say yeah."
Many conservatives will see McCain's eagerness to work with Democrats as more evidence that he is not really one of them. Others will think he is just trying to get back in the good graces of establishment Washington after a few years in the wilderness.
"We're misreading John McCain," said Steve Clemons, Washington editor-at-large for The Atlantic. "He is not out there trying to relaunch himself and become a warmer and fuzzier version of a John McCain that became cranky and difficult.
"I think he is just someone who is complex," Clemons said.
It's most likely that McCain's obvious distaste for being thought of as a partisan stems from his view that it is less honorable than being a principled and independent actor. McCain wrote in his 2000 book, Faith of My Fathers that his father and grandfather -- both of them four-star admirals in the U.S. Navy -- "were not men of spotless virtue, but they were honest, brave and loyal all their lives."
Earning their respect, he wrote, was "the most lasting ambition of my life."
SEN. JOHN MCCAIN (R-D.C.)
Nowhere is McCain's unique political role more clearly illustrated than in the current immigration fight.
He may not be able to win over grassroots voters in the same way as Sen. Marco Rubio (R-Fla.), the 41-year old star politician who has wowed fans and critics with his successful outreach to the GOP base on the issue. McCain, by contrast, is likely to turn off more conservatives than he brings on board, and his 2008 run has made him a more partisan figure in the eyes of many Democrats and independents.
But because Washington is more polarized than ever, McCain is in some ways more indispensable than ever inside the very place he called the "city of Satan" during an Arizona town hall meeting in February. He is willing to work across the aisle and use his sizable clout to get things done, and he has less to lose than younger lawmakers and can take greater risks.
A senior Democratic Senate aide involved in the process said that any immigration effort would have been suspect without McCain's involvement, since he was a leader on the issue in 2007.

"From a perception point of view, the seriousness of the group would be questioned if he weren't involved. But because he is, they know this is the real effort," said the aide, who spoke on the condition of anonymity. "Nobody is expecting other efforts to spring up."

His constituency, in other words, is Washington: the press, pundits, elected officials, bureaucrats, consultants, lobbyists and others who make up the political class.
At a forum with McCain hosted by The Atlantic in early February, Sen. Amy Klobuchar (D-Minn.) lauded McCain's involvement in the immigration reform fight. "Senator McCain standing up with us on immigration is going to make all the difference," she said.
McCain's relationship with Rubio, the current frontrunner to be the GOP's 2016 presidential nominee, is collegial and cordial. But there seems some potential for discord. Rubio aides have not appreciated McCain's statements that there is "very little difference" between the current proposal and McCain's 2007 plan, as he said at their first press conference in late January.
And McCain's comments about Rubio have had a touch of condescension. During his appearance on ABC's "This Week" the day before the Senate's current immigration proposal was announced, McCain did not mention Rubio's name when listing the lawmakers involved. And during the press conference to unveil the plan, he said Rubio "obviously is a new but incredibly important voice in this whole issue."
In 2010, Rubio criticized Florida Gov. Charlie Crist, his opponent in the Senate primary, because he said Crist "would have voted for the McCain plan."
McCain looked surprised when I read that quote back to him, and paused.
"I think that Marco Rubio has a keen political antennae, and I think he realizes that this issue's time has come. I really do," McCain said. "And I also believe that he has a certain empathy for people who are here illegally. I just, I've watched him talk and I've watched him behave, and I think he's, I think he's genuine.
"Now I think he's got a lot to learn, I think he's new in the Senate, don't get me wrong," McCain continued. "But I think he's done a good job, particularly outreach to conservative talk show hosts and others."
Rubio spokesman Alex Conant didn't back down from Rubio's characterization of the 2007 proposal as "wrong."
"It created a special pathway to citizenship and lacked sufficient security and enforcement triggers," Conant said in an email. "The bipartisan proposal this year is more conservative than what's been proposed in the past."
It is clear that McCain has begun to consider how he will be remembered. He claimed he hasn't thought much about his legacy. But a year ago, he started The McCain Institute for International Leadership, using $9 million in funds left from his 2008 campaign that many Republicans expected him to donate to the Republican National Committee, as President George W. Bush did with $12 million in leftover donations in 2006.
When I asked him whether he'd taken any flak from inside his party over that decision, McCain laughed and said, "Not directly."
He was forthcoming about how long he intends to stay in the Senate.
McCain mentioned former Sen. Robert Byrd (D-W.Va.), who died in 2010 at age 92, while still in office.

"Unfortunately, we remember people as they are rather than the way they were," he said. "I revered Sen. Robert Byrd. Sen. Robert Byrd, when I first came to the Senate, he knew the Senate, he was the toughest guy, he was -- I mean, he was fair, he was incredible. You know, the last I remember of Robert Byrd is he's sitting there in his seat in the Senate, in a very unfortunate physical condition.
"I think two years from now is the time to think whether I would want to run for office again," McCain said. "I do think that I have seen individuals, men, who were at the top of their game and stayed to the point where they were not only not at the top of their game, but they were kind of objects of our sympathy. I don't want to be one of those."
Still, it's difficult to imagine McCain stopping. After speaking in his office, we got into a green four-door Ford Fusion being driven by one of McCain's young staffers, and rode away from the Capitol toward downtown. We got out in front of the Grand Army of the Republic statue at 7th Street and Pennsylvania Avenue as dusk was settling among the gray buildings.

"Where are we going?" McCain asked one of his aides, who was on her cell phone getting directions. We stood there for a few minutes in the cold, McCain without a coat, turning around and around, as a homeless man on a bench about 30 feet away looked at us in mild surprise.

McCain chuckled. "Where are we?" he said. He appeared to be enjoying the moment of levity, and laughing quietly at his own situation: a U.S. senator lost for a few seconds on the streets of D.C. But there was a slight hint of displeasure. McCain has always been in a hurry. He is a man of action who cannot abide a lack of movement. He kept his impatience in check, and we figured out where we were headed.
McCain made his way across 7th Street to the Navy Memorial, through a crowd in the lobby of the visitors center, and into a back room to greet the panelists. Once on stage, he made introductory remarks, and thanked the four panelists. He also mentioned the moderator, Jenna Lee of Fox News.

"Jenna, I would thank you for your participation. I never watch Fox, so, thank you very much," McCain said, drawing laughter from the crowd of about 300 in the auditorium. It wasn't clear whether he was joking.
This story appears in Issue 42 of our weekly iPad magazine, Huffington, in the iTunes App store, available Friday, March 29.
Before You Go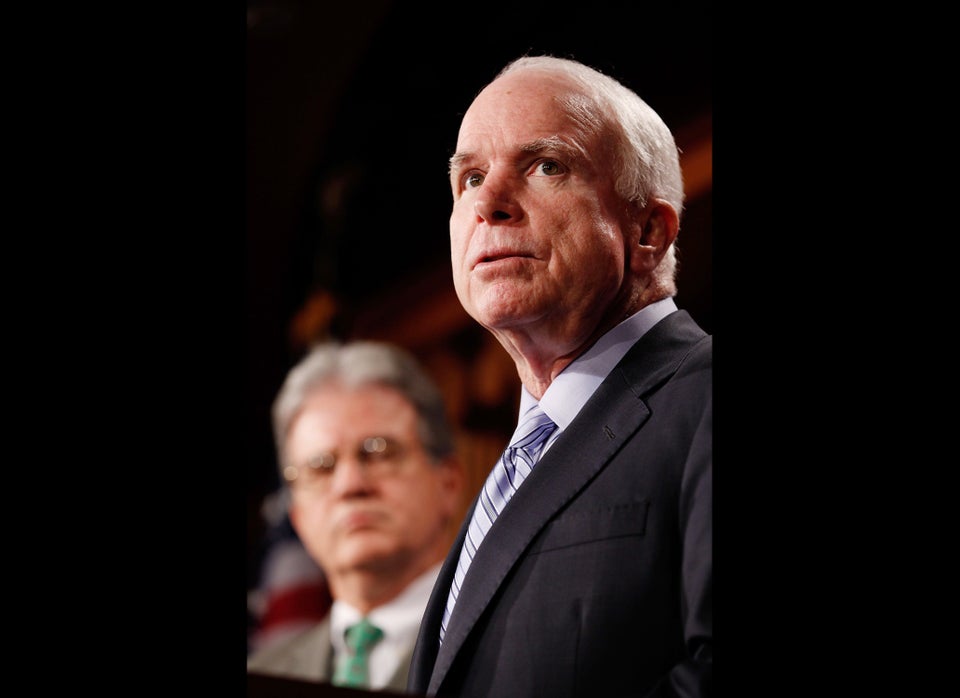 John McCain's Greatest Hits
Popular in the Community