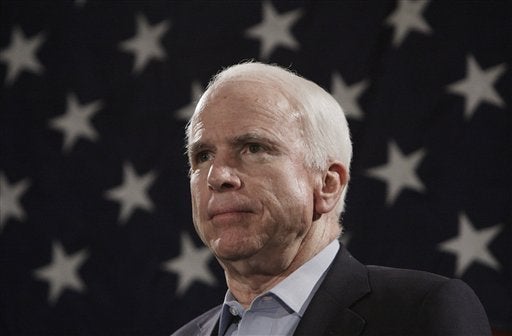 Sen. John McCain's (R-Ariz.) campaign tried again Wednesday to try to paint Republican opponent, former Rep. J.D. Hayworth, as an extremist, this time pointing to his ongoing connection to a right wing immigration group that recently called on Sen. Lindsey Graham (R-S.C.) to admit he was gay.
"It's unfortunate that Congressman Hayworth's fetish with the extreme fringe continues," McCain spokesman Brian Rogers said in a statement. "Is Congressman Hayworth really so desperate to show any support for his candidacy that he would continue to embrace the support of a group that's been linked to white supremacists, neo-Nazis and anti-Semites -- even after his spokesman 'strongly repudiated' ALIPAC's President?"
Rogers' statement refers to the group, Americans for Legal Immigration, which is headed by William Gheen.
"From his close embrace of Mr. Gheen and ALIPAC, to peddling conspiracy theories about the President's birth certificate and man-horse marriage, Congressman Hayworth has made clear that he feels most comfortable on the extreme fringe," Rogers continued. "While Congressman Hayworth courts extreme elements, Senator McCain is proud to have the support of Arizona leaders on the front lines fighting to secure our border, including Cochise County Sheriff Larry Dever and Pinal County Sheriff Paul Babeu."
Earlier Wednesday, Hayworth spokesman Mark Sanders responded to Gheen's accusations against Sen. Graham.
"The campaign strongly repudiates these comments," Sanders said. "We are happy to have the support of all voters in Arizona who understand the need to end this crisis of illegal immigration."
According to the Phoenix New Times, however, Sanders did not clarify whether Hayworth planned to formally disavow ALIPAC's endorsement.
In February, the McCain campaign called on Hayworth to reject the ALIPAC endorsement because the Jewish Anti-Defamation league had deemed them a group promoted by "white supremacists and anti-Semites."
"We appreciate the Hayworth campaign's small step toward sanity, but we're confused: If Congressman Hayworth so 'strongly repudiates' Mr. Gheen's comments, does that mean he'll disavow the endorsement of Mr. Gheen and ALIPAC, and return their $5,000 contribution?" McCain spokesman Brian Rogers told the New Times Wednesday.
In a similar effort to link Hayworth to the extremist fringe and downplay the seriousness of his primary challenge, the McCain campaign released an ad earlier this month painting Hayworth as a laughable candidate and mocking the former Congressman for his supposed connections to a variety of strange conspiracies.

Popular in the Community