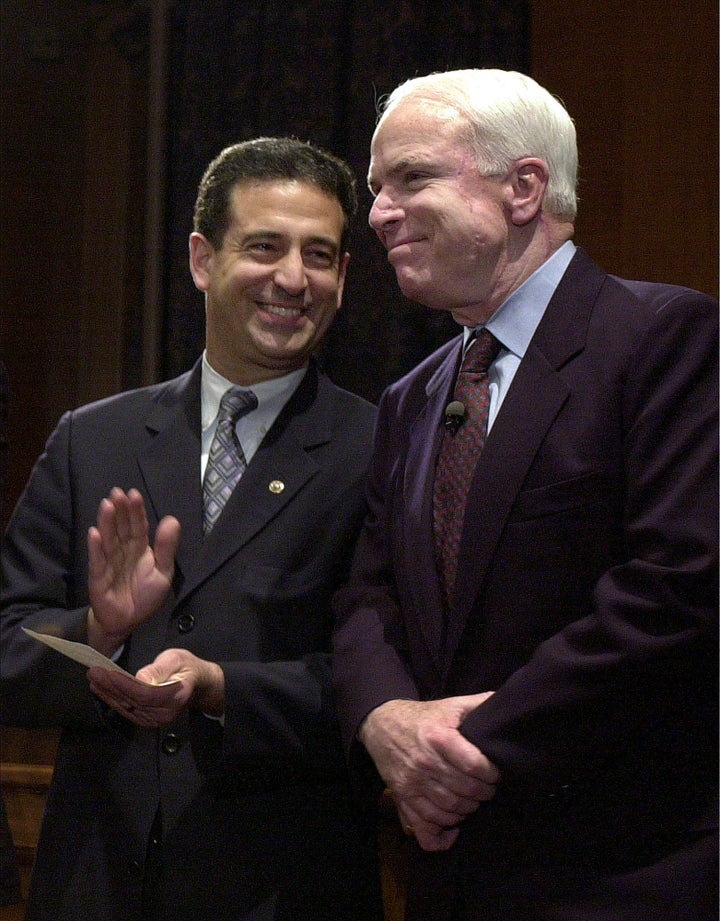 Sen. John McCain (R-Ariz.) heaped praise on his departing Democratic colleague, three-term Sen. Russ Feingold of Wisconsin, on Tuesday, saying that the progressive legislator's "courage and dedication" often served as an inspiration to the recently reelected Arizona Senator.
"In his time in the Senate, Russ Feingold, every day and in every way, had the courage of his convictions," McCain said. "And though I am quite a few years older than Russ, and have served in this body longer than he has, I confess I have always felt he was my superior in that cardinal virtue."
It appears an apt concession from McCain, whose one-time reputation as an unpredictable "maverick" with a resolute willingness to partake in bipartisan efforts has faded since his 2008 presidential defeat.
Despite cooperating with Feingold on issues such as "wasteful spending, ethics reform, campaign finance reform" -- an effort that most famously culminated in the McCain-Feingold Bipartisan Campaign Reform Act, the effects of which have since largely been bulldozed by the Citizens United Supreme Court ruling -- McCain's bipartisan spirit appears to have been trampled by his ideological march rightward.
The fourth-term Arizona Senator, who was unforgivingly profiled this year in "New York" and "Vanity Fair" magazines, has recently traded in his bipartisan credentials for a new, consuming credo that has made him a poster child for the new era of legislative strife.
While facing a strong primary challenge from the right in J.D. Hayworth, McCain recast himself as one of the most outspoken opponents of moves to repeal the military's "don't ask, don't tell" policy, even though he was once pinned as a potential Democratic ally against the controversial measure. He's also taken a hard-line stance against immigration reform, and has gone as far as to pledge opposition to Democrats on any legislation that doesn't focus on enforcement.
Still, McCain's transformation did not stop him from praising his colleague from Wisconsin, who lost his bid for reelection to Republican Ron Johnson.
"I can't do justice in these remarks to all of Russ' many qualities or express completely how much I think this institution benefited from his service here and how much I benefited from knowing him. I lack the eloquence. I don't think he is replaceable. We would all do well to keep his example in our minds as we serve our constituents and country and convictions. We couldn't have a better role model."
Popular in the Community