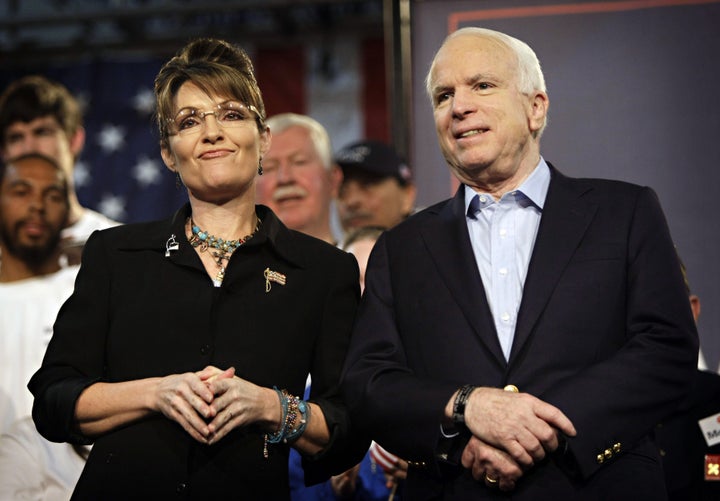 If there were ever any lasting doubts about a leftover animosity between John McCain and Sarah Palin from their presidential campaign in 2008, he's now out in full force trying to dispel them. Palin is great, McCain claimed recently, and that Tea Party message she's been pushing is right on point as well.
"I couldn't be more proud of her and the campaign she waged," McCain told ABC News of Palin Monday night. "We went up in the polls after her magnificent speech at the convention. I couldn't be more proud of her and of her performance and her continued performance. So, I think, you begin to think about legacy and I think that Sarah Palin will play a very big role in the American political scene for a long time."
Following their failed presidential campaign, a number of rumors arose about a supposed lack of cooperation between Sarah Palin and John McCain, a dynamic that many insiders said damaged their hopes at winning the election. Since, however, the two have appeared supportive of one another, despite John McCain's poor standing in the Tea Party that Sarah Palin remains so connected to.
On Tuesday, McCain appeared to make moves to close this gap as well, telling ABC's "Good Morning America" that the Sarah Palin and the Tea Party's principles of less taxing and less spending were exactly what was needed in the upcoming elections.
"What Sarah is saying is, 'We've got to get fiscally responsible Republicans in,'" McCain said, agreeing with the former Alaska Governor's recent campaign efforts.
McCain also followed up on his comments about Republican Senate hopeful Christine O'Donnell (R-Del.). The Arizona senator's daughter sharply criticized O'Donnell on Sunday, the same day that he made more supportive remarks. "My daughter and I have very spirited conversations from time to time and it's a lot of fun," McCain said on Tuesday. "With all due respect to my daughter, the primary voters of Delaware chose Christine O'Donnell and she's the candidate."
Popular in the Community