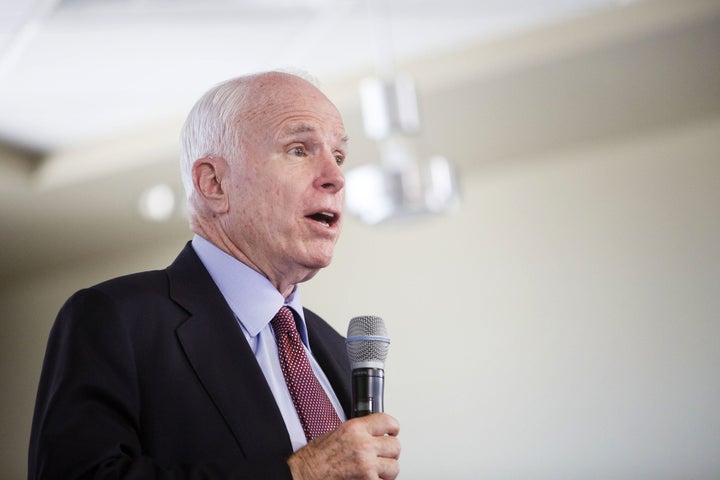 WASHINGTON ― When Republican voters in Arizona receive a robocall this week featuring former House Speaker Newt Gingrich endorsing Sen. John McCain (R-Ariz.), they'll hear just another example of how super PACs and political candidates take advantage of the loose system of regulations designed to prevent them from coordinating with each other.
The robocall comes from Arizona Grassroots Action, a super PAC formed solely to re-elect the 79-year-old senator to a sixth term ― but the audio of Gingrich's endorsement was actually recorded and posted online by McCain's official campaign. 
Gingrich's Endorsement As Posted By The McCain Campaign
Pro-McCain Super PAC Using Audio Of Gingrich Endorsement
Super PACs are political committees that can accept unlimited contributions from corporations, unions or individuals so long as they remain independent from political campaigns or parties that they support. This supposed independence has been called into question ever since 2010, the year super PACs were legalized.
It is now fairly common practice for super PACs to rebroadcast materials created by the campaigns that they support. Campaigns post stock footage, or b-roll, of candidates interacting with normal people online that super PACs proceed to use in their own ads. There's the candidate walking with a family ― maybe it's their own family ― or there's the candidate wearing protective eyewear while touring a local factory, or there was the brief hilarity of #McConnelling.
In this case, the pro-McCain super PAC simply took the audio from an online video shot and posted by the McCain campaign without using the footage.
The justification for using the material in this way comes from a limited exception for the republication of campaign materials in news, editorials or commentary to provide a "brief quote of materials that demonstrate a candidate's position."
The Federal Election Commission has repeatedly deadlocked on how much campaign material super PACs should or shouldn't be allowed to republish.
Campaign finance watchdogs Campaign Legal Center and Democracy 21 have disputed super PACs' use of b-roll footage originally created by campaigns. In 2014, the two groups filed complaints with the Federal Election Commission against Kentucky Opportunity Coalition, a dark-money nonprofit that supported Sen. Mitch McConnell (R-Ky.), and Senate Majority PAC, the main super PAC supporting Senate Democratic Party candidates.
Gingrich's endorsement is probably intended to help McCain in his primary contest against conservative Kelli Ward on Aug. 30. The winner will face the likely Democratic nominee Rep. Ann Kirkpatrick in the general election.
REAL LIFE. REAL NEWS. REAL VOICES.
Help us tell more of the stories that matter from voices that too often remain unheard.