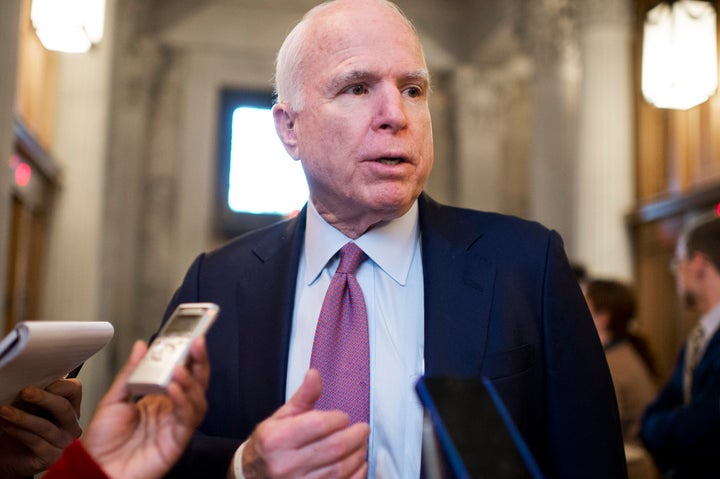 WASHINGTON -- Sen. John McCain (R-Ariz.), one of the Senate's biggest defense hawks, on Tuesday rejected calls by some Republicans that the U.S. accept only Christian refugees fleeing Syria, not Muslims.
"My faith is that all children are God's children," McCain said.
Some Republicans have argued the U.S. should accept Syrian refugees -- but only if they're Christian. Presidential candidate Sen. Ted Cruz (R-Texas) said he plans to introduce legislation barring Muslim refugees in the wake of last week's Paris terrorist attacks, but exempting Christians.
McCain said he doesn't think all refugees should be kept out of the U.S. But he acknowledged, "There should be a pause until we have the confidence of the American people that we have the procedures to make sure that no one who is coming into this country will commit an act of terror." European authorities have suggested at least one Paris terror suspect may have entered France with people fleeing violence in Syria.
Pressed to say whether Cruz's push for the Christian exemption should disqualify him as presidential material, McCain answered, "I just strongly disagree with him."
"It's an outrageous statement by a major American politician," Sen. Dick Durbin (D-Ill.) said of Cruz.
President Barack Obama on Monday harshly criticized Cruz -- although not by name -- and others who have said Muslim refugees should be blocked from the U.S., but Christians should be allowed. America accepts all faiths -- something that sets the country apart from ISIS, the president said.
"That's shameful," Obama said. "That's not American. That's not who we are. We don't have religious tests to our compassion."
GOP presidential candidate Jeb Bush, the former Florida governor, also said Christian refugees should get priority.
Beyond the religious discrimination, it's not clear how Republicans envision a system that would admit only Christian refugees. If terrorists can pose as refugees, why couldn't they pose as Christian refugees?
Cruz said after leaving the Senate floor that he did not have time to discuss the matter.
McCain said, "I have no idea; I have no clue."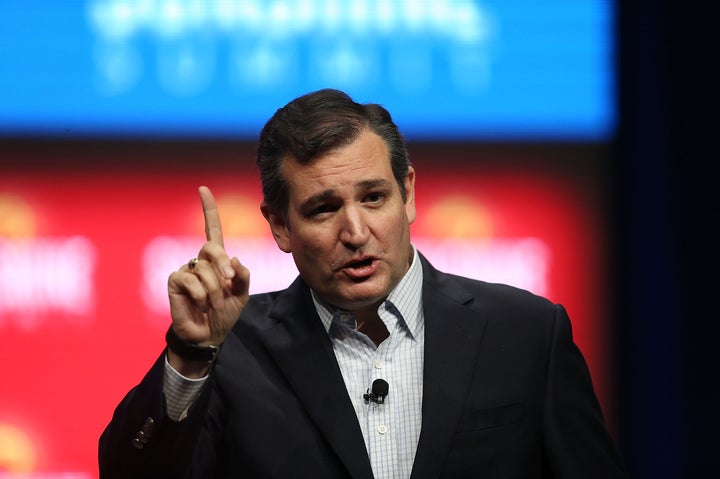 Some Republicans have voiced the same concern.
"How do you know?" Rep. Mo Brooks (R-Ala.) told HuffPost on Monday. "That's the first thing that comes to mind. Anyone who comes from a Middle Eastern country that has a significant population that supports, actively or otherwise, al Qaeda, the Islamic State, or any other fundamental Muslim organization -- there's no way to vet those people."
Rep. Lou Barletta (R-Pa.) said it would make no sense to have exceptions for Christians, since terrorists could skirt them. Exempting refugees from any country raises the same issues, he said.
"What would stop a terrorist, an ISIS member, to go to Somalia or to go to another country and come into America -- so we need to look at the entire program," Barletta said.
Republicans in the past have proposed prioritizing Christian refugees from Iraq and Syria. Fifty-nine Republicans signed onto a bill introduced in September by House Homeland Security Chairman Michael McCaul (R-Texas) that would have instructed the government to put religious minorities from the two countries at the front of the line for resettlement. Muslims make up a majority of the populations of Syria and Iraq.
Religiously-affiliated refugee resettlements, including Christian ones, oppose prioritizing certain religions over others. The system already takes into account religious persecution to determine who is the most vulnerable. While there is broad support for welcoming Christians, advocates said it should not be done at the expense of those who practice other religions.
"We should not limit the resettlement of refugees to any one group or faith, but rather, we should continue our national priority of resettling the most vulnerable refugees," Linda Hartke, president of the Lutheran Immigration and Refugee Service, told reporters Friday. "Their vulnerability is why we provide refugee, safety, and a new start in the United States."
Matt Fuller and Philip Lewis contributed reporting.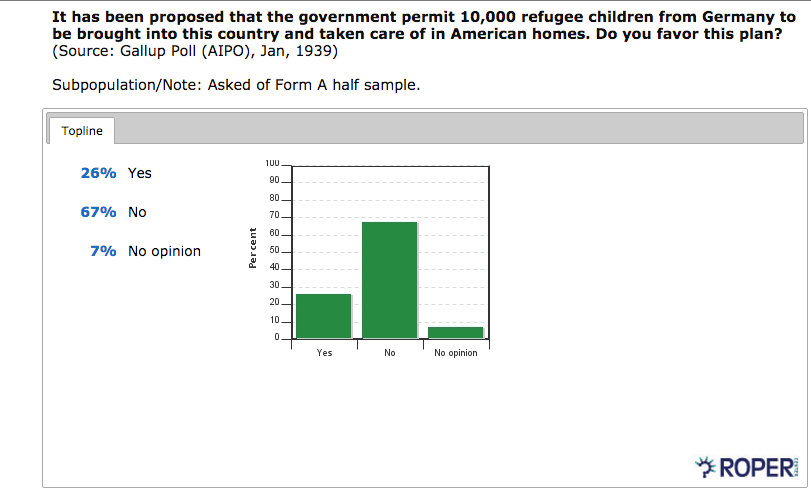 Public Opinion On Refugees Since The 20th Century
Popular in the Community