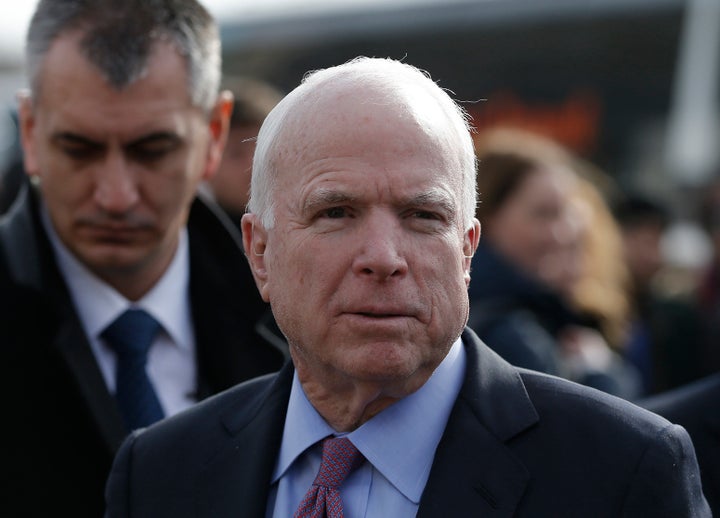 WASHINGTON ― Sen. John McCain (R-Ariz.) sent a clear message to President Donald Trump on Friday amid speculation that he may lift sanctions against Russia: Don't even think about it or I'll lead a congressional effort to pass them into law.
"For the sake of America's national security and that of our allies, I hope President Trump will put an end to this speculation and reject such a reckless course," McCain said in a statement. "If he does not, I will work with my colleagues to codify sanctions against Russia into law."
McCain's warning comes a day before Trump is scheduled to talk to President Vladimir Putin by phone. It's Trump's first known conversation with the Russian leader since becoming president, after an election in which Russian hackers intervened and influenced its outcome to benefit Trump. U.S. counterintelligence agents have investigated Trump's national security adviser, Michael Flynn, as part of a probe into the role of the Russian government in the hackings.
Trump didn't say much about his thinking on Russian sanctions at a Friday press conference at the White House. 
"Very early to be talking about [sanctions]," he said. "If we can have a great relationship with Russia and with China, then I'm all for that. That would be a tremendous asset. If we can, that would be a positive, not a negative."
McCain, who chairs the Senate Armed Services Committee, is one of many lawmakers in both parties uneasy about Trump appearing soft on Putin (which may have something to do with wealthy Russians investing in his real estate ventures for decades). Moments after Trump's press conference, Sen. Rob Portman (R-Ohio) issued a statement saying he is "deeply concerned" that Trump may be planning to lift sanctions.
"I would encourage the president to reject this course of action," said Portman, who sits on the Senate Foreign Relations Committee. "To lift the sanctions on Russia for any reason other than a change in the behavior that led to those sanctions in the first place would send a dangerous message to a world already questioning the value of American leadership and the credibility of our commitments after eight years of Obama administration policies."
Rep. Adam Schiff (D-Calif.), the top Democrat on the House Permanent Select Committee on Intelligence, also threatened a congressional response if Trump lifts sanctions. "Should Trump unilaterally roll them back, Congress must reimpose these sanctions and more, overriding a presidential veto if necessary," he said.
McCain noted that in the last three years, Russia has invaded Ukraine, annexed Crimea, threatened NATO allies and intervened militarily in Syria.
"[Trump] should remember that the man on the other end of the line is a murderer and a thug who seeks to undermine American national security interests at every turn," McCain said. "For our commander-in-chief to think otherwise would be naïve and dangerous."
REAL LIFE. REAL NEWS. REAL VOICES.
Help us tell more of the stories that matter from voices that too often remain unheard.
BEFORE YOU GO
PHOTO GALLERY
Obama /Trump Inauguration Crowds