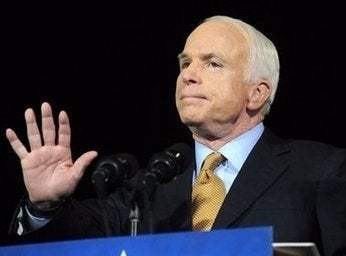 Senator John McCain's office is clearing up a controversial statement the Arizona Republican made implying, during a recent interview on Fox News, that illegal immigrants were "intentionally causing accidents" on highways.
In an email to the Huffington Post, Brooke Buchanan, a spokesperson for the Senator relayed that McCain "was referring to a story Pinal County Sheriff Babeu told" at a press conference on Monday.
In that story, Babeu said that there had been "numerous officers that have been killed by illegal immigrants in Arizona" and that "in just one patrol area, we've had 64 pursuits -- failure to yield for an officer -- in one month."
The line didn't fully mesh with McCain's inference that illegal aliens were causing disasters on the roads "intentionally." But Buchanan pointed out that in a subsequent interview on MSNBC (this Wednesday), Babeu did, in fact, make that point.
"[J]ust last month alone we have had 64 pursuits. That's where these illegals are failing to yield to lights and sirens, as every good citizen would pull to the side of the road, they are intentionally causing serious traffic hazards. They have caused wrecks, running red lights. It puts our deputies and officers in harm's way. One thing new in their tactics, nearly every one of them is armed. So this created, even with one of our deputies crashing into an actual ditch and into water, he was face down unconscious. And a Casa Grande officer literally saved his life."
Certainly, it appears that McCain was influenced during his interview on Fox by information from law enforcement sources on the ground (though his delivery remains a bit in-artful)
But what stands out more than any particular word choice is just how deeply McCain is dabbling in anti-immigration rhetoric and policy after having willingly played the role of Republican pariah on the same issue several years ago.
As Buchanan notes, Senators McCain and Jon Kyl (R-Ariz.) have "announced a 10-point border security plan - regarding illegal aliens causing car crashes trying to avoid apprehension." The two have also called for the deployment of 3,000 National Guard troops to the Arizona-Mexico border.
McCain's GOP primary campaign in Arizona has had profound political effects on the senator. If immigration reform is to be considered in the months ahead (as President Obama suggested recently), it's all but impossible to see McCain playing a collaborative role in the process.