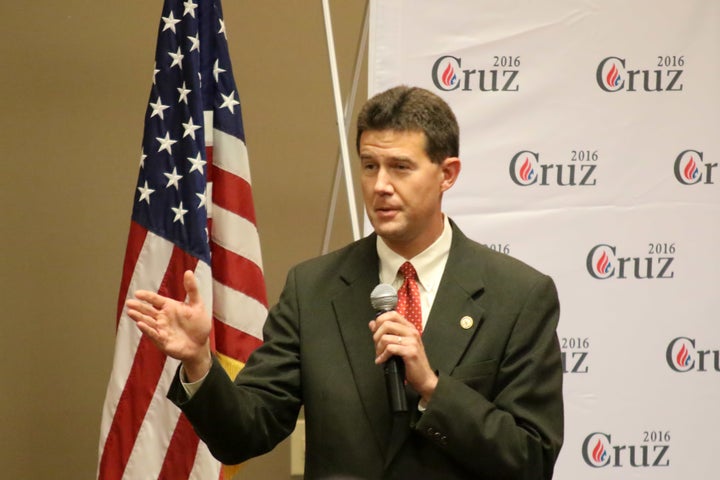 Alabama Secretary of State John Merrill (R) said in a recent interview that prospective voters should have to earn the "privilege" to cast a ballot by making an effort to get registered.
Filmmaker Brian Jenkins asks Merrill why he opposes automatic voter registration in his forthcoming voting rights documentary, according to a teaser clip posted Wednesday. The secretary of state responds by describing voting in terms that appear to be in conflict with the U.S. Constitution's language guaranteeing citizens the right to vote.
"If you're too sorry or lazy to get up off of your rear and to go register to vote, or to register electronically, and then to go vote, then you don't deserve that privilege," Merrill said.
In recent years, a number of states have passed laws to automatically enroll eligible voters when they give information to agencies like the Department of Motor Vehicles. Supporters see this system as a cost-effective way to increase access to the polls and improve the accuracy and security of elections.
But Merrill said he didn't want to see such a simple form of voter registration in Alabama. As a justification, he said it would somehow offend heroes of the civil rights movement ― people like Rep. John Lewis (D-Ga.), who has himself supported federal legislation to implement automatic voter registration nationwide.
"These people fought ― some of them were beaten, some of them were killed ― because of their desire to ensure that everybody that wanted to had the right to register to vote and participate in the process," Merrill said. "I'm not going to cheapen the work that they did. I'm not going to embarrass them by allowing somebody that's too sorry to get up off of their rear end to go register to vote ― or now, because of what we've done, turn the computer on and register to vote ― because they think they deserve the right because they've turned 18."
A spokesperson for Lewis did not immediately respond to a request for comment.
"As long as I'm secretary of state of Alabama, you're going to have to show some initiative to become a registered voter in this state."
Alabama recently modernized its voter registration system, becoming the 32nd state to allow residents to register online. That additional option leaves people without any excuse not to get registered, Merrill suggested.
"As long as I'm secretary of state of Alabama, you're going to have to show some initiative to become a registered voter in this state," he said.
Merrill has been one of the strongest proponents of Alabama's controversial voter ID law, despite an apparent lack of evidence of in-person voter fraud. The measure, which went into effect in 2013, has already disenfranchised hundreds of otherwise eligible voters who could not produce valid photo identification.
Critics note that these sorts of barriers to voting disproportionately affect poor individuals and people of color, who have less access to facilities that issue ID cards. The intended effect, they allege, is to suppress voters in a way that benefits Republican political candidates. But supporters of voter ID and other voting or registration restrictions claim that they're well-intended efforts to protect the integrity of elections.
John Bennett, Merrill's deputy chief of staff, pushed back against criticism Wednesday, telling The Huffington Post that his boss has shown a commitment to giving every eligible voter the opportunity to cast a ballot.
"We've gotten the largest number of [newly] registered voters in state history ― which is 584,252 ― so it's not that we aren't living up to what the Constitution guarantees to each and every American," he said.
HUFFPOST READERS: What's happening in your state or district? The Huffington Post wants to know about all the campaign ads, mailers, robocalls, candidate appearances and other interesting campaign news happening by you. Email any tips, videos, audio files or photos to scoops@huffingtonpost.com.
Popular in the Community