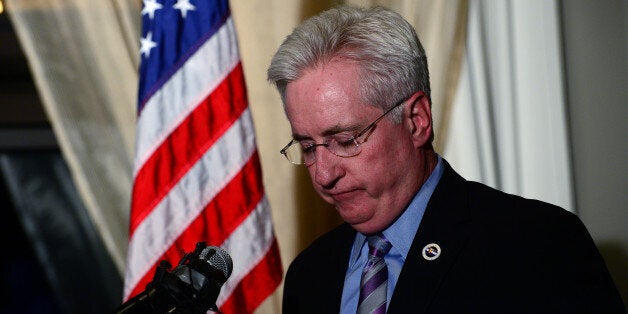 The stunning victory for the National Rifle Association and gun rights activists in the first recall election in Colorado history was complete Thursday when state Senate President John Morse (D-Colorado Springs) and Sen. Angela Giron (D-Pueblo) officially left their offices after the two were ousted over their support of strict new gun laws in the state.
"Bernie Herpin was used as a pawn in an election where almost 80 percent of voters did not even participate and only 11 percent of the district elected him," Morse said in a statement upon exiting office. "Make no mistake about it -- he was elected in a myopic recall where he ran on only one issue. Senate District 11 has dynamic needs and is not defined by one issue."
Morse and Giron supported a strict gun law package that included universal background checks for all gun sales and transfers and a 15-round limit on ammunition magazines.
Morse received 49 percent of the vote in his district for the recall election, but only 20 percent of registered voters turned out, with no mail-in ballots and only four days of early voting. Morse lost his seat by only 343 votes.
Colorado's history on gun rights has long been a source of friction in a state that was home to two of the most deadly mass shootings in U.S. history. A turning point came on July 20, 2012, when a gunman walked into a late-night show at a movie theater in Aurora, killing 12 people and leaving more than 70 injured. A few short months later, the wounds of Colorado's Columbine High School massacre of 1999 were reopened as victims watched families in Newtown, Conn., go through an all too familiar struggle.
A Quinnipiac poll released in August found that 82 percent of Colorado voters supported expanded background checks for gun sales. But respondents were split down the middle on the 15-round magazine limit.
The NRA spent heavily on the recall effort, reporting at least $360,000 and funneling unspecified dollars through its nonprofit arm. The billionaire conservative Koch brothers also entered the fray, using their advocacy group Americans for Prosperity to target Morse and Giron. Due to the organization's nonprofit status, AFP also did not have to report its spending to the Federal Elections Commission.
New York City Mayor Michael Bloomberg, a staunch supporter of stricter gun laws, donated $350,000 to Morse and Giron. Billionaire philanthropist Eli Broad gave a separate $250,000 check to help the legislators, while Sen. Kirsten Gillibrand (D-N.Y.) repeatedly issued fundraising calls for Giron in emails to her supporters. The Denver Post reported that those in Morse and Giron's corner had collected nearly $3 million, while proponents of the recall raised about $540,000.
A statement put out by the National Rifle Association Political Victory Fund lauded Morse's defeat as "historic":
The people of Colorado Springs sent a clear message to the Senate leader that his primary job was to defend their rights and freedoms and that he is ultimately accountable to them -- his constituents, and not to the dollars or social engineering agendas of anti-gun billionaires.
Popular in the Community