They've taken us under the sea with their charming reimagining of Hans Christian Andersen's The Little Mermaid. Not to mention soaring through the sky aboard a magic carpet in their wildly comic take on the 1001 Arabian Nights, Aladdin.
So where will John Musker and Ron Clements be taking moviegoers next? To the South Seas. A remote spot on the map that these two Walt Disney Animation Studios veterans genuinely believe is the perfect setting for Moana, a CG-animated comedy-adventure that will be sailing into theaters come November of 2016.
So what made Musker and Clements decide to set their next project in the South Pacific? To hear John recount the origins of this production, it all had to do with the books that he read as a kid.
"I grew up reading the novels of Melville and Conrad. And the South Seas, the exotic world that a lot of their stories are set in, was extremely intriguing to me. Just looking at the art which comes out that corner of the globe -- the carvings, the statuary, the sculpture -- I thought that it all begged for this bigger-than-life treatment that you can only get with animation," John remembered. "So to expand on that idea, I then began reading up on the mythology of this area. Which is when I came across these incredible tales about Maui, who's one of the great cultural heroes of the South Pacific."
It was this point that Musker thought that there was a film to be found somewhere amid all of this promising material. So he and Clements put together a pitch for this project. Which they then ran by John Lasseter, the Chief Creative Officer of Walt Disney and Pixar Animation Studios.
"So Ron and I developed this very simple storyline. And John being John, he said 'I love this arena. I love the bare bones of the story you've got. But this really begs for research. On the ground research.' So we were forced, as it were, " Musker said jokingly, "to go to the South Seas two years ago. We've gone twice now. Two big research trips. And those trips have been revelatory and kind of life-changing in a way. In that it made us take our very simple outline and rework the whole thing."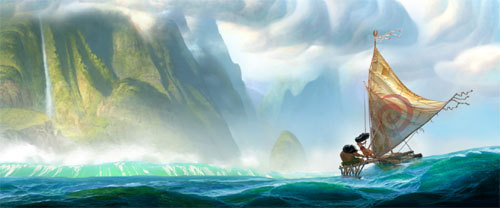 "When we visited those islands, John and I were especially interested in meeting people who lived on islands where they had grown up surrounded by an ocean. We wondered how that might effect your point-of-view. And we learned a lot. We learned all kinds of things that we didn't know. We learned how the sea and the land are one and the same. How these people think of the ocean as something that unites the islands, not something that separates them," Clements recalled. "And then we learned about the great migration and how the people of the Islands take great pride in the fact that their ancient ancestors invented this way of navigation called dead reckoning which involved studying the stars and the currents. And way before the European explorers or the Vikings, these people had this very, very incredibly advanced techniques of navigation."
"So many of these ideas in terms of respect for nature, respect for the ocean and the elements -- all of these things -- really had a huge influence on us and then began to make their way into this film's story," Ron continued. "Which is why Moana is now the most ambitious thing that John and I have ever attempted. There's definitely an epic aspect to this story. Not to mention huge opportunities for comedy and action and adventure. But at the same time, there's also a key relationship at the very heart of this story. An emotional core that -- I think -- is especially important with this film. But as it is with any of these things, you just hope that -- in the end -- you can get it right."
Of course, what really helps in a situation like this when you're tackling something truly ambitious is have a talented team backing you up. Which is what Musker and Clements honestly believe they have with all the artists, animators and technicians who are currently working at Walt Disney Animation Studios.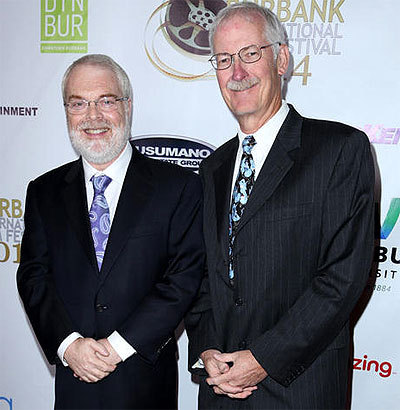 "There's an incredibly talented crew here right now that has just been developing in an amazing way over the past few years. Particularly since John Lasseter and Ed Catmull have come on board. And with each new film, this crew has sort of been stretching its boundaries," Clements enthused. "I mean, it's very exciting at the Studios right now. People don't feel like they're limited in what their aspirations can be. There's a huge push now to just and try to do better. Make something as special as possible."
Mind you, with much of Moana taking place in the open ocean and with this film's title character encountering enormous sea creatures and mythic figures ... There are all sorts of technical challenges that Musker and Clements know that they will be facing on this project. Which is why -- to help them with their first-ever all-CG film -- Ron and John asked Osnat Shurer (who had previously worked with John Lasseter over at Pixar) to come be their producer on this production.
Just to be clear here: Osnat's no newbie when it comes to Disney. She's been working as the VP of Development at WDAS for a while now.
"And much as I loved all the projects currently in development (WDAS has a very strong development slate and amazing filmmakers at the helm), I particularly resonated with 'Moana' for a number of reasons: Ron and John are awesome. This film deals with a surprising, exciting, and lesser known culture, which is right up my alley. It's a fantastic story. And Moana has this kick-ass, feisty, interesting female protagonist," Shurer explained. "So that when Ron and John asked if I would be their producer, and I said I would very much like to, John Lasseter, Ed Catmull, and Andrew Millstein thought it was a fantastic match."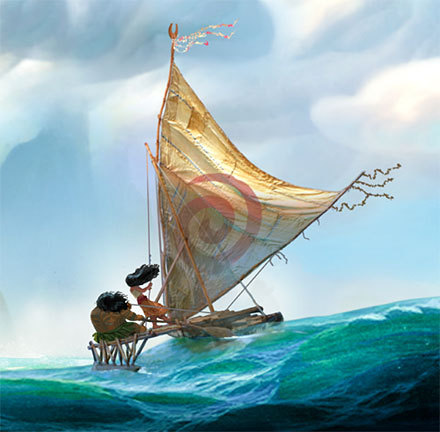 So with today's announcement, a two year journey begins. One that Ron, John and Osnat (not to mention Ian Gooding, who's also agreed to come on board Moana and become this new animated feature's production designer) hope will end with a genuinely entertaining motion picture.
"That -- in the end -- is the real challenge here. We've got this story that's set 2000 years ago which we're building around a 14 year-old heroine. That's the youngest character Ron and I have ever built a film around. And while we want to do something that honors the culture of the South Seas, at the same time, we want to make a film that will work for people all around the world," Musker stated. "So is Moana is going to be challenging? Yes. But it's exciting to be challenged. If it were easy, why would we do this? Ron and I like a challenge. And this project -- while difficult -- has already been so rewarding. If only for all the amazing things that we learned on our research trips to the South Pacific."
"We're a long way from the finish line. But we're already heavy, heavy into storyboarding and scripting and screenings. And as these processes go along, I know that there'll be more announcements coming down the line in regards to various other aspects of this movie," Clements concluded.
So as we wait for further announcements on this film, here's hoping that it's smooth sailing for Disney's Moana. As Ron and John chart a course for their most ambitious animated feature to date through those treacherous, shark-filled waters that are known as modern motion picture production.
Popular in the Community