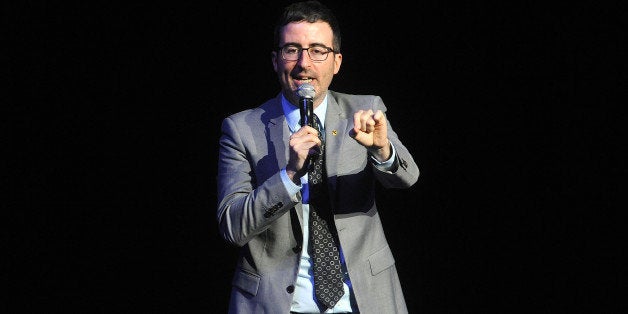 WASHINGTON -- HBO host John Oliver has no idea which politicians will run for president in 2016, but he is sure of one thing: It's going to be hilarious.
Oliver was in Washington, D.C. Tuesday for the Concert for Valor, a star-studded Veterans Day concert that attracted hundreds of thousands of people from around the country.
Oliver, one of the celebrity hosts of the event, was asked by reporters whom he would like to see run for president in 2016.
"I don't care. I don't care. I don't care," he said. "I don't know, but all of them would be, tragically, good for comedy for obvious reason. I really don't care. I don't care. I'll say it again, I don't care. They'd all be good for comedy which is sad."
Attending the Concert for Valor was personal for Oliver, whose wife, Kate Norley, served in Iraq as a medic.
The British comedian, who hosts "Last Week Tonight" on HBO, told The Huffington Post that as a military spouse, he was particularly attuned to the difficulties in dealing with the Department of Veterans Affairs.
"I am aware of some of the frustrations that veterans have to endure -- especially regarding the Veterans Administration, which is a bureaucratic nightmare to navigate at the best of times," said Oliver. "At the worst of times, it's clearly unnavigatable -- which is clearly not a word, but a process."
Oliver also recounted when he went to Afghanistan as part of a USO tour, saying that people shouldn't feel like they have to treat veterans as if they'll break apart at any moment.
"People...think that veterans need to be treated with kid gloves, and I know they can take a joke, these veterans," he added. "If you fought a war, you can take a joke. It was amazing doing gigs in Afghanistan and they just want you to come over and just make fun of them. And that is literally the only skill set I arguably have."
REAL LIFE. REAL NEWS. REAL VOICES.
Help us tell more of the stories that matter from voices that too often remain unheard.
BEFORE YOU GO
PHOTO GALLERY
Potential 2016 Presidential Contenders