Twenty-five percent of Americans don't believe in climate change, according to a recent poll, but in the words of John Oliver, "who gives a sh-t?"
"You don't need people's opinion on a fact," Oliver said. "You might as well have a poll asking: 'Which number is bigger, 15 or 5?' or 'Do owls exist?' or 'Are there hats?'"
"The debate on climate change ought not to be whether or not it exists," he added. "It's what we should do about. There is a mountain of research on this topic."
Oliver then brought on Bill Nye the Science Guy to show what climate change debates on television should actually look like. Watch the segment in the clip above.
Related
Before You Go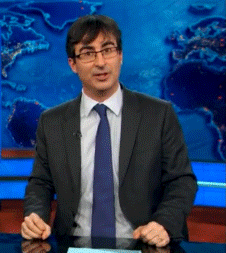 John Oliver GIFs
Popular in the Community