Comedian John Oliver has found himself in the middle of an online feud with a violence-prone, Kremlin-backed dictator who has repeatedly been accused of having his enemies tortured and killed.
The host of HBO's "Last Week Tonight" took aim at Chechen leader Ramzan Kadyrov in a five-minute segment of his popular satire show that aired on Sunday. Oliver made fun of Kadyrov for posting an emotional plea to Instagram last week, asking the Chechen people to help find his missing cat.
"We all thought that he would reappear... But now we have begun to seriously worry," the autocratic ruler wrote in an emoji-filled caption accompanying a photo of himself holding the cat in his arms. It's unclear when the feline disappeared.
"I'm presuming [Kadyrov] searched the most common locations for cats, such as lying in a sunbeam, or staring right at you with murder in its eyes," Oliver joked. He then turned his attention to the many other unusual posts on the controversial leader's Instagram page, such as videos that show him lifting weights and purportedly attacking a crocodile.
The account, followed by 1.8 million people, also made headlines earlier this year when Kadyrov posted a video that appeared to show Kremlin critic Mikhail Kasyanov, an opposition leader, being targeted by a sniper. The video, which Kasyanov described as "incitement to murder," was eventually taken down by Instagram, angering the Chechen leader.
In 2014, Kadyrov reportedly lost his phone at a museum opening event, and had authorities question more than 1,000 guests about the whereabouts of the device. He later denied doing so.
"Just think, if he is willing to do that for a cell phone, just imagine what he is willing to put the Chechen people through for a cat," Oliver said, after mocking how Kadyrov is "absolutely obsessed" with Vladimir Putin, who appointed him as leader in 2007.
Oliver pointed out how often Kadyrov posts photos of himself wearing shirts that feature Putin's face. But he wasn't done there. The comedy show host then took to Twitter to post a photo of himself holding a cat, asking Kadyrov: "Is this your cat?"
Oliver also encouraged his viewers to respond to Kadyrov's plea for help by either commenting "I have seen your cat" or "I have not seen your cat" on the original Instagram photo, or tweeting a similar message with the hashtag #FindKadyrovsCat. Many have obliged.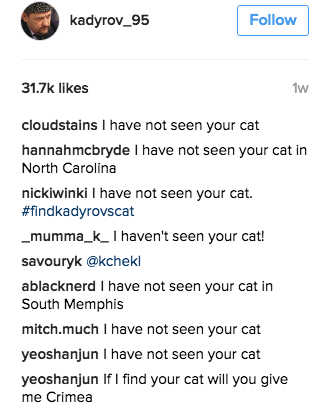 Kadyrov was not amused. It was not long before Oliver himself graced the Chechen leader's infamous Instagram page, with Putin's face photoshopped onto his shirt.
The text: "I'm tired of jokes, I want to care for cats in Chechnya. By the way, Putin is our leader!" was added to the photo, along with a confusing English caption that praised Putin, explained the cat simply needs to "meet with friends," and concluded with "#IHAVESEENYOURCAT."
Let's hope this bizarre catfight ends here.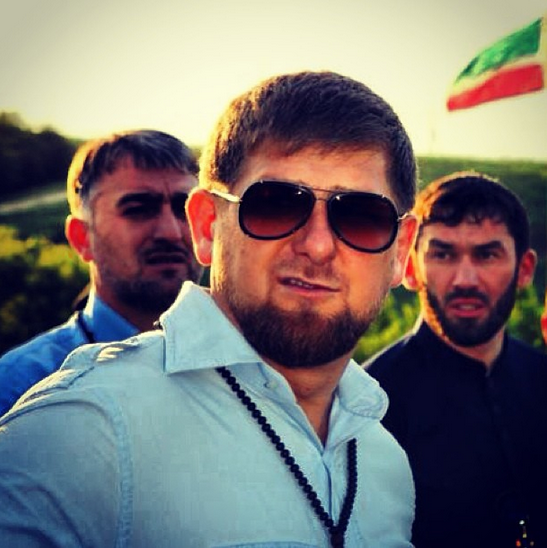 Ramzan Kadyrov: Instagram Champion
Popular in the Community